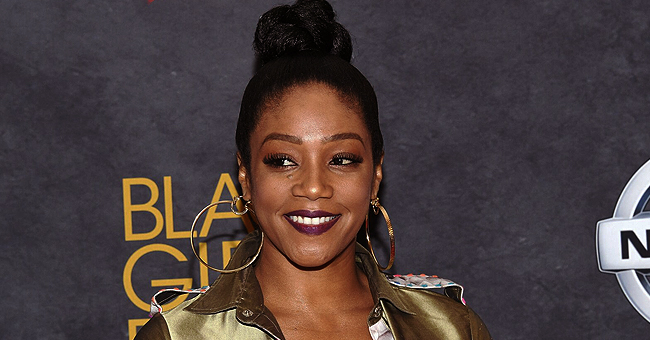 GettyImages
'Girls Trip' Actress Tiffany Haddish Tells SNL Star Kevin Nealon about Plastic Surgery on Her Chin
Tiffany Haddish revealed some previously unknown facts about herself. The actress opened up about her first plastic surgery experience, which was a chin job.
During a hike with Kevin Nealon on his show, "Hiking with Kevin," the "Girl's Trip" actress revealed details of a plastic surgery she once had on her chin among other things.
Kevin who stars alongside Tiffany on the show, "Saturday Night Live," caught up with her for a revealing walk on the highlands.
TIFFANY'S "PLASTIC" REVEAL
The conversation about surgeries started after the actress narrated one of her ordeals on stage. According to Haddish, she hurt her knee while trying to show the audience what it felt like to be intimate with a man who weighed more.
My behind is big enough for me. My personality is cool for me.
The comedian suffered a fall, resulting in a torn meniscus. However, she refused to have surgery to fix the issue. At that point of the walk, Kevin asked Tiffany if she had previously undergone surgery to which she replied in the negative. She however later recalled that she had indeed had a chin job.
Tiffany explained that she had a mole on the right side of her chin and that it had to be removed. The star added that though the process was called plastic surgery, there was no plastic involved.
"Never! Well yes, but no," she said. "I mean, I had plastic surgery before. On my chin I had a mole right here and they had to remove it. They said it was plastic surgery, even though there was no plastic involved. And I didn't get put to sleep, but they cut me."
TIFFANY IS NOT A FAN OF SURGERIES
Despite having had surgery and seeing what it does, Tiffany Haddish is unlikely ever going to have another procedure. The comedian who still has a mole under her eye and beside her nose isn't going to do anything about them as long as they don't cause discomfort.
She also stated that the sole reason for removing the one on her chin was that it was uncomfortable and not for cosmetic purposes.
"It was meat," she described it. "It was so many hairs in it, it made my whole chin swell up. That's why I had to get it off."
In 2017, Tiffany told The Root in an episode of "Black and Proud" that she is proud of her skin color.
'My behind is big enough for me. My personality is cool for me. I love the way my lips look, I love the way my eyes look, I love the way my skin feels. I love the way my skin tastes!" the actress said.
Although this might be the first time she is letting anyone in on her plastic surgery story, the comedian never shies away from speaking her truth. She once admitted that her celebrity crush is actor, Leonardo DiCaprio, eventually telling him she would love them to hang out.
Way to go Tiffany!
Please fill in your e-mail so we can share with you our top stories!