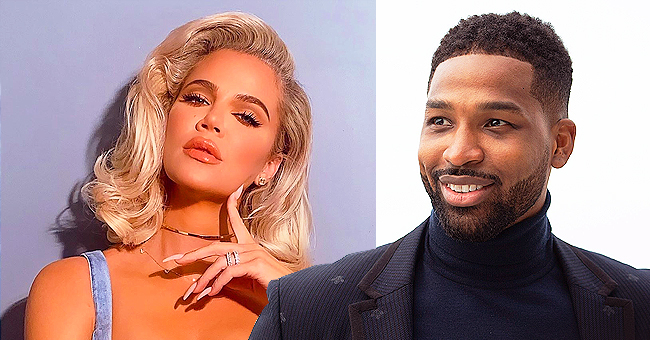 Instagram/khloekardashian GettyImages
Tristan Thompson Leaves Flirty Comment on Ex Khloé Kardashian's Photo and Then Deletes It
Khloé Kardashian sizzles in a photoshoot channeling Anna Nicole Smith from her Guess campaign, and Tristan Thompson thinks so too.
It looks as if Tristan Thompson might still have a soft spot for Khloé Kardashian.
The reality star posted a series of photos from a shoot in which she admitted she was "channeling" iconic Playmate Anna Nicole Smith, and Tristan reacted.
TRISTAN THOMPSON CAN'T KEEP HIS EYES OFF KHLOÉ
In the sizzling hot photos, which she admitted were inspired by Smith's 1992 Guess Jeans ad, Khloé is wearing a skin-tight denim bodice, showing lots of cleavage.
"Channeling Anna Nicole Smith from her Guess campaign," Khloe wrote.
Her hair is styled shoulder-length, with the classic Hollywood platinum-blond bounce and she looks ravishing. Tristan thought so too, and he even dared leave a flirty comment.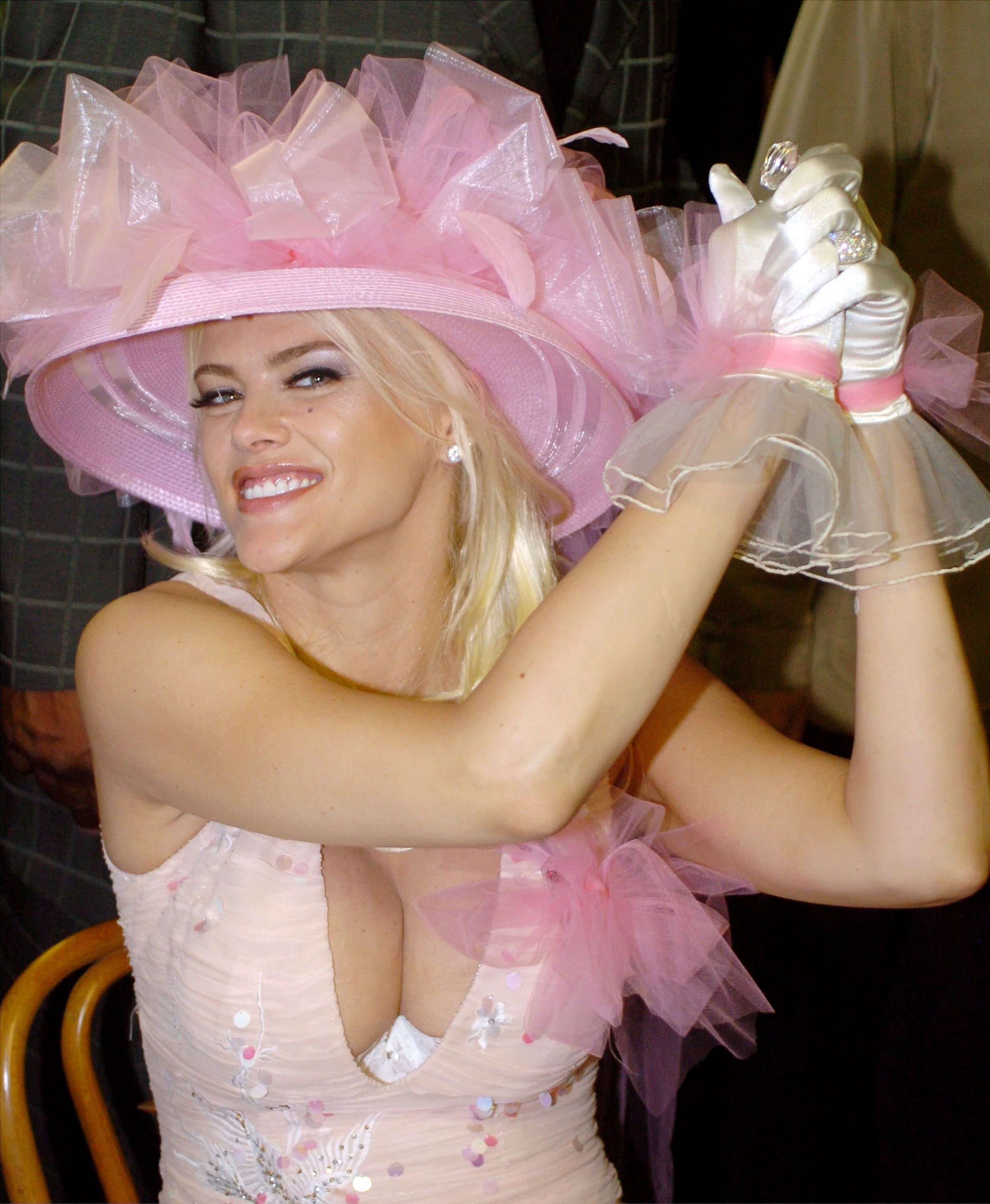 Anna Nicole Smith at the Kentucky-Derby/ Source: Getty Images
TRISTAN THOMPSON LEAVES A FLIRTY COMMENT
Amid the hundreds of comments from friends and family praising Khloé's beauty, was one which caught the fans' eyes:
"Perfection [heart eyes emoji]," commented none other than the estranged father of her child, Tristan Thompson.
FANS REACT TO TRISTAN'S COMMENTS
Fans, mindful of how much Khloé has suffered throughout her relationship with Tristan reacted protectively.
"@realtristan13 leave her (expletive) alone let her be happy you blew it"
"@realtristan13 hard pass!!! too little too late!!! JOKE"
"I guess she's giving Tristan another chance! ??‍♀️ She will never learn!"
It seems that the fan's comments hit home because Tristan would later go on to delete the flirty comment.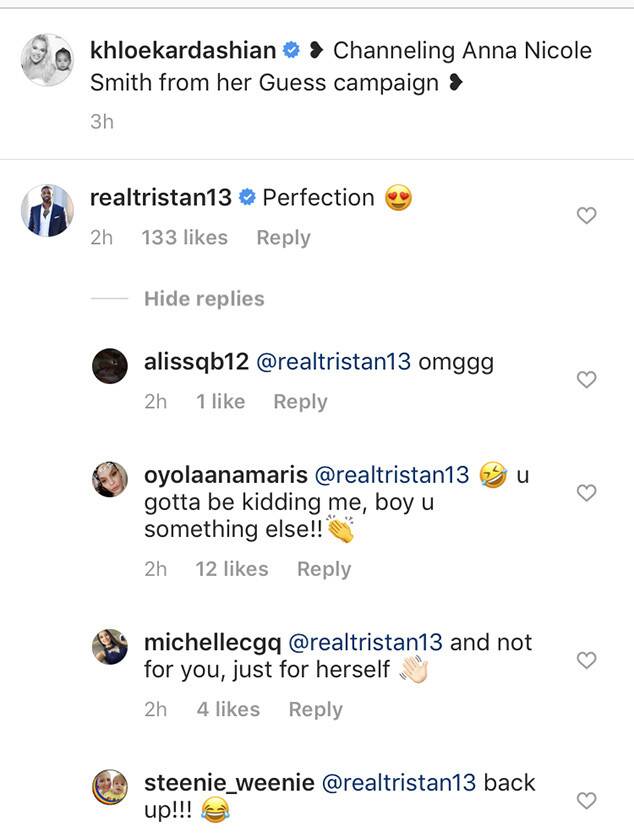 Tristan Thompson's comment on Khloé Kardashian's post/ Source: Instagram/ Khloé Kardashian
It looks like Khloé Kardashian's ex Tristan Thompson still has a crush on her.
KHLOÉ KARDASHIAN DID NOT RESPOND
But although hundreds of fans commented on Tristan's observation, Khloé herself did not respond.
Tristan has been notoriously unfaithful to Khloé, first when she was pregnant with his daughter True, and more recently, he hooked up with a Kardashian family friend at a Valentine Day party.
He was recently seen at dinner with Kim and some of her friends, and rumor has it that he's trying to worm his way back into Khloé's life.
It remains to be seen if there is going to be a third chapter to the Khloé/Tristan romance.
TRISTAN THOMPSON'S BIRTHDAY MESSAGE TO KHLOÉ KARDASHIAN
Although her friends say she has moved on, it looks like Khloé Kardashian's ex Tristan Thompson still has a crush on her.
On her 35th birthday, June 27, 2019, Tristan posted an adorable photo of Khloé with his daughter True and captioned it.
"Happy birthday @khloekardashianYou are the most beautiful human I have ever met inside and out. Thank you for being an amazing mommy to our princess True. She is blessed to have someone like you to look up to. I wish you nothing but more success and sending you positive blessing your way. Enjoy your day Koko ❤️"
No matter what has gone before, this couple is united in one thing: being great parents to little True.
Please fill in your e-mail so we can share with you our top stories!