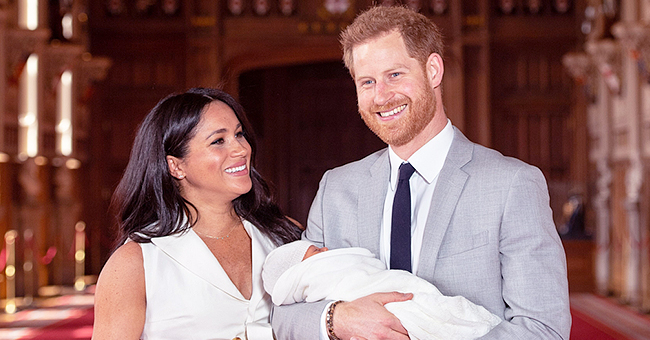 Getty Images
Meghan Markle & Prince Harry's Son Archie Gets Traditional African Name 'Ntsika' during Royal Tour
Four-month-old baby Archie has already earned himself a traditional African name during his first royal tour.
Prince Harry, Meghan, and Archie are currently on a 10-day tour of Africa, and it isn't taking long for the little royal to work his magic.
The Duke and Duchess of Sussex kicked off their tour with a visit to Nyanga township as their first engagement.
The royal couple visited the town dubbed as the "murder capital" of South Africa to meet with representatives of The Justice Desk organization which promotes women's and children's rights.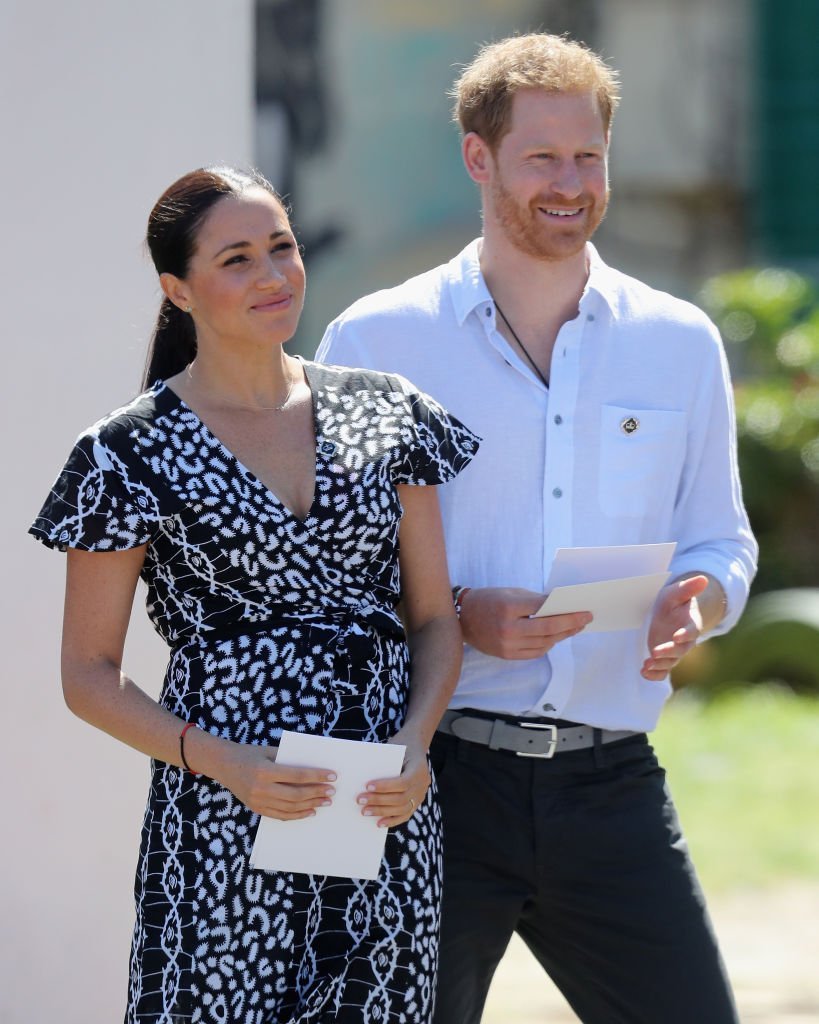 Meghan Markle and Prince Harry, Duke of Sussex smile as they visit a Justice Desk initiative in Nyanga township. | Source: Getty Images
Harry and Meghan were, however, without their four-month-old son at the engagement where they discussed women empowerment and gave persuasive speeches to encourage the residents.
Nevertheless, Archie's absence wasn't taken to heart as the little one remained on people's minds.
Soon after the duke and duchess completed their powerful speeches, Jessica Dewhurst, the executive director of Justice's Desk, announced that the organization had a gift for Archie as revealed by PEOPLE.
As seen in a clip of the moment shared on Twitter by royal editor Omid Scobie, Jessica then revealed that Archie had earned a traditional South Africa Xhosa name, Ntsika.
Explaining the meaning of the name, Dewhurst said:
"When your beautiful boy was born, you gave him the name Archie. The name Archie means 'bravery and strength.' So to welcome Archie home, your family at the Justice Desk has given him the traditional South African name Ntsika. This name of Xhosa African origin means 'pillar of strength."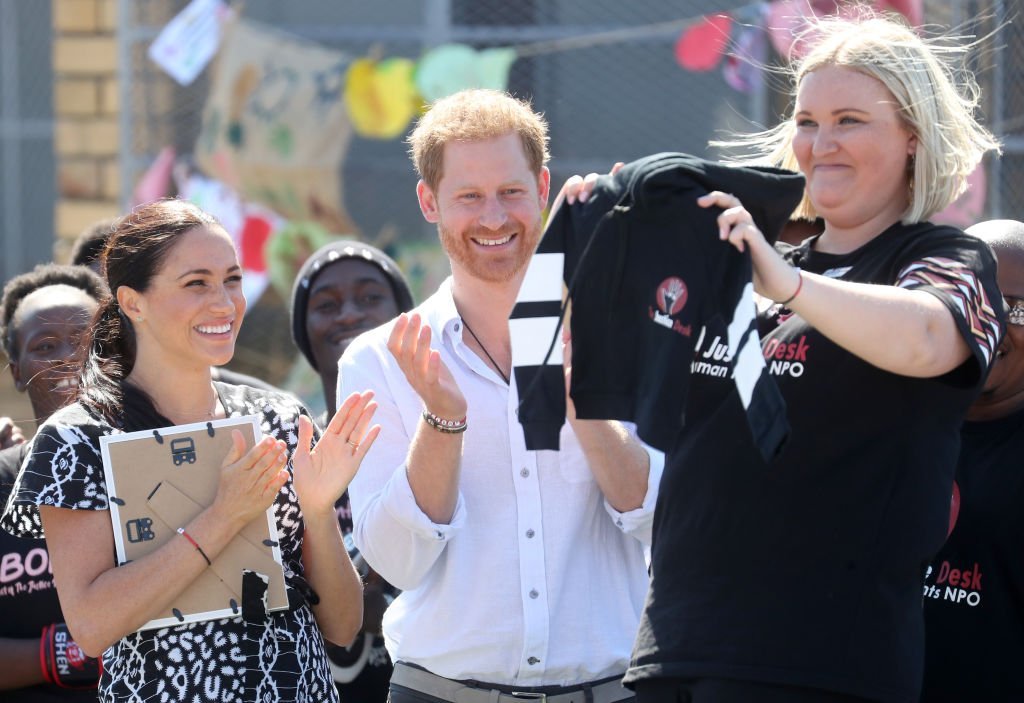 Meghan Markle and Prince Harry laugh with Jessica Dewhurst, Justice Desk Founder during their visit to a Justice Desk initiative in Nyanga township. | Source: Getty Images
She then handed the Sussexes a cute Justice Desk hoodie for their son.
While speaking to Harper's Bazaar, Jessica revealed that the local township grandmothers picked the name. She also mentioned that Harry and Meghan loved the gift and were glad they brought Archie along.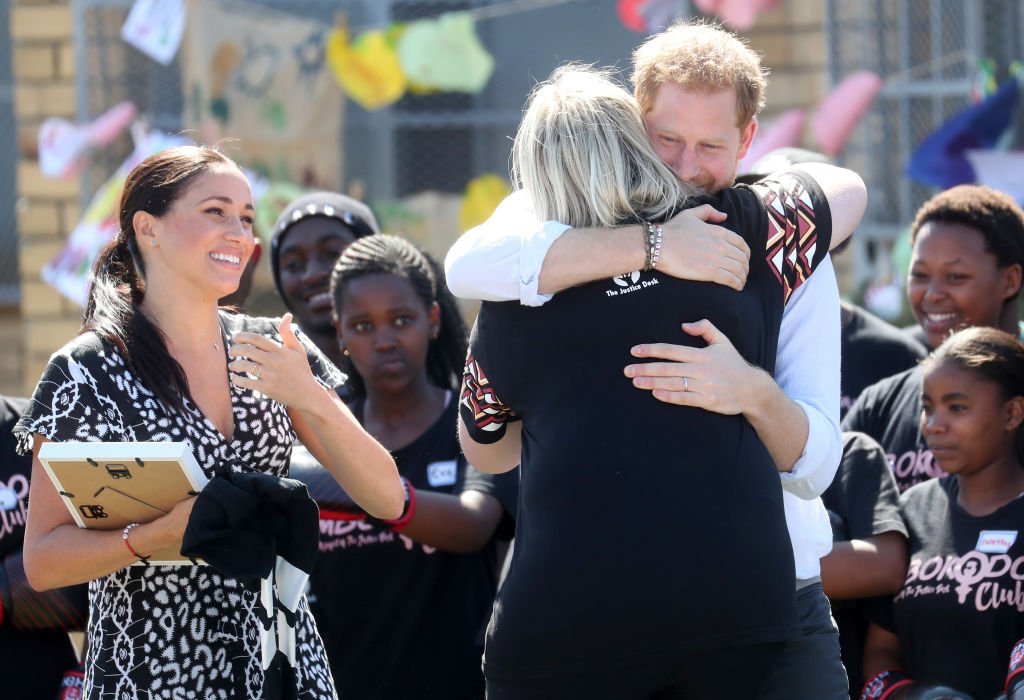 Prince Harry hugs Jessica Dewhurst, Justice Desk Founder, during the visit to a Justice Desk initiative in Nyanga township. | Source: Getty Images
Since Harry and Meghan landed in South Africa on Monday, the only sighting of their adorable son was when he was seen in his mother's arms while they were coming off the plane.
When the couple visited the District Six Museum later in the day, one particular fan couldn't help but ask about the young royal, according to PEOPLE.
The 81-year-old former District Six resident hugged the couple before asking: "Where's Archie?"
However, Harry has the best response for her telling her he was sleeping.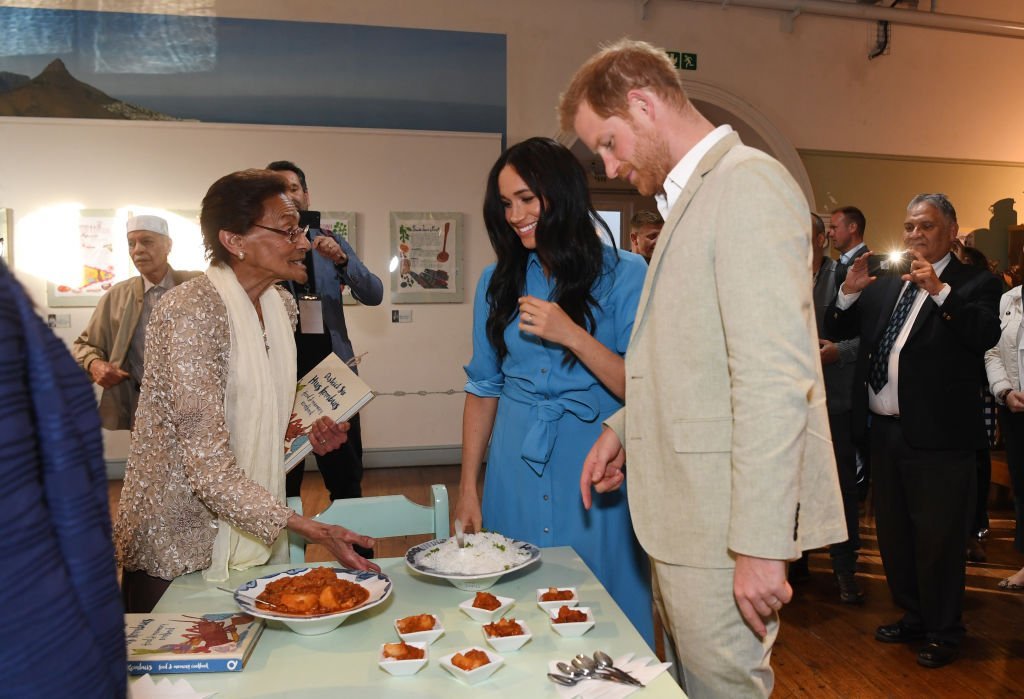 Meghan Markle and Prince Harry visit the District 6 Homecoming centre in Cape Town, South Africa. | Source: Getty Images
When another resident asked about Archie, the doting father explained that the little one was "exhausted" from the long flight.
Please fill in your e-mail so we can share with you our top stories!