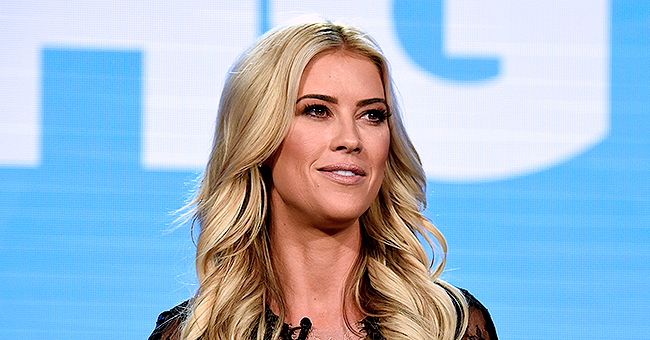 Getty Images
'Flip or Flop' Star Christina Anstead Reveals She 'Definitely Hurt' Herself Weeks after Birth of Baby Hudson
Famous "Flip or Flop" star, Christina Anstead emotionally takes to social media to share her first-hand experience with motherhood and how she learned that taking care of herself post-labor should always come first.
The famous real estate investor only recently birthed her third child and very first with her second husband, Ant Anstead.
It, however, seems that despite not being a first-time mother, Christina didn't pay attention to her health and it ended up with terrible repercussions.
CHRISTINA ANSTEAD SHARES THAT SHE OVERSTRAINED HERSELF POST-LABOUR
The 36-year-old took to Instagram to share a picture of herself and her newborn son, Hudson. Wearing a simple white tee and laying down in bed, she cradled a sleeping Hudson in her arms.
The intimacy of the picture makes it a beautiful one despite its blurry nature. However, the star looks admittedly tired with her eyes sporting large eye bags, and her lengthy caption explains it all.
Christina started:
"Welll... I'm a moron. I felt totally fine since one week postpartum- like zero pain... but I was resting and taking it easy ... and then I threw Tay a bday party and was lifting and running around all weekend"
The caption continues with Christina explaining that a few days after the strenuous exertions, she realized that she had hurt herself, albeit unknowingly. The entertainer disclosed:
"Yesterday I woke up like oh crap ..., and today oh crap turned into oh sh** - I definitely hurt myself. It's not the c-section incision area that hurts it's my left abdomen, and it hurts bad;/."
In a heartfelt gesture, she concluded her caption with a special message for mothers out there:
"So please anyone who just had a baby- don't overdue it. I always want to be the people pleaser in the family and make sure everyone knows how much I care about them- but in doing so, I wasn't taking care of myself. Back to bed rest and baby cuddles."
CHRISTINA ELICITS EMOTIONAL REACTIONS FROM HER FANS
The post is only some 10 hours old, but it has already garnered attention online as netizens took to the comments section to send her heartfelt well-wishes.
It can be observed that most of the comments are emotional and from women who have had similar experiences. One Instagram user, @jennkleinman wrote:
"Take care of yourself. Don't feel guilty about resting and recuperating! As moms, we tend to take care of everyone but ourselves. Be good to you!"
Another supportive fan, @joannraetano wrote:
"You have to take care of yourself, so u heal and are able to take care of those cute kids…"
One fan, @dunndiditt, directed the comment to Christina's television presenter husband, Ant:
"@ant_anstead MAKE HER SLOW DOWN AND REST, please. Also, take your pain meds and lots of water. It'll help. Especially when you're this sore."
Ant need not be told noting that he took to the comments section to sternly implore his gorgeous wife to "REEEESSSSTTT!!!!."
Please fill in your e-mail so we can share with you our top stories!