Taraji P Henson Stuns in Burgundy Dress with Slit before Giving Wedding Details on Emmys Red Carpet
The delectable film star Taraji P Henson, recently donned a tongue-wagging burgundy dress and looked nothing but incredibly beautiful in the attire.
The current Instagram upload was an eye-catching image representing the 49-year-old's over joyous looking self.
STUNNING NEW INSTAGRAM UPLOAD
Taraji waved one hand in a pose and flaunted her left thigh which looked toned. The high-cut outfit allowed for some show of skin and the actress stopped at nothing to present her fans and followers with a juicy, jaw-dropping pose.
Vera Wang will design her wedding dress
The actress went further to blow a kiss showing that she was having the time of her life feeling gorgeous in the burgundy dress.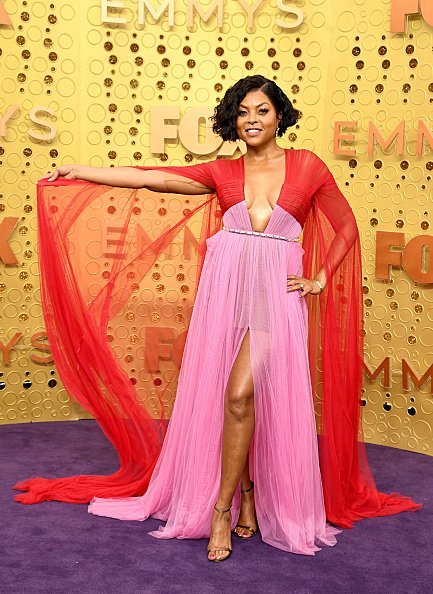 However, her caption detailed the reason for the glow up, and it seemed that she was out for a "Press Day." In her post, she wrote:
"#PressDay in @alexanderwangny."
Fans were quick to hop on the post, as some admired her dress and composure in the image. Others made reference to her character in the Tv series "Empire," and complimented her look.
TARAJI'S WEDDING PLANS
Apart from blowing kisses to her fans, the onscreen diva also has lots of kisses which she will be giving her beau, Kelvin Hayden in front of an audience come April 2020.
In a recent interview with Stephen Colbert on "The Show With Stephen Colbert," the 49-year-old revealed ongoing plans for her big day.
She explained that her priority was in making the food top-notch, and also have loved ones around while her and her lover, exchange vows.
"I don't do samples. Don't send me swatches; I told my wedding planner make it fun, make sure the food is good and a bomb deejay. No bridal party. I'm not a bridezilla. I just want to say my vows in front of the people I love, eat good food and have fun. That's it!"
The movie star is also bothered about how she will look in front of her guests.
In a red carpet interview, Taraji stated that an A-list designer would design her wedding dress and Vera Wang is who she "trusts" to make her look flawless for the event.
THE EMPIRE STAR'S RELATIONSHIP
The 49-year-old who has been in a relationship with her former NFL player lover for two years shared news of their wedding after a Mother's Day outing.
The "Proud Mary" star and mother of one was proud of her man's decision to propose and decided to share it on her social media page.
She expressed her thrill and stated that at first, she got a Cartier bracelet for Mother's Day, then a proposal which made her "happy" came next.
The "What Men Want" star initially revealed that due to her busy schedule, she could not fix a date right after the proposal, but consequently, the pair settled for April.
Aside from having faced the challenge of settling for a date, the onscreen star also said that she was not sure about where they would honeymoon after the wedding.
She picked Italy as an option and explained that they would select a destination they have never been to.
TURNING 49
It appears that everything is falling in place for the "Empire" actress. Asides from having multiple scripts coming in, a beautiful love life, she also has terrific friends who turned up for her 80's themed birthday party.
The likes of Mary J Blige, Jennifer Hudson, among others turned up to celebrate with the 49-year-old on her birthday. Her beau was also present, and the duo looked stunning in their classic attires.
It seems that Taraji loves good parties, good food and definitely makes good clothes!