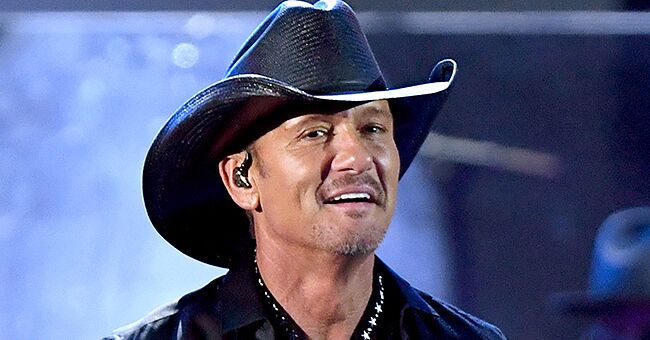 Getty Images
Country Singer Tim McGraw Shares New Photo of Gracie, Maggie and Audrey on National Daughters Day

Tim McGraw recently celebrated National Daughters Day with a sweet tribute to his three "remarkable, talented, and self-confident" daughters on Instagram.
The country singer has a deep love and passion for music, but he never failed to show the same love and appreciation for his three kids, Gracie, Maggit, and Audrey -- especially not on National Daughters Day.
The father-of-three honored his princesses on the unofficial holiday by sharing a sweet post about them, alongside their photo smiling and all dressed up.
"There is nothing as beautifully inspiring as being the father of 3 remarkable, talented, and self-confident young women," he wrote. "Happy #nationaldaughtersday."
THE MCGRAW KIDS
The three siblings are parents to McGraw and his singer and wife of 23 years, Faith Hill. Although they are "different," they have remained "close" through the years.
"Anybody who has more than one kid knows they're so different," McGraw said in an interview with Country Countdown USA. "They're so individual. But they're all real close, and all real supportive of each other."
During their younger years, the couple made a constant effort to keep their children away from the limelight, but it changed as they grew up and started being known through social media.
Having famous and talented parents like McGraw and Hill means a high chance of inheriting their coveted voices and entering the same industry as performers. Their mom told New Beauty:
"Tim and I know what it takes to really do this for a living, but as a parent, you don't want to stand in the way of their dreams. It's been one of the most difficult things for me as a mom -- especially as a mom of all girls."
GRACIE KATHERINE
Gracie Katherine is the eldest among the McGraw sisters, born on May 5, 1997. Like her parents and her other siblings, she too has a beautiful voice and even joined her father on stage.
Being musically inclined, Gracie learned how to play the guitar by herself in high school and formed a band who she would practice with at home. Without the help of her parents, their group was booked a couple of times.
MAGGIE ELIZABETH
Born on August 12, 1998, Maggie Elizabeth follows her older sister. Among the three of them, Maggie May, as her father calls her, looks most like her country singer mom.
Maggie is reportedly attending college on the West Coast and is most likely taking up marine biology as she has "always been interested in the ocean" and so marine biology was her interest.
AUDREY CAROLINE
The youngest McGraw daughter is Audrey Caroline, born on December 6, 2001. Being the only one not in college, Audrey remains to live under her parents' roof.
"The person who's most interesting to watch now is Audrey the youngest," McGraw said. "She's going to be the only one in the house."
RULES IN DATING
Having three daughters, McGraw has come to terms with the fact that his girls may have suitors coming in soon. He has seven strict rules that he applies to any of the brave young men to come forward.
The rules are quite simple and include coming to the house, meeting the parents, picking up the girls, entering the house, talking to the father and mother, and not honking the horn for the daughters.
Please fill in your e-mail so we can share with you our top stories!