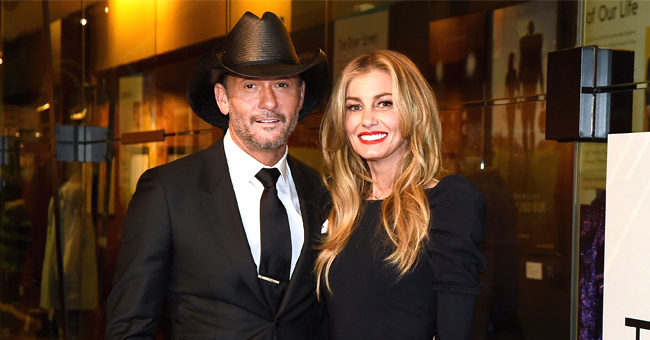 Getty Images
'Thought about You' Singer Tim McGraw Shares Photo of Wife Faith Hill on Her 52nd Birthday

Tim McGraw celebrated his wife of 22 years, Faith Hill's, birthday with a sweet tribute on Instagram: "Happy birthday baby."
Faith Hill just turned 52, and her husband, Tim McGraw, had a sweet birthday gesture for her on social media. The singer, who has been married to Hill for nearly 23 years, wrote:
"Our center… She is my wife, she is the mother of my girls, she is my best friend, my lover, my tether in the storms, I love her."
Unlike last year's throwback photo, McGraw used a more recent picture of his wife in a nature-like setting filled with greens. However, his caption from the previous year was lengthier, reading:
"From the first time we met, I knew (she didn't) that she was the love of my life forever… no matter the ups and downs, the happy and sad or the good and bad." He added: "When I wake up next to you in our 80's… I'll smile at the life we've built."
LOVE AT FIRST SIGHT
As cliche as it sounds, sparks flew between the couple as soon as they met in 1994. It was backstage a Country Radio Seminar, and even McGraw's then-girlfriend knew it.
"For me, there was an intense physical attraction," he told Billboard. "I guess my girlfriend saw it in my eyes. She said, 'I don't want you around her."
It took several tries to land a first date with Hill, but she still recalls the "official" initial time and had Southern love story written over it. She said:
"[Tim] brought me chicken and dumplings. [He] came to my house [unannounced]. He knocked on my door, and he had a bowl of homemade chicken dumplings."
STARTING A LIFE TOGETHER
The singers tied the knot in October 1996 with a surprise wedding, disguised as a softball game and concert in Rayville, Louisiana McGraw's hometown.
The following year, they welcomed their first daughter, Gracie Katherine. They went on to perform together and released their first chart-topping hit together, "It's Your Love."
In August 1998, they had their second daughter, Maggie Elizabeth, and in 2001, welcomed their third and youngest daughter, Audrey Caroline.
HEALTH UPDATE
After collapsing on stage last year, McGraw has made serious changes in his lifestyle. Earlier this year, the singer took to Instagram to share a photo showing his solid six-pack abs.
Although that, perhaps, wasn't the intention of the photo, as he was also showcasing the fish he caught, fans immediately took notice of his incredible physique and applauded the 52-year-old.
Please fill in your e-mail so we can share with you our top stories!