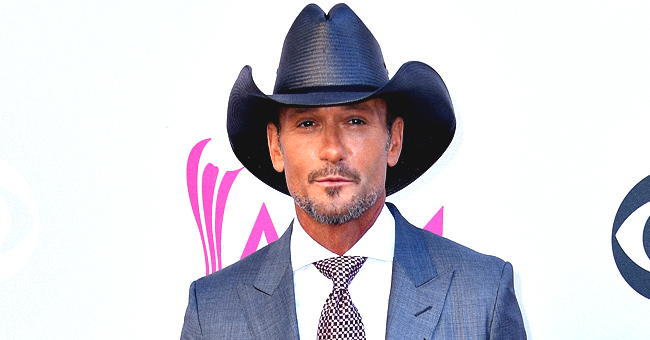 Getty images
Tim McGraw Shows off His Rock-Hard Abs 10 Years after Quitting Alcohol
52-year-old country musician, Tim McGraw recently posted an eye-catching image on his Instagram handle after a decade of staying off alcohol.
Known for his outstanding contributions in the entertainment industry, the artiste just showed off his trimmed and impressive new body to the public.
In his newest update, he mesmerizes his fans with a jaw-dropping picture showing off his packs! The photo had Tim holding a fish in one hand, as it appears he had spent a considerable amount of time fishing in the Bahamas with his close pal.
Whether he intended to share his catch or reveal his new abs, his comment section received a vast amount of warm and amazing words from his fans.
The caption to the picture read:
"Yellowfin Grouper, 1st one! 36ft down. Pole Spear...free dive."
Some fans specified that they barely saw any fish in the update, while others drooled at the singer's toned body. @triffyc12 said:
"I'm sure no one even notices the fish."
@wanda99999 said:
"did anyone else suddenly feel hot...I'm sweating."
@sarah_Irene_84 said:
"Those abs tho…"
Surprisingly, a fan took tried to show off the information at her disposal.@amyatherthon3 said:
"First thought: man he's cute as hell. Second thought: I wonder how old Tim McGraw is now, answer: 52. Third thought: Well, he's married to Faith. Fourth thought: nice fish."
In a revelation, Tim explained how his daughter complained about his unhealthy eating habits and weight. He stated that after watching himself on screen, he realized he was not happy with the way he looked, so he took it upon himself to lose weight.
He said that his weight loss journey began about 12 years ago. He had since made it compulsory to stay fit and be in good shape. When he turned forty, he lost 40lb.
Apart from him taking the advice from his daughter, he also opened up about his wife being his bedrock and adviser. After struggling with alcohol addiction for a while, he decided to quit when his wife started to complain and asked that he stopped drinking before his stage performances.
The country legend acknowledged having been sober since 2008. He revealed in an interview that he wanted to be better for his family, a better husband, and father.
He always strives to be better and takes on the advice of his loved ones. Tim is excellent at thrilling his audience on and off stage with his sound or abs!
Please fill in your e-mail so we can share with you our top stories!