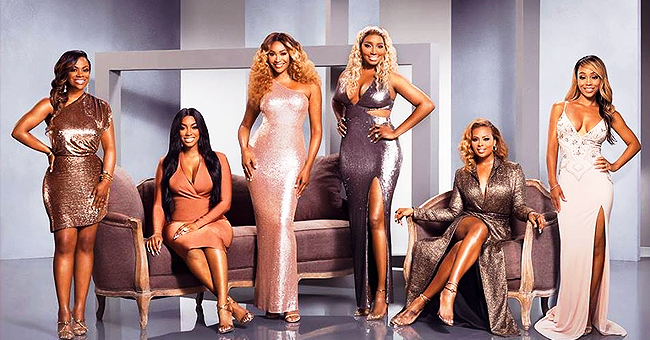 RHOA Season 12: Nene Leakes & Cynthia Bailey's Feud Heats up as the Ladies Clash in New Trailer
The "Real Housewives of Atlanta" are back, and this time, the gloves are off.
BRAVO's new "Real Housewives of Atlanta" trailer for season 12 is wild, and in just the first 15 seconds promises more drama and excitement than the rest of all the seasons put together.
The new season only premiers on November 3, 2019, but the fans are already anxious to get into the glorious, messy and tempestuous lives of their favorite RHOA.
The trailer hints at a river of tears, as at least two of out RHOA ladies face the end of their relationships with the love of their lives
THOSE SIMMERING RHOA FEUDS RETURN
In the first few seconds, all hell breaks loose, and we get swept right into the middle of a catfight, with our RHOA screaming and calling for security. And that is only the first few seconds.
The rest of the trailer teases us with glimpses of the simmering old feuds between NeNe Leakes and Cynthia Bailey - and NeNe and just about everyone else.
NENE LEAKES AND KENYA MOORE - THE FINAL SHOWDOWN
Kenya Moore is back, and of course, that means that she and NeNe, who are bitter enemies, will be at each other's throats. This should be one of the more exciting storylines for the new season and promises to keep us all glued to the screens.
BROKEN HEARTS AND SHATTERED PROMISES
But the trailer hints at a river of tears, as at least two of out RHOA ladies face the end of their relationships with the love of their lives. Porsha Williams is devastated by fiancé Dennis McKinley's betrayal, and Kenya Moore is recently separated from husband Marc Daly. And both are new moms with baby girls to raise.
ALL YOU NEED IS LOVE
But there are also glimpses of sweet romantic moments, and at least one engagement. And of course, the very pregnant Eva Marseille is just glowing as she readies herself to give birth to her third child.
ADDICTED TO RHOA
BRAVO's teasing trailer will have us on tenterhooks until November, with a hundred questions crowding our minds.
Will Porsha forgive the contrite and tearful Dennis? Will NeNe and Gregg get back together now that he's cancer-free?
And will NeNe and Cynthia bury the hatchet? (Hopefully not in each other's backs!)
So many questions, and so long to wait for the new season!
RHOA STARS KICK BACK AND RELAX IN GREECE
So while we sit here biting our nails, eager to see what happens next, the RHOA ladies are kicking back and relaxing in the Greek Islands.
The cast flew off to Greece on September 22, and we are quite sure that they will set aside those differences while they soak up those last sunny days of summer.
NeNe shared a photo on Instagram of the whole cast looking pretty friendly and cavorting in the sea. The only missing RHOA was Eva Marcille, who is too close to her due date to travel.
Have fun, ladies.
Please fill in your e-mail so we can share with you our top stories!