Actress Mariska Hargitay Stuns in a Printed Dress on 'Law & Order's 21st Season Premiere Day
Mariska Hargitay takes to social media to commemorate the start of the 21st season of "Law & Order" and fans think her outfit, albeit simple, is dazzling. 
The award-winning actress shared a picture of herself via her official Instagram, @therealmariskahargitay, with fans.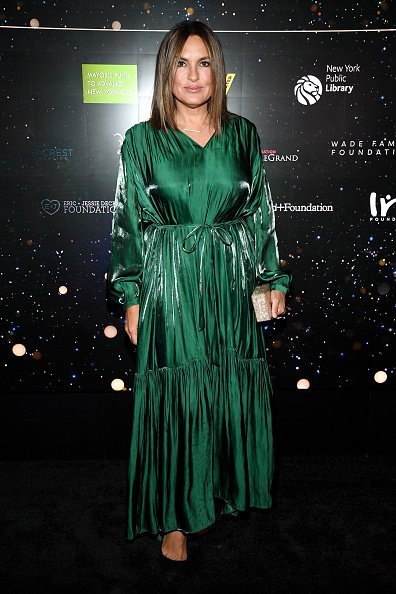 The picture features Hargitay at the Rockefeller plaza while wearing a print dress. The beautifully patterned number reached past her knees and enough to make it a midi dress. 
The dress spells out high class and modesty with its puffy sleeves and collared neckline. It is belted at the waist, flows into a free skirt, and also features a deep v neckline that hinted at the mother of three wearing a white underlay beneath.
Hargitay stylishly finished off the gorgeous look with a pair of nude stilettos which also bear a pattern. Her hair was pulled up into an elegant ponytail with a few tendrils coming off to frame her face. 
Hargitay looked excited as she posed for the snap with one leg raised and smiling so happily. She is pictured standing right next to "a sweet surprise" she received to celebrate the new season premiere of season 21.
She dripped of excitement as she captioned the picture writing:
"What a sweet surprise to kick off premiere day from the incredibly thoughtful @blyellen @ifjam2 @warrenleighttv #SVU21 #SVU21Premiere #AllFloweredUp #FlowerPower #CoveredInLove #CoveredInHearts #JoyfulHeart #BensonWishesSheCouldWearThis #LeightsBackOn #SVUatTODAYonTODAY!"
NETIZENS UNANIMOUSLY AGREE THAT HARGITAY IS "ADORABLE" 
With over 128,000 likes and over 1500 comments already, the picture is fast circulating online. Hargitay's overjoyed expression, stylish ensemble and the looming season premiere of "Law & Order: SVU" are noticeably the things that caused netizens to comment on the snap.
One fan, @amberhargitay wrote:
"Is there any point in time that you're not adorable? THE ANSWER IS NO."
Another fan in awe of Hargitay, @benson_is_endgame, also wrote:
"Omg, can you stop being so freaking adorable. Congrats on season 21 so proud of you."
Another fan, @melisakruger commented:
"Omg, I love this! So sweet. I'm so excited for tonight!!! Can't wait."
SEASON 21 OF "LAW & ORDER: SVU" TEASES DIVERSITY 
"Law & Order: SVU" seems to age like wine as fans continuously express longing for the season premiere. The upcoming season promises changes and diversity. 
Some reports have even shared that Hargitay's character, Olivia Benson, will have a new look. It is reported to be very different from her usual and fans couldn't be more excited. 
Law & Order: SVU season 21 premieres Thursday, Sept. 26 at 10 p.m. on NBC.