'Soul Food' Actress Vanessa Williams' Son Devin Showed off His Muscular Physique in Photo
Devin Hervey, the only male child born to actress Vanessa Williams proves himself to be a man as he flaunts his muscular physique via social media. 
Devin is nothing like many of his mother's fans remember. He is now 26 years old and couldn't be more proud as he showed off his enviably muscled body in a mirror selfie. 
A SHIRTLESS DEVIN SHOWS OFF HIS "FUN" HAIRSTYLE 
The picture is taken in a dark room and has Devin shirtless as he boldly looked in the mirror.
The poor lighting of the room does nothing to douse Devin's manliness and if anything, adds on to its mystique. 
It can be observed that Devin is holding onto his shirt in the photo but because of the flash of his phone's camera, very little can be made of his face.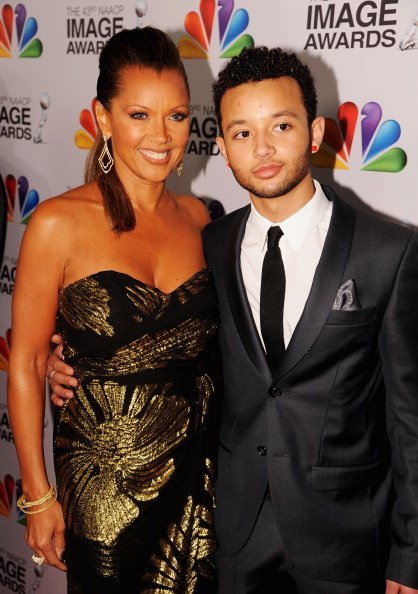 Aside from the hunky body displayed, one of the admittedly eye-catching features of the snap is Devin's hair.
It is styled into a fade with the middle bearing stringy curls and paired with his full beard, adds on to the mysterious air about the youngster. 
"Did something fun with @hairbynoemi_," Devin wrote to caption the gorgeous picture. 
DEVIN HAS SHOWN INTEREST IN THE ENTERTAINMENT INDUSTRY LIKE HIS PARENTS
The picture has amassed hundreds of likes as well as a few comments complimenting Devin, who is reportedly making a career for himself in the entertainment industry like his mother. 
That is not surprising considering that he is the product of two known figures in the industry – Vanessa Williams and Ramon Hervey II.
Devin, who is only one of the couple's three children is thus, no newbie to the limelight. 
He has walked red carpets with his mom but he tends to lay low these days. He is, however, commonly credited as an actor known for the movie "The Courage to Love."
Aside from this, I Love Old School Music reports that he is a graphic designer who has a love for the gym.
From what can be observed on his Instagram, he still has a close-knit bond with his parents as he continually pays tribute to them via the platform. 
That is after his gorgeous mother has been married two more times after divorcing his father.
Williams who rose to fame as the first woman of African-American descent to receive the Miss America title, is currently married to Jim Skrip. 
For Williams, "there's always hope" when it comes to finding love which makes the number of her marriages no surprise.
Thankfully, this has done nothing to damage her relationship with her now-grown children.