LPBW Star Matt Roloff and Girlfriend Caryn Chandler Share Sweet Photos with His Grandkids from 'a Great Zoo Day'
Matt Roloff and his girlfriend Caryn Chandler took to social media to share photos with his grandchildren.
The "Little People, Big World" star and Caryn toured Jackson and Ember at a zoo recently. The couple immediately shared photos on their Instagram page.
"Grandpa and Cha Cha @carynchandler1 hit the jackpot today! We got to take Jackson and Ember to the Zoo. Oh wow.. what fun we had," Matt captioned a photo of them.
Meanwhile, Caryn wrote, "A "chilly" fall day couldn't keep us away! Matt & I had such a great zoo day today with these 2 cuties!"
Jackson is the son of Zach and Tori Roloff while Ember is the daughter of Audrey and Jeremy Roloff.
Their grandfather Matt has been in a relationship with Caryn, manager of Roloff Farm, since March 2017.
Their romance keeps on going to the next level with their love becoming stronger and stronger by the day. 
Apparently, the two profoundly care about one another and appear to be devoted to making things work. 
Matt was previously married to Amy Roloff. The couple, who tied the knot in September 1987, ended their relationship in March 2014. Their divorce was finalized two years later.
Amy is now giving love another chance with his boyfriend, Chris Marek. The couple got engaged recently, as reported by Good House Keeping.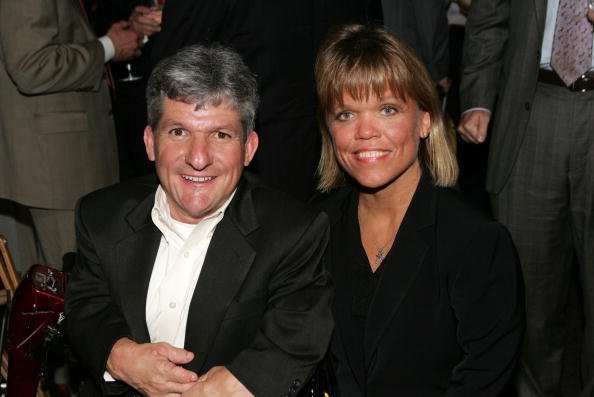 "I was so surprised when Chris asked me to marry him. I said YES. I couldn't be happier and so looking forward to this new part of our life journey together. I'm blessed. Love you Chris. I love us," Amy announced on Instagram.
PEOPLE reported that Chris popped the big question one day after the 55th birthday of his girlfriend. The sweet moment took place at one of their favorite restaurants.
"I'm excited, I'm so surprised, I'm thrilled!" said Amy. "I never in a million years thought I'd be getting married again, but I also hoped for it! Now that it's happening, I couldn't be happier or more excited."
A year ago, Amy opened up about her divorce to one of her fans. She said that facing the hardship made her stronger, and she dealt with it much better than expected. She is also happy at this stage of her life.