Getty Images.
Dog the Bounty Hunter Says He Is 'More Cautious' about Smoking after Meeting Dr Oz but Isn't Worried about Dying

Duane "Dog" Chapman has explained that while he intends to make changes to his lifestyle habits to improve his health, he does not "worry" about dying.
Every avid follower of the celebrity bounty hunter knows he recently had an eye-opening discussion with Dr. Oz. It was there the truth about his health scare came forth as he revealed that doctors had diagnosed him with pulmonary embolism.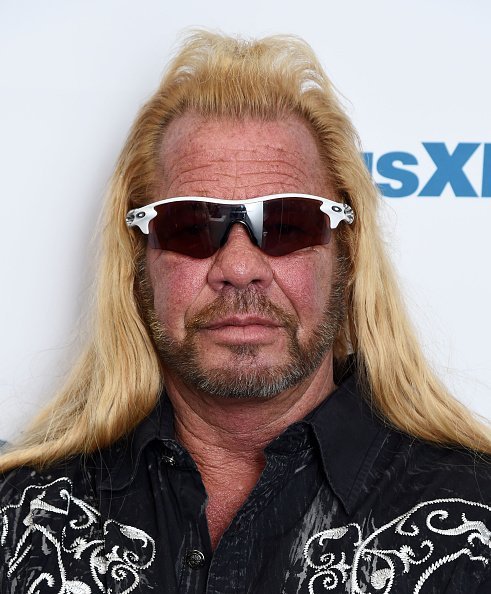 Dog the Bounty Hunter, Duane Chapman visiting the SiriusXM Studios in New York City.| Photo: Getty Images.
Duane recently granted ET Online an exclusive interview and almost expectedly, the subject of his failing health came forth. It was during the interview that Duane gave some candid insight into his thoughts about his health.
He explained that his now widely publicized talk with Dr. Oz was a bit unsettling for him.
"Dr. Oz kind of freaked me out about the smoking. I am more cautious. But I don't worry about dying,"
The burly star seemed upbeat as he further disclosed that the doctor kindly introduced him to an acclaimed professional interventionist in smoking. Duane, however, expressed horror while explaining that he discovered that Chantix, a medication made to help people quit smoking, costs a whopping $600!
But not even the high cost can discourage the reality star as he expresses excellent determination to cut back on smoking. Duane said:
"None of my children smoke. So they all encourage me to quit smoking. But I haven't told my children what's going on. I don't want them to worry,"
referring to the many signs he had observed before his emergency hospitalization.
With the scare, however, he has become more determined to stay healthy and has decided to heed his children's pleas that he modify his habits.
It appears that following the loss of the family's matriarch, Beth, the Chapman children have become more concerned with Duane's health. While Duane was grateful to Dr. Oz for his caring words, it appears that his grown daughter, Lyssa, was even more appreciative as she took to social media to laud the doctor.
Please fill in your e-mail so we can share with you our top stories!