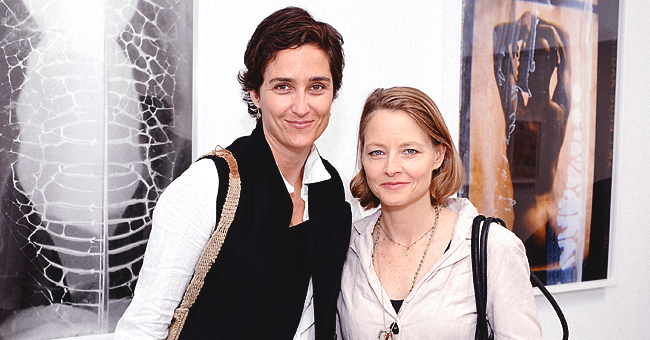 Getty Images.
Inside 'Silence of the Lambs' Actor Jodie Foster's Relationship with Wife Alexandra Hedison
For over five decades, Jodie Foster drew viewers into the world of everyone from a child prostitute to a woman whose husband only communicates via a puppet. Now, the actress immerses herself in a new world with her wife, Alexandra Hedison.
Jodie has two sons, Kit and Charlie, with her former partner, Cydney Bernard, who she called her "ex-partner in love" during a stirring speech at the Golden Globes in 2013.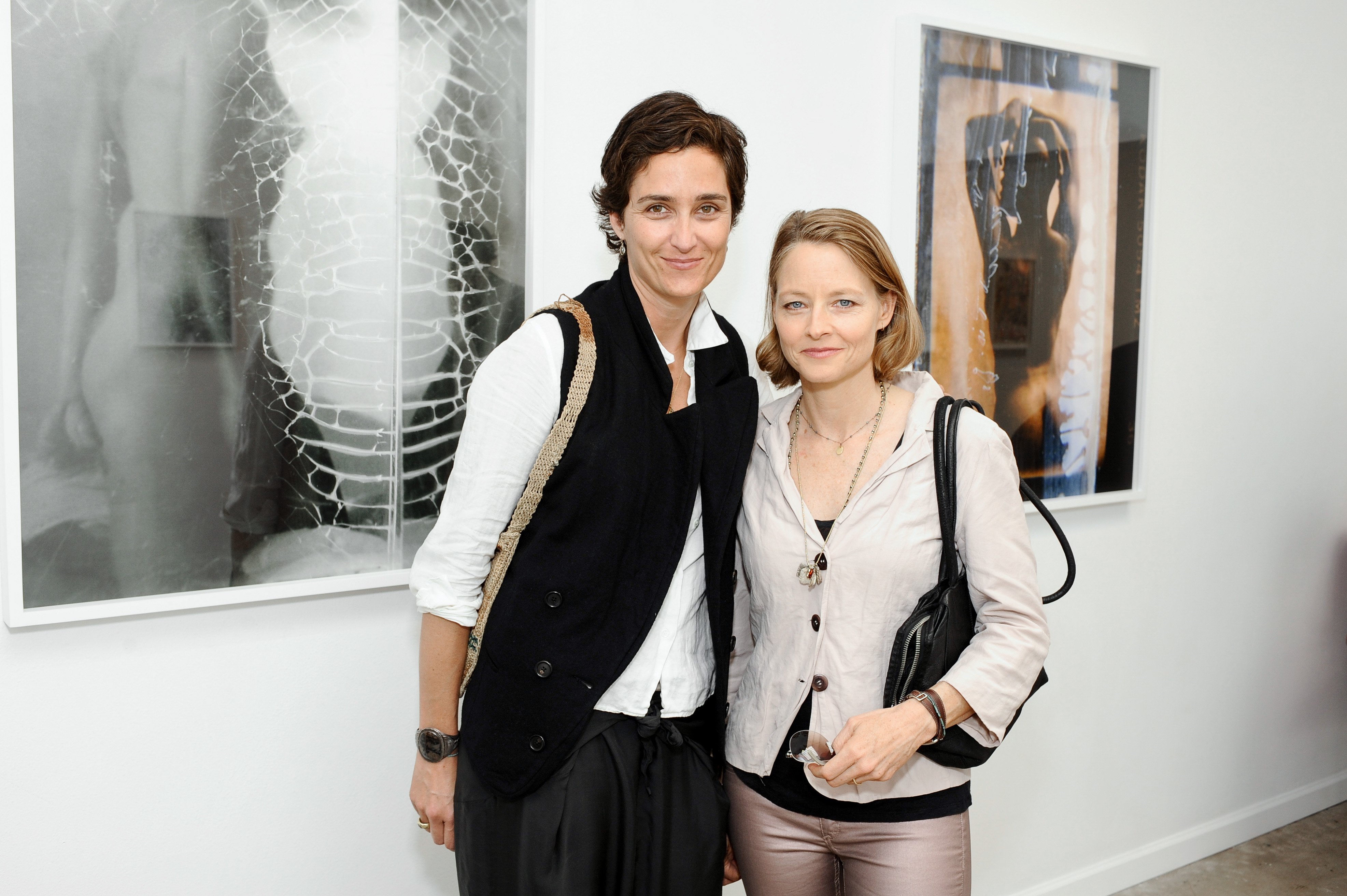 Alexandra Hedison and Jodie Foster attend Firooz Zahedi Opening At Kopeikin Gallery on April 27, 2014, in Los Angeles, California. | Source: Getty Images.
"My heroic co-parent, my ex-partner in love, but righteous soul sister in life; my confessor, my ski partner, consiglieri, most beloved BFF for 20 years, Cyd Bernard. Thank you, Cyd," Jodie said.
Her acceptance speech for the Cecil B. Demille Award for lifetime achievement many also considered as Jodie coming out after dodging questions about her sexuality for years.
"I guess I have a sudden urge to say something that I've never been able to air in public that I'm a little nervous about," Jodie continued. "I already did my coming out about a thousand years ago back in the Stone Age, in those very quaint days when a fragile young girl would open up to trusted friends and family and co-workers and then gradually, proudly to everyone who knew her, to everyone she actually met."
That summer, Jodie and Alexandra appeared together at Fox Studios in Los Angeles and seen enjoying dinner with friends a few days later. Rumors about the two started circulating, but the pair kept their relationship private.
Jodie has always been tight-lipped about her personal life, which includes her children, and she made "a conscious decision" to keep them out of the spotlight.
"I know the perils of having a parent involved in your art form are too great. My older son is getting more interested in acting now, and I'm glad he discovered it late. My younger son is really shy, and I can promise you he will never be an actor," Jodie shared.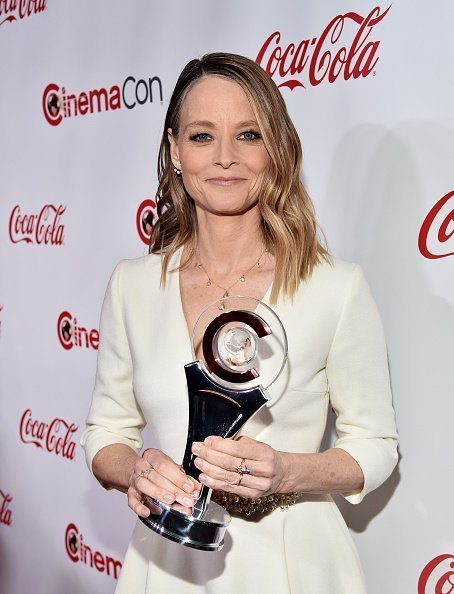 Jodie Foster, recipient of the Lifetime Achievement Award on April 26, 2018, in Las Vegas, Nevada. | Source: Getty Images.
According to a source that spoke to PEOPLE after Jodie and Alexandra tied the knot in April 2014, the couple is private about their lives with everyone they don't know and not just the media.
"They are very private when they're around people they don't know," the source said. "But when they're together, it can be like they're in their own world."
A few days after exchanging vows, the couple reiterated the source's words when they got spotted walking through the second annual Paris Photo Show, holding hands and lost in the land of newlyweds.
Alexandra, much like Jodie wears more than one professional hat. Although Jodie is an extremely accomplished actress, she made a transition into directing when she reached her 50's.
"Being in your 50s is a transitional period for actors – you're not old enough to play the old characters and not young enough to play the young ones, so I felt like, OK, this is my time to direct," Jodie said.
Directing projects Jodie tackled include the 2016 George Clooney and Julia Roberts film "Money Monster," while she also directed several episodes of television series, including "House of Cards" and "Orange Is the New Black."
As the daughter of actor David Hedison, who starred in the James Bond film "Live and Let Die" and "License to Kill," Alexandra followed in her father's footsteps early on in her career.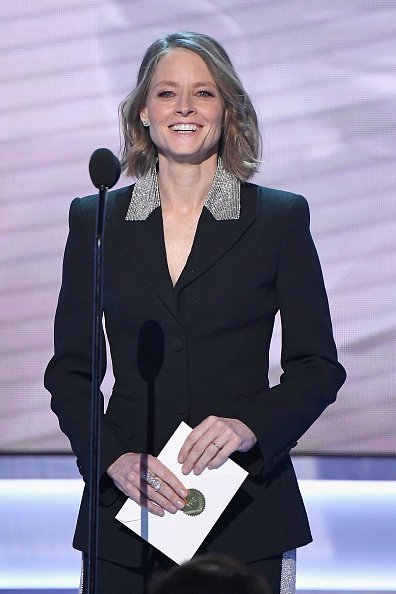 Jodie Foster speaks onstage during the 25th Annual Screen Actors Guild Awards at The Shrine Auditorium on January 27, 2019, in Los Angeles, California. | Source: Getty Images.
She snagged roles in television dramas such as "Nash Bridges" and "Melrose Place," but Alexandra soon found out that she didn't like the limelight.
"I was supporting myself, but I was miserable,'' Alexandra told The New York Times in 2004. ''Actors need to be front and center all the time. That's not me.''
Instead, Alexandra switched to work behind the camera and became a photographer and focused her work on architecture and landscapes. In 2004, she landed her first solo exhibit, Elements, at the White Room Gallery in Los Angeles, while many of Alexandra's pictures have been shown in New York, London, and Los Angeles.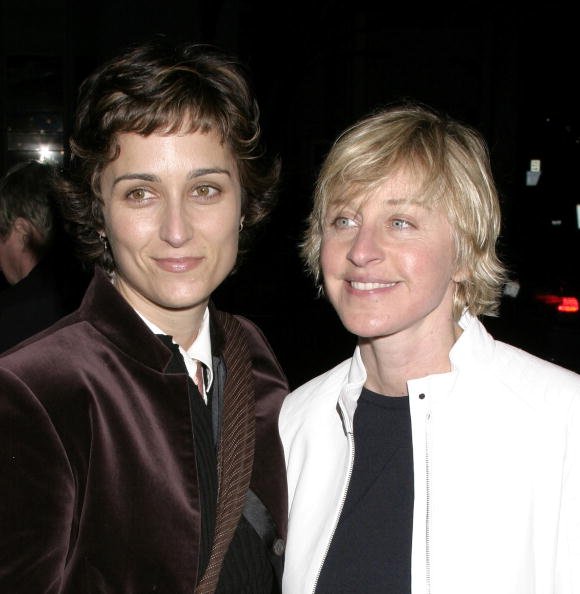 Ellen DeGeneres (R) and Alexandra Hedison attend the Opening Night Performance of "Afterbirth: Kathy and Mo's Greatest Hits", February 27, 2004, at Canon Theater in Beverly Hills, California. | Source: Getty Images.
With a history of dating celebrities, Alexandra dated the actress Anne Heche before friends introduced her to the talk show host Ellen DeGeneres.
The two started dating, and about a year into their relationship, Alexandra moved in with Ellen. Three years later, in 2004, Ellen ended their relationship when she became involved with Portia de Rossi.
Shortly after Alexandra started dating Jodie, she decided to sell her two-bedroom Laurel Canyon home she bought back in 2005 for $904,000.
Although Alexandra ended up selling her home for over $1 million in September 2013, it is unclear where she made her next home.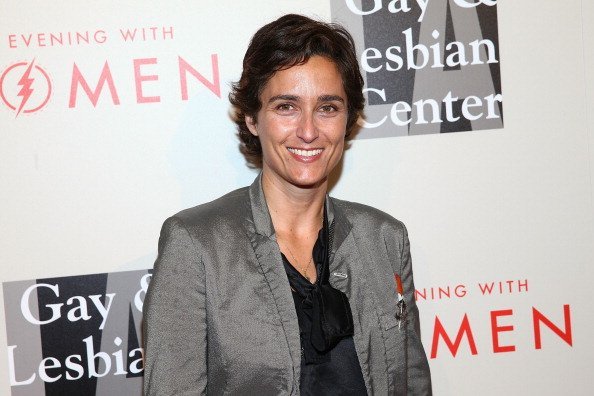 Photographer/actress Alexandra Hedison attends The L.A. Gay & Lesbian Center's 2014 An Evening With Women (AEWW) at The Beverly Hilton Hotel on May 10, 2014, in Beverly Hills, California. | Source: Getty Images.
While Jodie Foster gained a loved one through her relationship with Alexandra, the actress has also felt the loss of a loved one in recent years.
After landing her first commercial at the age of three, Jodie's mother Evelyn became more than a parent, she became her manager as well.
The pair had a close relationship, but sadly at the age of 90, Jodie's publicist mother and manager passed away in May 2019 due to complications related to dementia.
Please fill in your e-mail so we can share with you our top stories!