Christina Anstead of 'Flip or Flop' Shares a Photo of Son Brayden in Sunglasses
Famous "Flip or Flop" star Christina Anstead flaunts her son, Brayden James, a product of her previous marriage to Tarek El Moussa, before the media and admits that she misses him. 
Anstead is known for her expertise when it comes to real estate, but what makes her perhaps more charming is that she is a family woman and loves to show it.
The television personality recently took to her Instagram to share a snap of her young son, Hudson. She shares Brayden, and daughter Taylor, with her now ex-husband, Tarek El Moussa. 
In the new picture shared by Anstead, four-year-old Brayden is casually dressed wearing a short-sleeved white tee, floral-patterned shorts, and a black/white hat. 
The youngster's ensemble is a percent match for his scenic surroundings as he posed for the snap sitting on a lounge chair by a swimming pool. 
Brayden, who is Anstead's eldest son, seems like a foreboding presence with his face protected from the sun's glare by a pair of sunglasses. His Stoic expression is perhaps what makes him look so grown as his mother noted in the caption.
She wrote alongside a teary-eyed emoji:
"Miss my big boy and why does he look sooo old!? "the "Christina on the Coast." 
While Brayden admittedly looks like a boy much older in the snap, there is no arguing that he makes great eye candy. Anstead, who especially loves sharing pictures of Brayden, definitely knows this!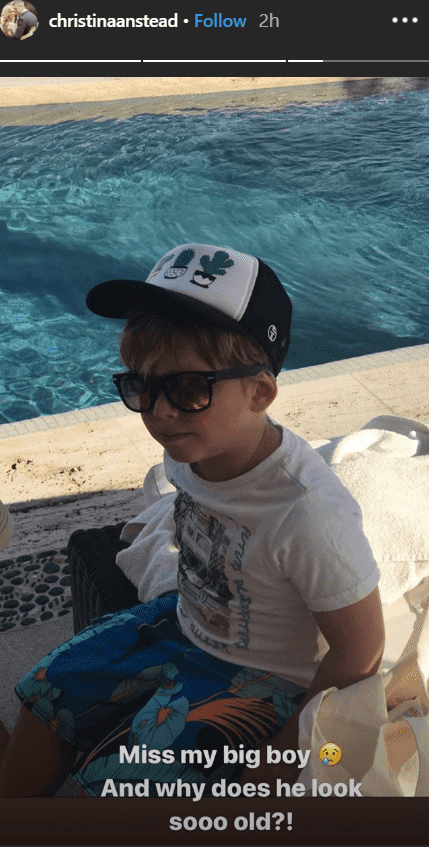 The 36-year-old is a mother of three and knows just how to share the love amidst her beautiful brood. She and her new husband, Ant Anstead, only recently welcomed a new addition to their family – son Hudson Anstead. 
Anstead showed off efficiency managing her home by bouncing back rather fast from delivering baby Hudson. That, alongside her charming personality and famous HGTV show, "Flip or Flop," is why she is fast becoming a household name.