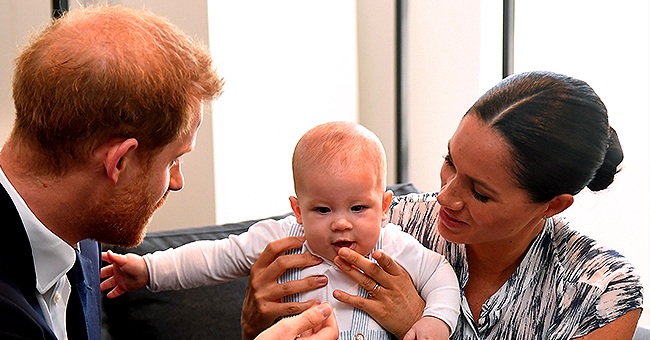 Getty Images
Us Weekly: Prince Harry and Meghan Markle's Son Archie Reportedly Strong Enough to Briefly Sit up for a Few Seconds
Baby Archie is growing so fast, and his parents are super proud of him as he makes his debut appearance on the royal tour.
The Duke and Duchess of Sussex, with their 4-month-old son, Archie, are currently on their first tour as a family to the African continent.
The Royal family recently visited popular South African Archbishop and activist of human rights, Desmond Tutu and his daughter, Thandeka Tutu-Gxashe.
An Instagram post by "@sussexroyal" shows Archbishop Tutu kissing the tot's forehead as Meghan looks on. This is Archie's first visit on tour, and he left a lasting impression on the mind of the public.
With the "Oh Happy Day" song in the background, a lengthy video was posted on Instagram, showing Archie dancing in his mother's laps while giving Archbishop Tutu a high-five.
Both Archie and his father were seen smiling at each other, as they make their entrance into The Legacy Foundation to meet the Bishop.
Archie's mother joked with Thandeka that the baby would have to get used to the cameras in the future, while Ms. Tutu jovially said the toddler was "going to be a ladies' man."
The happy baby giggled at the Archbishop's daughter, a gesture that made his mother jokingly say he "likes to flirt." Reactions from fans have been awesome as they are thrilled with the smiling and laughing gesture of Archie. One fan said:
"He's the cutest. I'm literally crying happy tears. Archie's so beautiful. What a happy baby too."
Another described him as 'perfection'. While one fan said:
"Seriously in tears rn. This family is to gorgeous."
From the videos and pictures, it's quite clear that Archie has grown to be a really strong and healthy baby. In fact, at just four months, according to US Weekly, Archie's strength allows him to sit up for a few seconds!
A source revealed to US Weekly saying:
"He's a very strong baby, he can even sit up for a few seconds"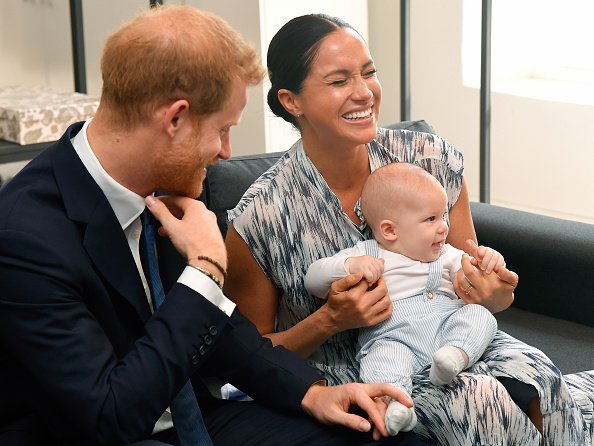 Prince Harry, Duke of Sussex, Meghan, Duchess of Sussex and their baby son Archie Mountbatten-Windsor on tour in South Africa | Getty Images
The Sussex's first family also received a few gifts from Archbishop Tutu, including emotional pictures of Princess Diana, and children's books written by the Archbishop, (Children of God Storybook Bible and Desmond and the Mean Word.)
While speaking to a news outlet, the Duchess of Sussex discusses how she balances her schedule on tour and being a mother. She said:
" I think the schedule — they have been very kind to me, because everything is based around Archie's feeding times. So it's a full plate."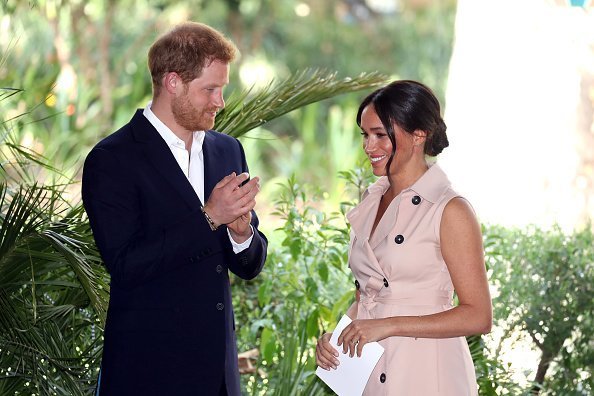 Prince Harry, Duke of Sussex and Meghan, Duchess of Sussex attend a Creative Industries and Business Reception | Photo: Getty Images
Notwithstanding, she also admitted that she is excited to be on tour, which is their first since they welcomed baby Archie. She said, "We're making it work, It's worth it."
Meghan and her son had to stay back in South Africa while her husband made unaccompanied visits to other African countries like Angola, Botswana, and Malawi.
They were scheduled to go back home on Wednesday, after concluding more activities with their host country's president Cyril Ramaphosa and the widow of late Nelson Mandela, Mrs. Graca Machel.
Please fill in your e-mail so we can share with you our top stories!