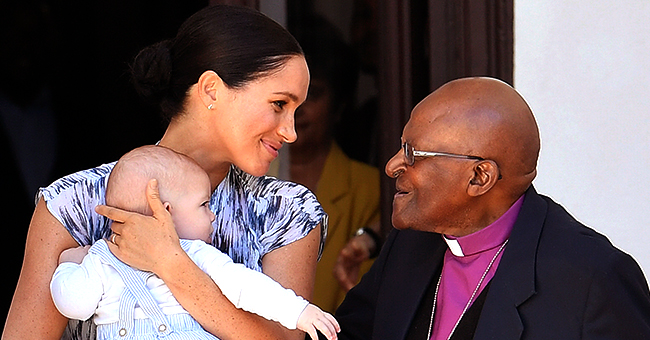 Getty Images
Prince Harry, Meghan Markle Take Archie to Meet Archbishop Desmond Tutu on Royal South Africa Tour
On a rare occasion during their first official tour as a family in South Africa, Baby Archie steps out with the Duke and Duchess of Sussex to be introduced to Archbishop Desmond Tutu in Cape Town.
Meghan carried Archie the entire time as the royal couple visited Nobel Peace Prize winner Archbishop Desmond Tutu in Cape Town, South Africa. The youngest member of the British Royal family was then introduced to the archbishop, who greeted Baby Archie with a smile.
Baby Archie's visit to South Africa is his first official Royal engagement, and is close to his dad's heart who has been doing work in the continent for decades.
On their official Instagram account, the Duke and Duchess of Sussex shared a photo of Archbishop Tutu giving Archie a gentle kiss on the forehead.
A Rare Appearance for Archbishop and Archie
Just like Baby Archie, who hasn't made a public appearance since his christening until their African tour, the archbishop is also rarely seen by the public, as he has been treated for prostate cancer for years.
However, this occasion marked a first for both parties, who gladly welcomed one another in a quick exchange. On a statement made by the Desmond & Leah Tutu Legacy, he was quoted saying Meghan and Harry are genuinely caring people.
"It's very heartwarming, let me tell you, very heartwarming to realise that you really, genuinely are people."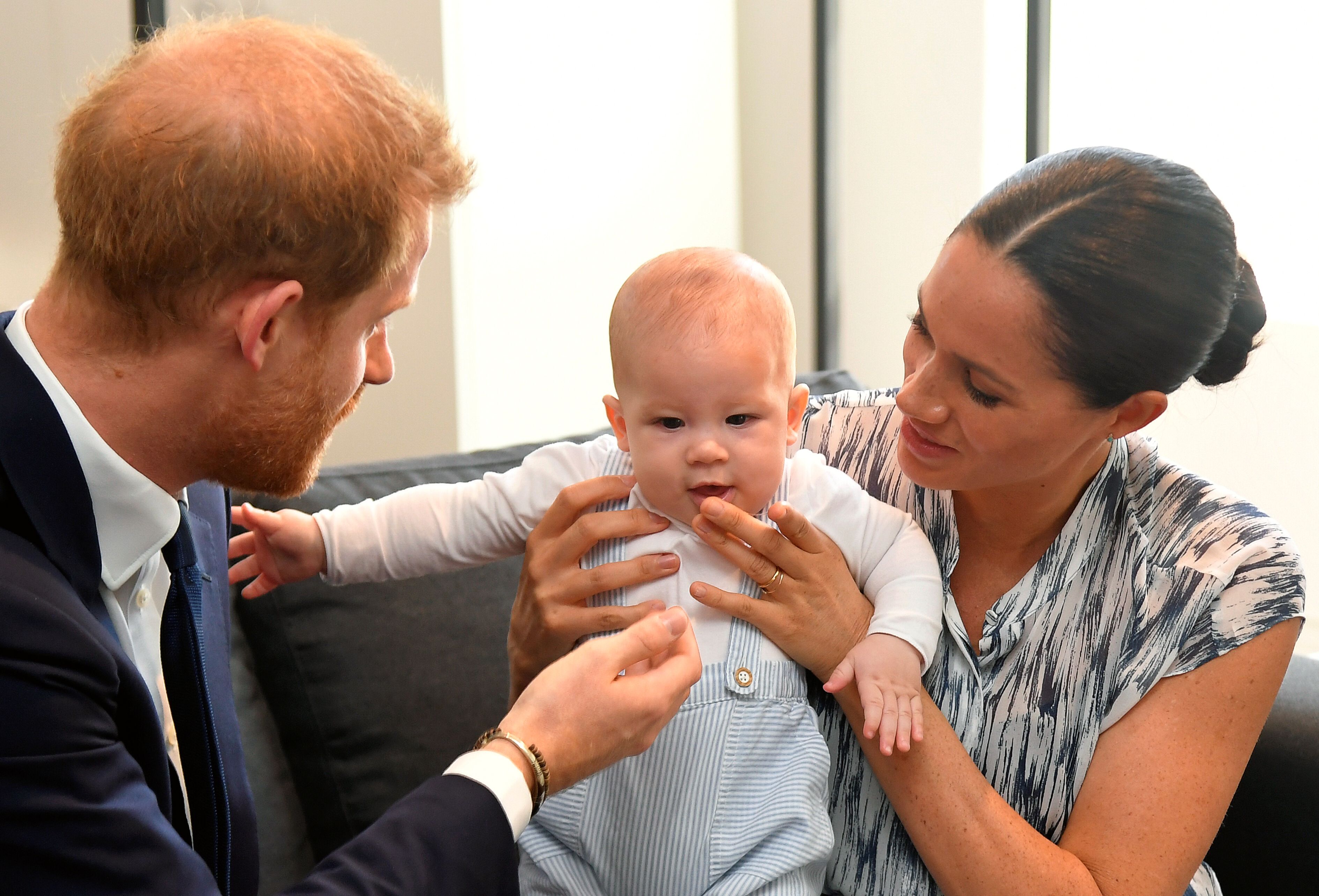 The Duke and Duchess of Sussex and Baby Archie during their visit to Archbishop Tutu in Cape Town, South Africa | Source: Getty Images/GlobalImagesUkraine
Tokens of Appreciation for the Royal Family
After their exchange, the small family was given a few gifts from Archbishop Tutu, including photos of Archie's late grandmother, Princess Diana, and children's books signed by him. For Meghan and Harry, they also received a book containing the work of anti-apartheid poet Patricia Schonstein, and the Book of Joy, signed by the Archbishop and the Dalai Lama.
The Duke and Duchess of Sussex, along with Baby Archie, are on a 10-day South African tour, before Harry goes on solo trips to Botswana, Angola, and Malawi.
On Meeting Meghan's Father
While Baby Archie is out in South Africa meeting some of the most inspiring people in the world, Meghan Markle's estranged father continues to wonder when he'll be meeting his grandson.
On one of his latest interviews, Thomas Markle gave the press a piece of his thoughts as he wondered when he'll be seeing his grandson, Baby Archie. It has been impossible for Markle to reconnect with his daughter, Meghan, because of the rift he has with the royal family.
Mr. Markle's Controversial Statements
Since giving controversial statements about his daughter since the Royal Wedding, Thomas has not stopped granting interviews to the press, which is something the Palace denounces.
Now, on an interview with The Daily Mail, he shares that he's desperate to meet Archie.
"I would like them to send me a picture of Archie so I can frame it and put it on my wall beside the one of Meghan. Isn't that what any grandfather would want?"
Unfortunately for Mr. Markle, the Royal family refuses to interact with him because of the way he portrays Meghan to the press, which is harmful not only for her but the entire Royal family. With this, his wish of meeting his grandson may not come any time soon.
Please fill in your e-mail so we can share with you our top stories!