Prince George Cheers on Dad Prince William's Favorite Soccer Team during a Match
Prince William and Kate Middleton enjoy a family outing at a soccer match. Prince George steals the show with his excitement over the game.
In a rare public outing, Prince William and Kate Middleton took their children to watch a live Premiere League soccer match between Aston Villa and Norwich City.
William has always been a proud supporter of Aston Villa. On Saturday, he was joined by his wife and two eldest children, Princess Charlotte and Prince George, at the game. A visibly excited George gave audiences the cutest reactions as he enjoyed the game. 
Instead of wearing the team's soccer jersey, George is dressed in colors that are associated with Aston Villa.
Camera's catch the young Prince jumping with excitement and waving his hands in the air, as his parents appear look on and smile along with him.
You know how to pick your #AVFC games, Your Royal Highness. 😉#PL pic.twitter.com/BQ4Eg0KGY8

— Aston Villa (@AVFCOfficial) October 5, 2019
It is reported, in 2015 William had hoped that George would be a fan of his favourite team. At the time he told reporter's one of his children would probably support the team saying:
"It'll probably end up being that Charlotte is the Villa fan."
Judging by his George's reaction, it appears the royal family have another Aston Villa supporter on their hands.
At the end of the game Aston Villa were victorious, winning 5-1 against Norwich City. Speaking about the success of the game and having the royal family cheer watch from the crowd, Ashton Villa manager, Dean Smith jokes about getting the royal family free tickets, he says:
"I'll be getting them tickets for every game now if they need tickets because, you know, we got the result today. I'll even put a call in and see if I can get them on the team coach next game."
The video of George watching Ashton Villa play has been viewed over 3 million times. Many fans of the royal family are pointing out how happy he looks, one commenter says:
"Not a care in the world he could be a future king, just a young boy having fun. Lovely thing for him to be able to enjoy."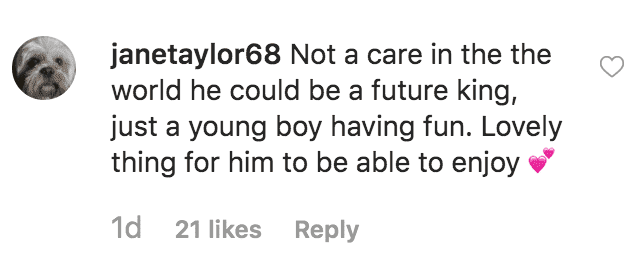 William is a member of the Football Association. In 2006 he served as President for the association. The Prince has always been an avid supporter of soccer and often attends many games to support the England national team play.