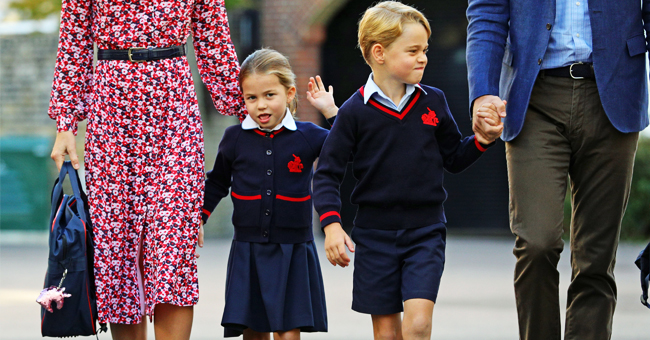 GettyImages
Princess Charlotte & Prince George's Hilarious Funny Faces on Their First Day of School Accompanied by Royal Parents
Princess Charlotte arrive's for her first day of school. She will be attending the same school as her brother, Prince George. The siblings arrival gave reporters some hilarious shots of the royal family.
Princess Charlotte, who previously attended Willocks Nursery, just started the first day at her new prep-school, Thomas's Battersea. The 4-year-old will be joining her older brother, Prince George at the school.
In a picture shared by Kensington Palace, the royals tweet:
"The Duke and Duchess of Cambridge are very pleased to share a photograph of Prince George and Princess Charlotte at Kensington Palace this morning."
"The photo was taken shortly before Their Royal Highnesses left for Thomas's Battersea," it is revealed.
On their arrival at Thomas Battersea, Prince William walked slightly ahead of his family, holding George's hand on one side and a school bag in the other.
Kate Middleton followed suit with Charlotte by her side. As they walk towards the head of the lower school, Helen Haslem, it is reported Middleton reassures Charlotte saying:
"George will have to show you the way."
If pictures speak a thousand words, then the video of the royal family arriving speaks a thousand facial expressions. The young royals entertained reporters and onlookers with their infamous facial expressions
Charlotte holds tightly onto Middleton and nervously plays with her ponytail, as she wait for her turn to greet Haslem. Her Middleton greets their teacher and asks if she enjoyed her summer.
Standing together, as they great Haslem, Prince William says:
"First day…very excited."
Known for cheekily sticking her tongue out, audiences had been waiting for Charlotte to steal the show again. Instead it was George who got peoples attention with his facial expression. Scrunching his face as the walk ahead, he gives his teacher a firm handshake.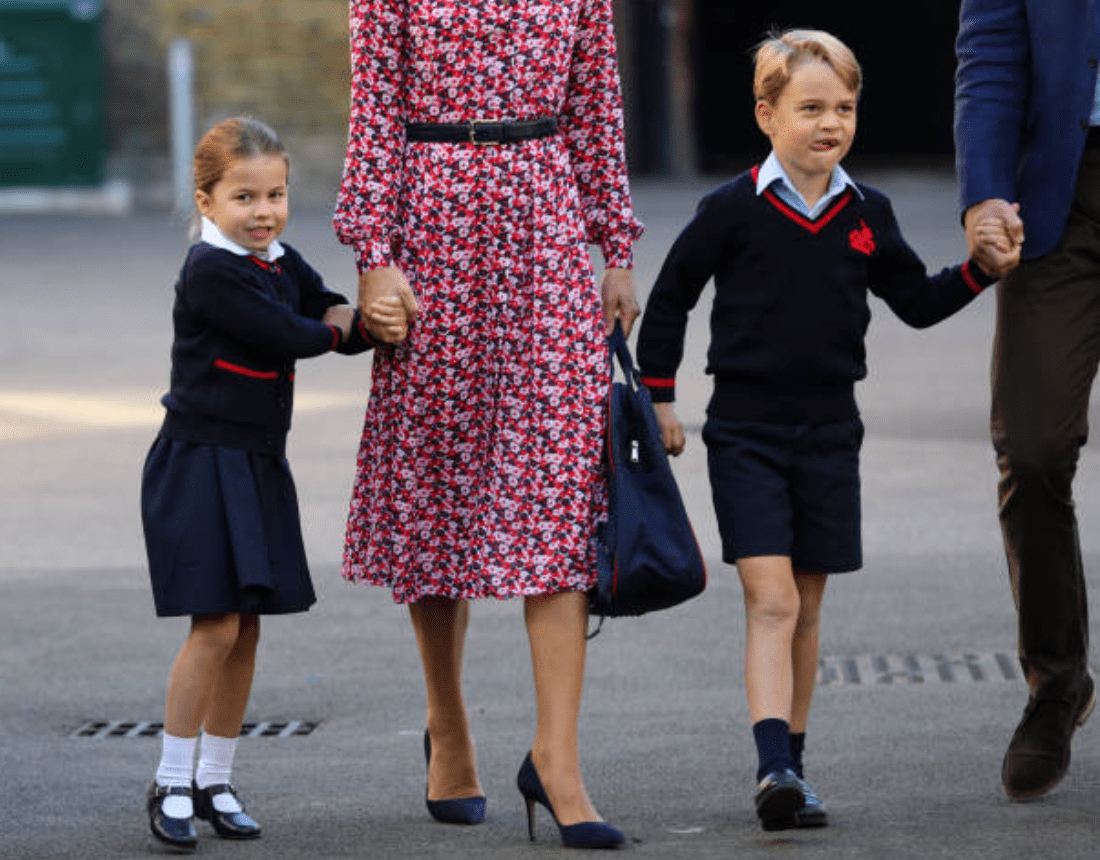 Prince Harry, Kate Middleton, Princess Charlotte and Prince George arriving for her first day of school at Thomas's Battersea on September 5, London | Source: Getty Images
Almost two years ago pregnancy nausea prevented Middleton from being able to attend George's first day of school. This year she gets to be part of this milestone in her children's lives.
Please fill in your e-mail so we can share with you our top stories!