Miley Cyrus Marks 6th Anniversary of 'Bangerz' Album with Throwback Photos
Singer and Songwriter, Miley Cyrus, celebrated the sixth anniversary of her fourth studio album, "Bangerz," in typical "Miley" style by sharing throwback pictures of the album's cover and a caption that relayed her plans for the next six years. 
Miley Cyrus's album, "Bangerz," released in 2013, is one of her most memorable albums, as it had many chart-topping songs such as "Wrecking Ball," "We Can't Stop," and "Adore You."
The album saw a change to Miley Cyrus's sound and gave her a different image, as depicted with her low hair cut for the album cover. The album sure did piss some people off, and six years since its release, Miley plans to keep doing just that. 
MILEY CYRUS'S POST
The singer posted a throwback photograph of the "Bangerz" album cover on her Instagram page. The photo shows Miley Cyrus seated on a red chair with a plantation behind her, and the album title in red lights just above her head.
In the caption, the singer revealed her plans for the next six years. She wrote:
"Happy 6 year anniversary #Bangerz !!!  Here's to 6 more years of pissing people off." 
The "Bangerz" album came after three years of which she had no song release and also saw her rebrand her image into an eccentric singer, so much different from the previously tame version.
Such a change was sure to bring up a discussion about Miley Cyrus, and six years afterward, it still does. Many of the 26-year-old's fans reacted to the post with varying comments. 
MILEY'S FANS REACT TO THE POST
A fan said that the album will always remain one to be remembered, writing:
"Bangerz will forever be iconic."
Another fan thanked Miley Cyrus for the album and asked her to keep being herself:
"It was literally a movement… thank you for everything. Keep being you."
Trace Cyrus couldn't believe that much time had passed since the album's release, saying:
"Yasss! I can't believe it's been 6 years tho??."
MILEY SEEN CUDDLING CODY SIMPSON
Miley Cyrus has been in the news in recent months. News about her separation from ex-husband, Liam Hemsworth, to her breakup with Kaitlynn Carter, and now she is making the headlines again after her romance with musician, Cody Simpson went public.
The pair were seen cuddling during a movie night on Sunday. Cody, an Australian musician, hasn't found it hard to post about his relationship with Miley Cyrus, as his Instagram page is filled with their cozy moments.
It was only last week that the couple were again caught making out while on an acai bowl outing in Los Angeles. Miley seems to have found love in Cody Simpson, describing him as her type on her social media page.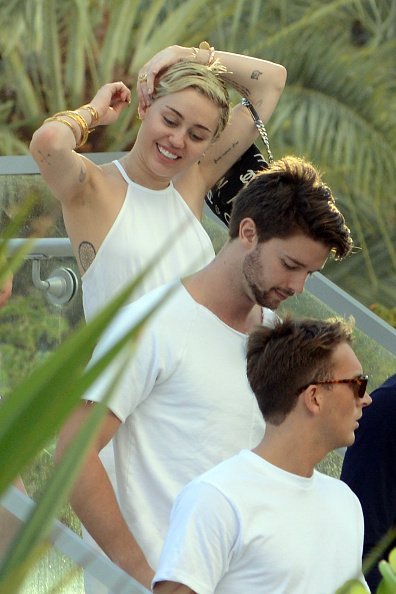 Miley's fans and several observers would be waiting to see if her new romance with Cody is only a flash in the pan or is here to stay.