Carrie Underwood Praises Kelly Clarkson after She Sang Cover of 'Before He Cheats' on the Talk Show
Carrie Underwood approves of Kelly Clarkson's performance of her song, "Before he Cheats." Her tweet has fans asking her to collaborate on new music with Kelly.
After receiving many positive reviews from her fans, for her cover of Carrie Underwood's 2006 hit song, "Before He Cheats," Kelly Clarkson is getting the thumbs up from Underwood herself. In a tweet she simply writes:
"Saaaaaaaaang, gurl!"
Saaaaaaaaang, gurl! 🔥 https://t.co/V9HzYLAC47

— Carrie Underwood (@carrieunderwood) October 4, 2019
As part of a segment called "Kellyoke" for her talk show, "The Kelly Clarkson Show," Kelly opens her show by performing covers of some of her favorite songs. 
She has performed Dolly Parton's "9 to 5," Lizzo's "Juice" and Aretha Franklin's "Think." Her version of Carrie's song, "Before He Cheats," had audience members rising to their feet and dancing along to her powerful vocals.
Many fans have responded to Carrie's tweet, praising her for showing support to Kelly and other fans are hoping the two will collaborate one day. One fan replies:
"You and Kelly need a duet together!! Two American Idol winners."
With Carrie is enjoying life on the road again for her "Cry Pretty Tour 360." Kelly is settling into life in Los Angeles for her talk show, the two stars are busy navigating their successful careers. But that doesn't stop another fan for also asking for the ultimate music collaboration, he says:
"WE JUST NEED A COLLAB FROM YOU @carrieunderwood and @kellyclarkson."
WE JUST NEED A COLLAB FROM YOU @carrieunderwood and @kellyclarkson ❤❤

— Stream #UnderTheMistletoe - Kelly Clarkson 🎄❤ (@David123_45) October 4, 2019
In an interview with Z100's Elvis Duran and The Morning Show, Kelly shares that being an "American Idol" alum sometimes has fans confusing her with Carrie, she explains:
"People come up to me all the time. Okay, we look nothing alike, we sound nothing alike, there's nothing about us that's similar, really, except we were both on Idol."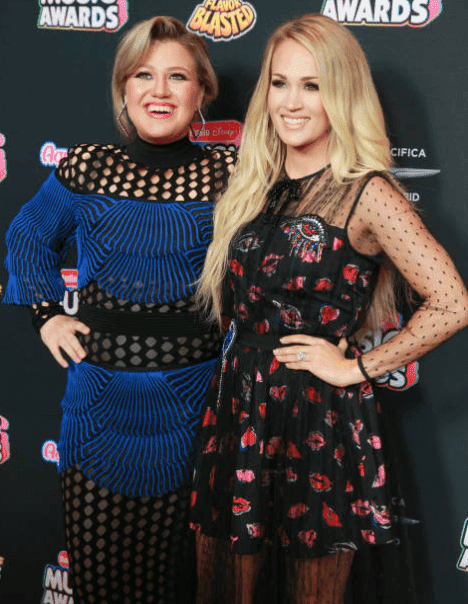 "People are always like, 'I love your song, "So Small," and I'm like, 'Thank you. Thank you, I think you're thinking I'm Carrie Underwood.' It always happens," she reveals.
In an interview with PEOPLE, Kelly tells the magazine that she has been doing covers of her favorite songs for a long time. The "Kellyoke" segment on her show is a traditional she adopted from her performances on tour.