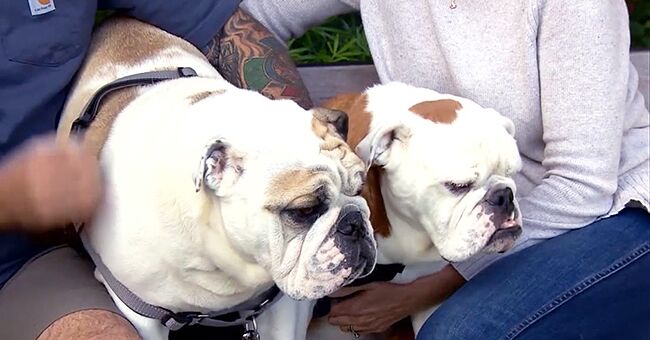 twitter.com/seattlepi
Washington Man Manages to Get Burning Boat Away from a Yacht Club and Rescues His 2 Bulldogs

Mike Babbitt from Washington has managed to save himself and his two bulldogs from a burning yacht recently.
A
GoFundMe Fundraiser
has since been made to help the Babbitts to recover financially following the fire. In an interview with Komo News, Mike
explained
that he left his slip at the Bremerton Yacht Club to go fuel up when the engine compartment of the boat burst into flames.
"I could tell right away it was more than I could do with an extinguisher," he shared.
The retired Boise City Police detective acted fast as the yacht became engulfed in flames.
He immediately moved the boat into the middle of the water, with the goal that it wouldn't spread to the other yachts at the dock.
"The wind was blowing from the North. It would have blown the boat into the yacht club so I just gave it all the power I could to get it away from the yacht club," he told the outlet.
Yet, that wasn't the end of Mike's mission. His two bulldogs — Pearl and Hootie — were still on the boat.
During the interview, he explained that he put the dogs on a paddleboard before jumping into the water himself.
According to him, he didn't even have the opportunity to get a life vest or his oxygen. Still, he managed to do the unbelievable. He said that he slid into the water and began paddling ceaselessly from the fire.
A few companions then rescued Mike. They later brought him to a nearby hospital. The yacht was their main living place, so the fire is extremely unfortunate for Mike and his better half, Jamie.
To maintain a life on the water, the couple had previously sold their home and saved up.
"We had saved for a while so we could do this because it was a dream of ours," said Mike. "Now we have to start over from scratch."
Battling for endurance is a part of Mike's life. For five years, he was the Army in a special police unit in Iraq and Afghanistan. A pancreatic attack left him on oxygen for the rest of his life, as well.
"You have to put it in perspective that we're still alive and we're still together," Mike said. "We'll just take it a day at a time and figure out the path we're going to walk next."
This incident is similar to what happened to Jose Guzman of Southern California last March.
As reported by PEOPLE, Guzman had no hesitations about running back in and saving his 2-year-old pit bull named Gabanna as flames engulfed his home.
Please fill in your e-mail so we can share with you our top stories!