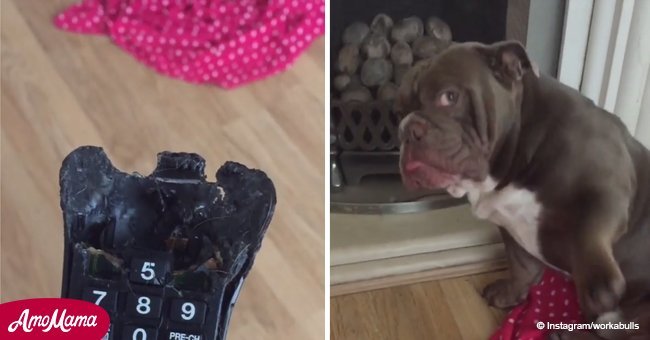 Adorable bulldog pleads guilty after owner asks him who destroyed the remote

An Instagram page named "workabulls" posted a video that showed one bulldog who was responsible enough to own up for his crimes against a remote.
Walter the bulldog was the main suspect in the destruction of the 11th remote control according to mummy Danielle Lou. She decided to record the confrontation on camera and the results are ridiculously cute.
In the video, one sees that at least an entire first row was chewed away on the remote. Lou approached Walter like a bad cop interrogating the canine culprit.
Follow us on Twitter for more @amomama_usa.
"Who did this Walter? Who did this?" Lou asked. Walter appears fidgety and is unable to keep a straight eye when looking at his owner.
"Was it you? Who did it?" As Lou moved in on Walter, he can't handle the pressure anymore and caves. He reluctantly raises a paw in admission, amusing Lou and viewers alike.
UNILad interviewed Lou who said that:
"He's just turned one... he's one of four English bulldogs that I own. He's a massive softie, loves cuddles and snores like a trooper.

This is literally the 11th remote he has chewed... he can hunt them down! He has the cutest face ever and I hate telling him off."
In relating her experience as a multiple bulldog owner, Lou explains:
"Always been my absolute dream to breed English bulldogs since being very little... I have four dogs which mean the world to me... I really am crazy bulldog lady."
In May 2015, a white bulldog named Lilly showed off some less naughty vocal skills. She attempted her own doggy rendition of Ed Sheeran's "Thinking Out Loud," which is apparently her favorite song.
The terrier bulldog howled along when the song came on in the video, pausing and restarting at appropriate times. She definitely did her best, looking and sounding too cute as she raised her head to the sky.
Also back in 2015, YouTube users were treated to one of many joyous reunions between a family pet and a soldier. This time, an elderly dog missed her owner Hannah Foraker for three months, the longest she'd been away from home.
The dog Buddy didn't notice anything at first when she was let outside. But then "she did a double-take" and was overwhelmed as she went to Foraker crying and whimpering.
Please fill in your e-mail so we can share with you our top stories!