How 'Happy Days' Star Henry Winkler Once Prevented 17-Year-Old Fan's Suicide Attempt
Henry Winkler, best known as Arthur "Fonzie" Fonzarelli on the 70s sitcom "Happy Days," revealed during an interview that he once prevented a fan from committing suicide.
Born in October 1945, Winkler's career in the entertainment industry began as an extra on a game show in New York. He later started working in theatre and TV commercials until 1973, when he got the part of Fonzie on "Happy Days."
"I was 27 when I got the Fonz [part], John. I think you've got 10 good years to keep trying."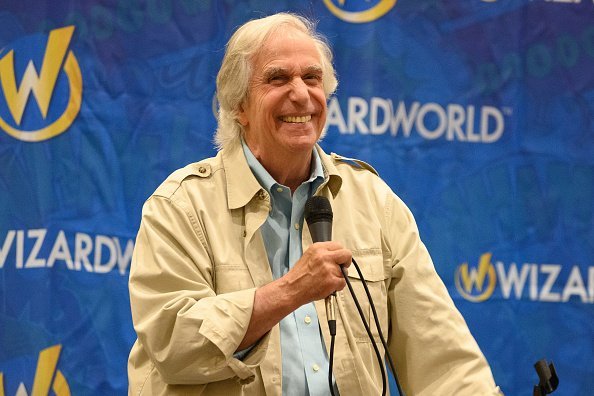 Henry Winkler's time on "Happy Days"
Initially, the role was supposed to go to a hunky, blonde, Italian model-type man, and the actor originally envisioned was Micky Dolenz.
However, when Winkler was asked to audition, Garry Marshall, the project's director and producer, realized that Winkler's 5'6" could interact with the rest of the characters at eye level better than Dolenz, who is 6'0".
Like holding a grandchild pic.twitter.com/ZnsKYlbrsY

— Henry Winkler (@hwinkler4real) July 16, 2019
When the show began, Fonzie was a secondary character. Over time, he began surpassing the rest of the characters in popularity, so it was only natural that he got a principal position.
Winkler's performance on "Happy Days" was so good that he won two Golden Globes for Best Actor in a TV series and was nominated to three Emmys. Apart from that, a 2001 poll conducted by Channel 4 in the UK ranked Fonzie number 13 on its 100 Greatest TV Characters list.
His career when the show ended
After his time on "Happy Days," Winkler focused on producing and directing. Among the most popular projects he produced, there are "MacGyver," "So Weird," and "Mr. Sunshine."
He has also directed some films, including "A Smoky Mountain Christmas," "Memories of Me," and "Cop and a Half." Apart from his work in front and behind the cameras, Winkler has released 19 books.
Here I am in PS 87 's library holding the last Here's Hank and Hank is standing in PS 87 's library on the cover ....o my !!!!! pic.twitter.com/SqUdPsyBd8

— Henry Winkler (@hwinkler4real) February 6, 2019
He is known as one of the nicest people in Hollywood
If being a successful actor, comedian, director, producer, and author wasn't good enough, Winkler is also an incredibly lovely person!
According to Mean Stars, a website created for people to share their encounter stories with celebrities and see how they really are, the actor's rating is 83% nice.
Your turn !!! pic.twitter.com/XLNRp8dOps

— Henry Winkler (@hwinkler4real) June 5, 2018
One of the users of the website revealed that he once ran into Winkler at an airport. As soon as the actor noticed that this person recognized him, he smiled, gave him a signed business card, and took a picture with him.
A different person shared that they met Winkler at the hotel they were working at the time. While in an elevator on his way to his room, a lady recognized him and asked to sing happy birthday to her baby son. The actor made all the people in the elevator sing in the nicest way.
New morning new possibilities. the Salt River pic.twitter.com/Kml0n4rh86

— Henry Winkler (@hwinkler4real) June 27, 2018
He once prevented a person from killing himself
Those random acts of kindness are nothing new for him, apparently. During a conversation with Jimmy Kimmel on his show. Winkler revealed that he prevented a 17-year-old man from committing suicide.
It happened in the set of "Happy Days." He got a call from a state trooper from Illinois who told him that a 17-year-old kid was on a ledge threatening to jump off. The person wouldn't talk to anybody but Winkler.
I'm NOT sure this detective has my best interests in his heart !!! pic.twitter.com/yolHvCcqva

— Henry Winkler (@hwinkler4real) May 14, 2019
The actor admitted that he didn't know where he got the nerve to talk to that person, but he did it anyway. About their conversation, he shared that John, the made-up name he came up with, told him he wanted to be an actor.
Winkler then asked John to send him his record collection and, when he was off the ledge already, the actor told him:
His words were enough
"I was 27 when I got the Fonz [part], John. I think you've got 10 good years to keep trying. How about that? Will you do that? Can I get back to rehearsing? Thank you."
Kimmel pointed out that Winkler saved John's life, and the actor added that even though he did it, he never got the records.
Congrats to @hwinkler4real on your first Primetime #Emmys for #BarryHBO He's received 6 nominations over the past 42 years. #HenryWinkler pic.twitter.com/BC2NzocBHN

— The Emmys (@TheEmmys) September 18, 2018
At the moment, Winkler is 73 years old. Despite all the years he has been working in the entertainment industry, he doesn't seem to slow down.
Starting in 2018, he has been playing Gene Cousineau on the HBO series "Barry," for which he has got one Golden Globe nomination and a Primetime Emmy Award. Apart from that, he is set to appear on the upcoming comedy-drama "The French Dispatch."
If you or someone you know is considering suicide, please contact the National Suicide Prevention Lifeline at 1-800-273-TALK (8255), text "help" to the Crisis Text Line at 741-741 or go to suicidepreventionlifeline.org.