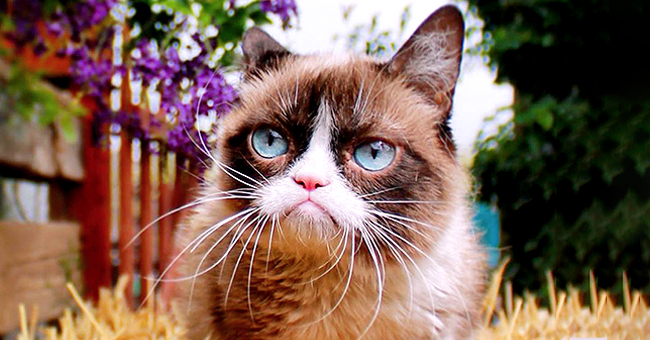 Instagram/realgrumpycat
15 Famous Cats That Are 'Meowdels' on Instagram

Get ready to be 'adora-pawed' by cats on Instagram, whose following on social media makes them nothing short of feline celebrities.
Listed in order by their current following from least to most, one look at these unique and beautiful cats, and all resistance will crumble.
PRINCESS CHEETO: 131K FOLLOWERS
Princess Cheeto's poses for fun artsy shots made her a firm favorite and dubbed by I Can Haz Cheeseburger? with having "the coolest Instagram feed."
This rescue cat's prints have featured in art shows across the US, while Princess Cheeto also featured in ads for major brands, such as Smirnoff and Target.
SAM: 242K FOLLOWERS
Sam has distinct eyebrows that give him an ever-present quizzical look and a likeness that proves popular on Instagram. While Sam lives a happy life now, his owners initially found him abandoned near their home.
ATCHOUM: 407K FOLLOWERS
Atchoum's unique look comes from a rare condition called hypertrichosis and causes his long fur as a Persian, to grow even longer.
Apart from having a popular Facebook page as well, Atchoum featured in several online publications and print.
PUDGE: 670K FOLLOWERS
This female calico may look as adorably sour as they come, but Pudge is actually a sweet cat that responds to her owner's questions and loves a long nap in the bathroom sink.
Her unusual facial coloration and the thick white mustache makes it easy to understand her ever-growing fan club.
HAMILTON THE HIPSTER: 815K FOLLOWING
Hamilton's owners adopted him at two months old, and have since used his popularity to raise awareness of pet adoption.
The adorable mustache starkly contrasts with the color on the rest of his face, and as his owners confirmed, it's all-natural.
WAFFLES: 910K FOLLOWERS
Just one look at Waffles, and it's easy to understand the almost 1m followers of the Scottish Fold cat. Strangely enough, this cute cat had trouble finding a home as a kitten but is now much loved by his Instagram and Facebook fans, and his family.
SUKI: 1.6M FOLLOWERS
Suki is a Bengal cat that loves her adventures, and her followers love seeing pictures of her outdoor travels while she explores her world.
With almost 800 posts to date, fans can browse through a multitude of beautiful pictures of this unique cat and her outings.
HOSICO: 1.6M FOLLOWERS
Hosico means 'star child' in Chinese, and was born on August 4, 2014, in Russia. Since then, the Scottish gold cat inspired adorable lookalike plush toys, a collection of custom pillows, clothing, and even sports a calendar for 2020.
COBY: 1.7M FOLLOWERS
Coby's white fur and striking blue eyes make a stunning combination that made him very popular on social media. His tendency to strike the ideal pose for the particular shot doesn't hurt either, whether it be with a hat or Hawaiian shirt.
VENUS: 1.9M FOLLOWERS
Venus is two-faced, literally, and her eyes are not the same color either. The combination of split facial and eye color makes for a rare sight that fascinates millions of people.
Taken from Dr. Seuss, Venus has the motto of "why fit in when you were born to stand out?"
COFFEE: 2M FOLLOWERS
While he is often called the white coffee cat or Mr. White, this beautiful boy's name is actually Coffee, and he is the brother of another famous cat, Nala.
In 2016, Coffee bravely fought cancer after a swollen lump revealed kidney lymphoma. His treatments were costly, and his owners put out everything from raffles to donation buttons to help get their boy the help he needed.
Fans showered them with support and help, and Coffee underwent a year of chemotherapy. Today, Coffee is happy and healthy.
SMOOTHIE: 2.1 FOLLOWERS
Smoothie is very photogenic, and the "Queen of Fluff" is well aware of that fact. Born in the Netherlands in April 2014, she became "The Most Photogenic Cat in the World" in 2016 and often stars alongside her brother, Milkshake, in their videos on YouTube.
LIL BUB: 2.3M FOLLOWERS
Lil Bub will all the cuteness packed into her small frame is also a rescue cat and an ambassador for pet adoption. Found as the runt of a healthy litter of kittens in a tool shed in July 2011, this adorable cat became a major ambassador for animals in need.
Published books and talk shows aside, Lil Bub became the star of an award-winning documentary and helped raise over $300,000 via her Lil BUB's Big Fund for the ASPCA.
GRUMPY CAT: 2.7M FOLLOWERS
Although she is widely known as Grumpy Cat, this beautiful feline's real name is Tardar Sauce. She became an internet sensation in 2012 when her owner posted a picture of her on Reddit, and Tardar Sauce's popularity kept growing.
She has feline dwarfism even though her parents are normal domestic cats, and therefore often sits in odd positions. Apart from that, she is happy and healthy and features on tons of merchandise, memes, and calendars.
NALA: 4.2M FOLLOWERS
According to PEOPLE, Nala holds the Guinness record for the living cat with the most Instagram followers. Her owners adopted her from a shelter at about five months old, and they initially started her Instagram page to raise awareness of the plight of animals that end up in shelters as she did.
Now, Nala has her own website with products one can buy, ranging from cat accessories to home decor, while one can also browse through her latest events and pictures.
Relatedly, while one can teach old dogs new tricks, or not. The same applies to cats, as it turns out. Some dog breeds are known to train well, but up until recently, cats were not thought of in the same way.
However, during an episode of America's Got Talent in 2018, the owners showed just what the Savitsky Cats are capable of, and amazed the judges and audience in the process.
Please fill in your e-mail so we can share with you our top stories!