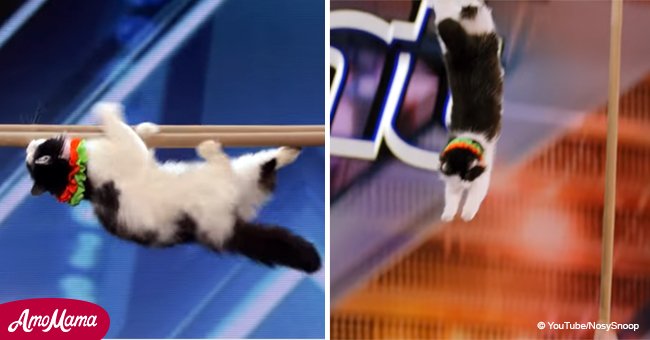 Super trained cats gave an exciting performance at 'AGT'
You can't teach an old dog new tricks but cats are a different story altogether. When the Savitsky Cats performed on America's Got Talent, even Simon Cowell was impressed.
A short video clip was shared on the reality TV show's YouTube account. Cat owners Svetlana and Marina explained that they had trained 10 cats and one dog.
Cowell was skeptical but joked "that poor dog," while Heidi Klum remarked that "they do what they want, those cats." Read more on our Twitter account, @amomama_usa.
He looked unamused at the start of the performance, and the audience was waiting in anticipation for the set to start. Cowell soon realized that these weren't ordinary cats.
They were highly trained and performed all the task with ease. Svetlana introduced the ginger cat first, and he looked adorable in his green and orange collar.
Next she produced a hula hoop, and at first, it appeared as though the cat had no intention to follow orders, but he gracefully jumped through the hoop, much to the delight of the audience.
Cowell was astounded, especially when the cat sat up on its hind legs and raised his paws in the air. The next trick involved the cat rolling a cylinder before Marina introduced a black-and-white long-haired feline
The second cat then crawled along the underside of a balance beam and hopped alongside Marina from one side of the stage to the other. Judge Mandel exclaimed:
We've seen a lot of these tricks done by dogs, [but] I have never seen a cat do that. Never.
Cowell, who is not a "cat person" at all, remarked that dogs will obey commands while "cats are like, 'Make me.' They had sort of 'cattitude.' I think there's a gap in the market for this."
The most impressive feat was when one of the cats leaped from a high pole onto a pillow.and when a black cat jumped through a paper-covered hoop.
All four judges sent the Savitsky Cats through to the next round, and if the cats pull it off, the team will walk away with $1 million prize money and a headlining Las Vegas gig.
Tune into America's Got Talent every Tuesday night at 8 pm ET on NBC to see how makes it through to the next round.
Please fill in your e-mail so we can share with you our top stories!