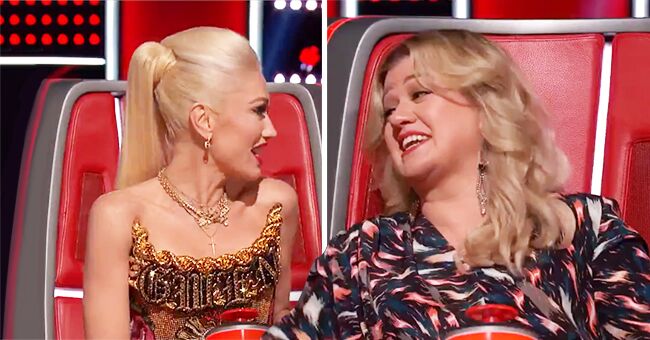 twitter.com/kellyclarkson
Gwen Stefani and Kelly Clarkson Wear the Same Outfits for Different Episodes & 'Voice' Fans Complain
"The Voice" fans called out Gwen Stefani and Kelly Clarkson for wearing the same outfits on the show for three weeks.
As not many may know, taping in one day can be aired on television throughout one week or even more -- this is what happened on the recent episodes of "The Voice."
Fans complained about two judges, Gwen Stefani and Kelly Clarkson, wearing the same clothes for weeks and voiced out their sentiments on social media. One fan tweeted:
"I love the show except JL but we have seen you in the same out fit for weeks now."
Stefani dressed in a beaded, gold-chained jumpsuit as she carried out her duties as a judge, which showed throughout several nights. Another tweet read:
"You guys should have extra clothes to change before filming each show segment because Gwen has had the same outfit on for 3 weeks lol."
The show premieres twice a week with both episodes filmed in one night, which makes it look like the coaches wear the same clothes consecutively.
Despite the same-day filming, the coaches still help add suspense for the viewers by using social media during "The Voice's" airing, even if they already know what is to happen.
The singer joined the show as a judge in replacement of Adam Levine, joining her boyfriend and fellow judge, Blake Shelton.
The couple has been together for some time, and speculations always point to wedding bells coming soon. However, the country singer shut down the rumors. He said:
"If I am somehow, and Gwen is somehow, newsworthy enough that they have to make up stories about us just to have something to say, then I guess that's a good problem to have."
Please fill in your e-mail so we can share with you our top stories!