Gabby Union Shares Sweet Snaps of Baby Kaavia in Pumpkin Outfit Days after Her 11-Month B-Day
The "Bring It On" star's daughter looks so adorable in Halloween-themed outfit, following her 11-month birthday.
46-year-old Union took to her Instagram page to share a picture of her and little daughter, Kaavia. Dressed in a black and white striped, short sleeve gown, Gabrielle places her baby on her thighs while sitting in a garden.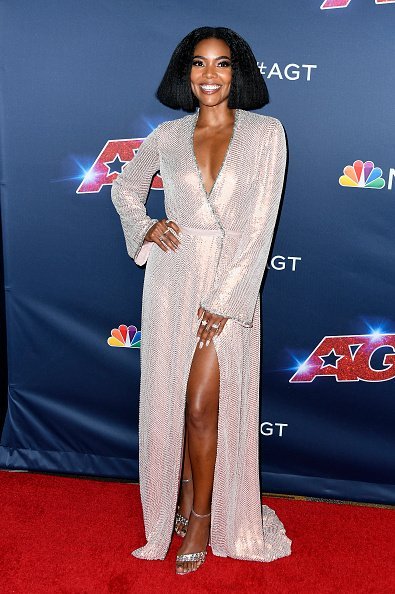 Kaavia is dressed in an orange gown with a neon design by the neckline, as she rocked a loose-fitting orange cap to match the gown. 
Union captions the post, 
"When your lil pumpkin wants all that smoke @kaaviajames #shadybaby."
"Awwwwww…….too cute!!!!", commented a fan who couldn't hold back the sight of the picture.
In another series of images, little Kaavia still in the same outfit could be seen modeling in her adorable pumpkin attire. The pictures which are shared on the baby's Instagram account came with a hilarious caption: 
"Soooo Oct 10th ISNT Halloween?!?! So why am I dressed as a lil pumpkin... you know what, nevermind. I already know, those 2 eager beaver fools." 
"Lmao she KNOWS her parents be fooling," commented a fan who couldn't stop laughing. 
Kaavia was born in 2018 to the actress and America's Got Talent Judge, Gabrielle Union and her husband, Dwyane Wade, who is a retired basketball player.
Earlier this month, the toddler turned 11 months old, and her mom also shared a picture of her little girl on Instagram. 
"Soooo you're telling me I turned 11 months old yesterday and my parents forgot," a caption underneath pictures of Kaavia read. "Someone get Molly Ringwald on the phone. She gets me," she concluded.
The post went viral with over a hundred thousand likes and reactions from the fans were superb! In an interview with Parents, Gabrielle admitted she felt "such a relief" after her daughter's birth since both parents didn't believe they were having a baby until it happened. 
"I felt such relief. To hear her breathing and crying was a dream. We didn't really allow ourselves to believe it until then," the celebrity mom said.
The celebrity mother is so fond of her daughter and she once posted a video of Kaavia saying her first word, "bye-bye." 
11-month-old Kaavia isn't getting love from her mother alone. Her father disclosed to People that he would give the kid, who has already shown her interest in swimming, utmost support in whatever she intends to venture into. 
He also added that he and her mom will try to see if Kaavia would be interested in playing tennis and expose her to various sports as she gets older.