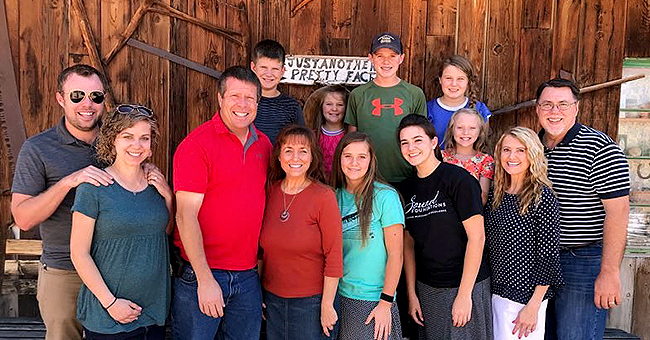 instagram.com/duggarfam
Duggars Are Criticized for Excluding Other Girls While Giving Granddaughter Mackynzie a B-Day Gift

The Duggar's received backlash after posting about their day out buying a birthday gift for Mackynzie and excluding the other girls present.
After posting about their family day out, the Duggar's faced criticism regarding the birthday gift given to Mackynzie, Josh and Anna Duggar's eldest daughter.
THE PHOTO THAT SPARKED CONTROVERSY
Fans of the family called out the family for excluding the other Duggar girls from purchasing a toy during their trip to the American Girl doll store. The family shared photos with the caption:
"Had a fun stop at the American Girl store out in California today! Josh and Anna's oldest daughter Mackynzie turns 10 years old tomorrow, and she picked out a new doll as a special gift."
The included four photos: one with the four Duggar girls smiling inside the store, another with the celebrant posing, the third with two Duggar kids with displayed dolls, and the last of the whole family.
A FAN CRITICIZES THE DUGGARS
The fourth photo showed the Duggar's with Mackynzie holding a big bag, possibly with her doll inside worth over $100. A frustrated fan commented on the picture:
"Wow!! That's amazing! Going there with all those sweet girls and only the birthday girl gets something! Im not sure I could pull that off they would have to get something!!"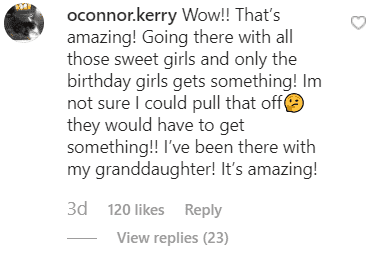 Screenshot of comments from social media. | Source: Instagram.com/Duggarfam
Addressing the comment, the family calmly replied, explaining that all the girls were able to pick something from the store. However, Mackynzie got a large doll.
A few days after, Anna posted a celebratory message for her daughter's birthday, showing a cake topped with Oreos and lit candles for the celebrant.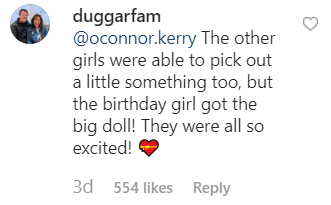 Screenshot of comments from social media. | Source: Instagram.com/Duggarfam
She captioned the post:
"Happy Birthday Kynzie! We are so blessed to have such a sweet young daughter! Your name Mackynzie means wise leader, and you are just that kind of role model to your younger siblings and friends!"
JOSH AND ANNA DUGGAR'S HAPPY MARRIAGE
Anna is currently pregnant with her husband, Josh, whom she married 11 years ago. The two share five children, Mackynzie, Michael, Marcus, Meredith, and Mason.
Anna and Josh met in 2006 during a Christian homeschooling convention and began dating shortly after they met. After two years, they decided to tie the knot and have been happy since.
After their marriage, the couple immediately decided to have a large family, which wasn't at all surprising given the Duggar's family history. Anna shared:
"I would love to have as many children as God would bless us with. Growing up in a large family, and Joshua in a mega-family, you learn so much more. I think a large family helps you prepare for life."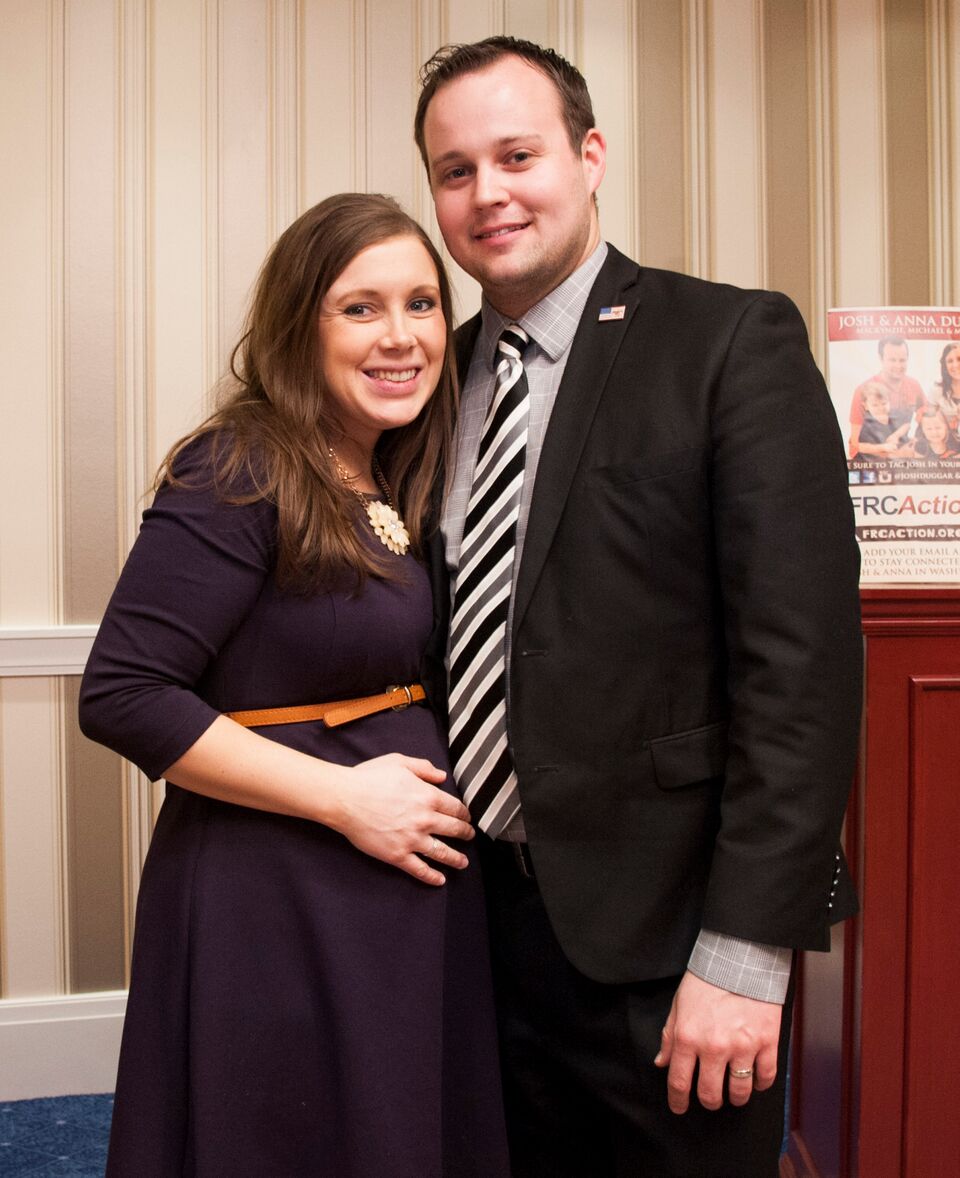 Anna Duggar and Josh Duggar attend the Conservative Political Action Conference. | Source: Getty Image
They recently went on a road trip along with their parents, Jim Bob and Michelle, and other siblings to visit their sister Jinger, the fourth of nine Duggar sisters.
Please fill in your e-mail so we can share with you our top stories!