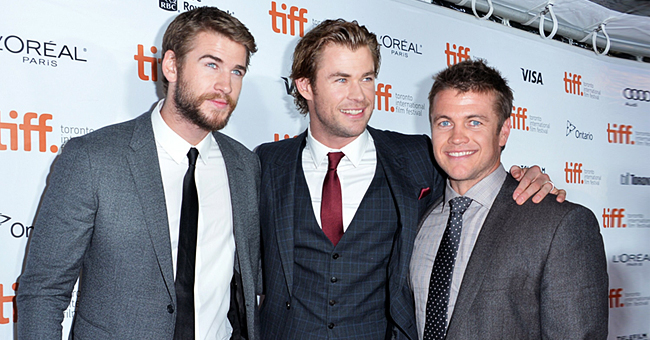 Getty Images.
Hemsworth Brothers — Meet Them All

Among the Hemsworth brothers, one can find heaps of acting talent, sex appeal, and endearing personalities to boot. With sibling rivalry alive and well between Liam, Chris, and Luke, their careers are as intertwined as their personal lives.
A social-services counselor, Craig Hemsworth, and his English teacher wife, Leonie raised three sons, Luke, Chris, and Liam in Australia. After some time in Melbourne, the family moved to the Australian Outback before settling on Phillip Island.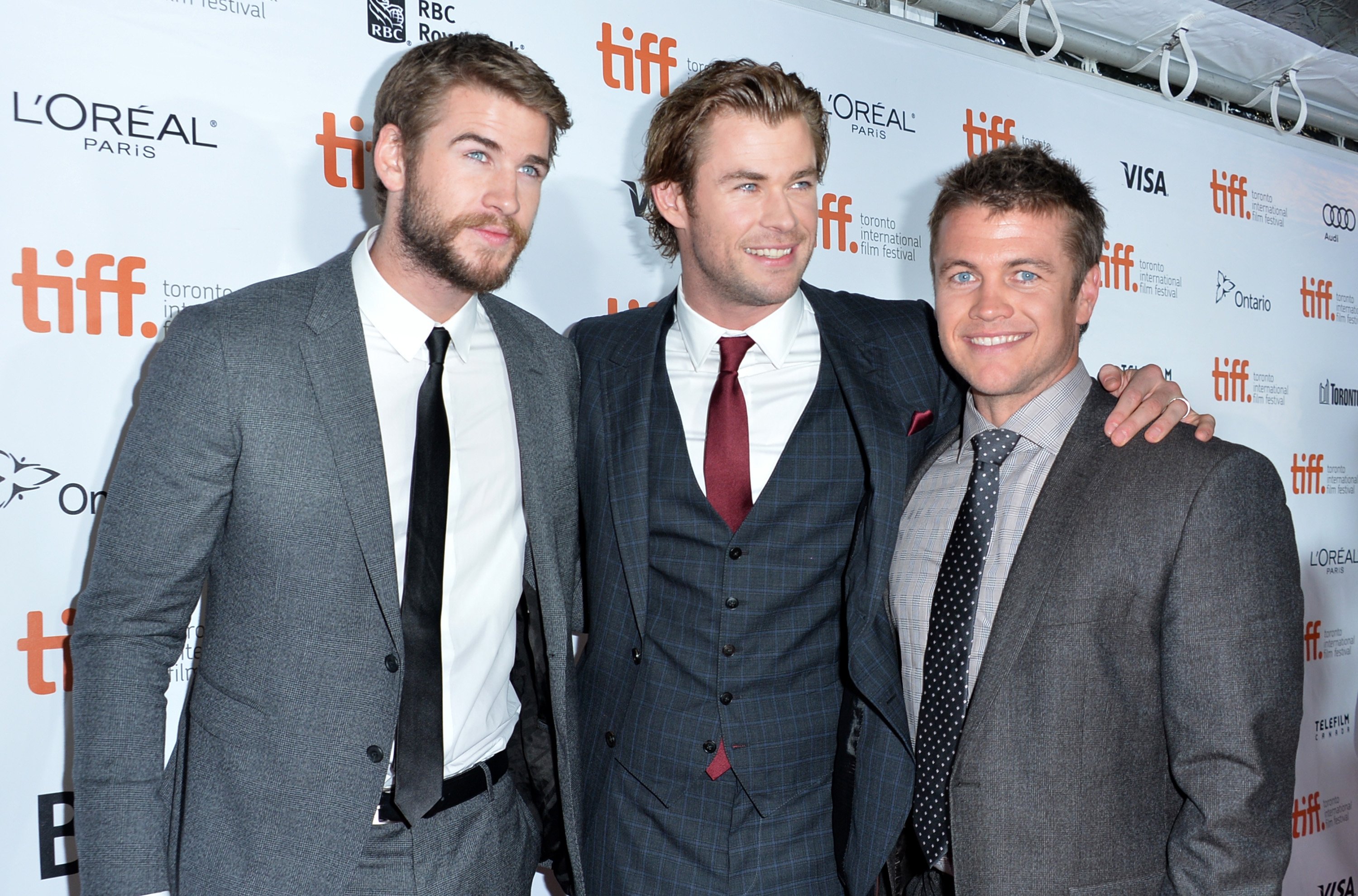 Liam,Chris and Luke Hemsworth attend the "Rush" premiere during the 2013 Toronto International Film Festival at Roy Thomson Hall on September 8, 2013, in Toronto, Canada. | Source: Getty Images.
The boys spent their days surfing and picking on the baby in the family, Liam. The sibling rivalry had Liam serve as the butt to most of Chris' pranks and jokes.
From being stuffed into appliances to being wrapped up in clothes mummy-style before being chased by his brothers armed with bb guns, Liam experienced it all. "They used to put me in the dyer a lot, they wouldn't put the heat on but they would put me in there," Liam added.
However, the brothers wouldn't outgrow their rivalry, which reared its head with the casting of the title role of the 2011 blockbuster film, "Thor."
LIAM HEMSWORTH
While both Liam and Chris contended for the coveted role in "Thor," it eventually went to Chris. But when Chris found out that his little brother was being considered for the role of Thor, his competitiveness rose to the surface.
"I came in kind of with a little, I guess, motivation and maybe frustration that my little brother had gotten further than me. It's a little family, sibling rivalry sort of kicked up in me. Then it moved pretty quick from there. It was cool," Chris said.
Liam made his first credited onscreen appearance in the longrunning Australian television series, "Home and Away" in 2007, followed by a recurring role as Josh Taylor on "Neighbours" the same year. In 2009, Liam and Chris decided to pursue international acting careers and moved to Hollywood.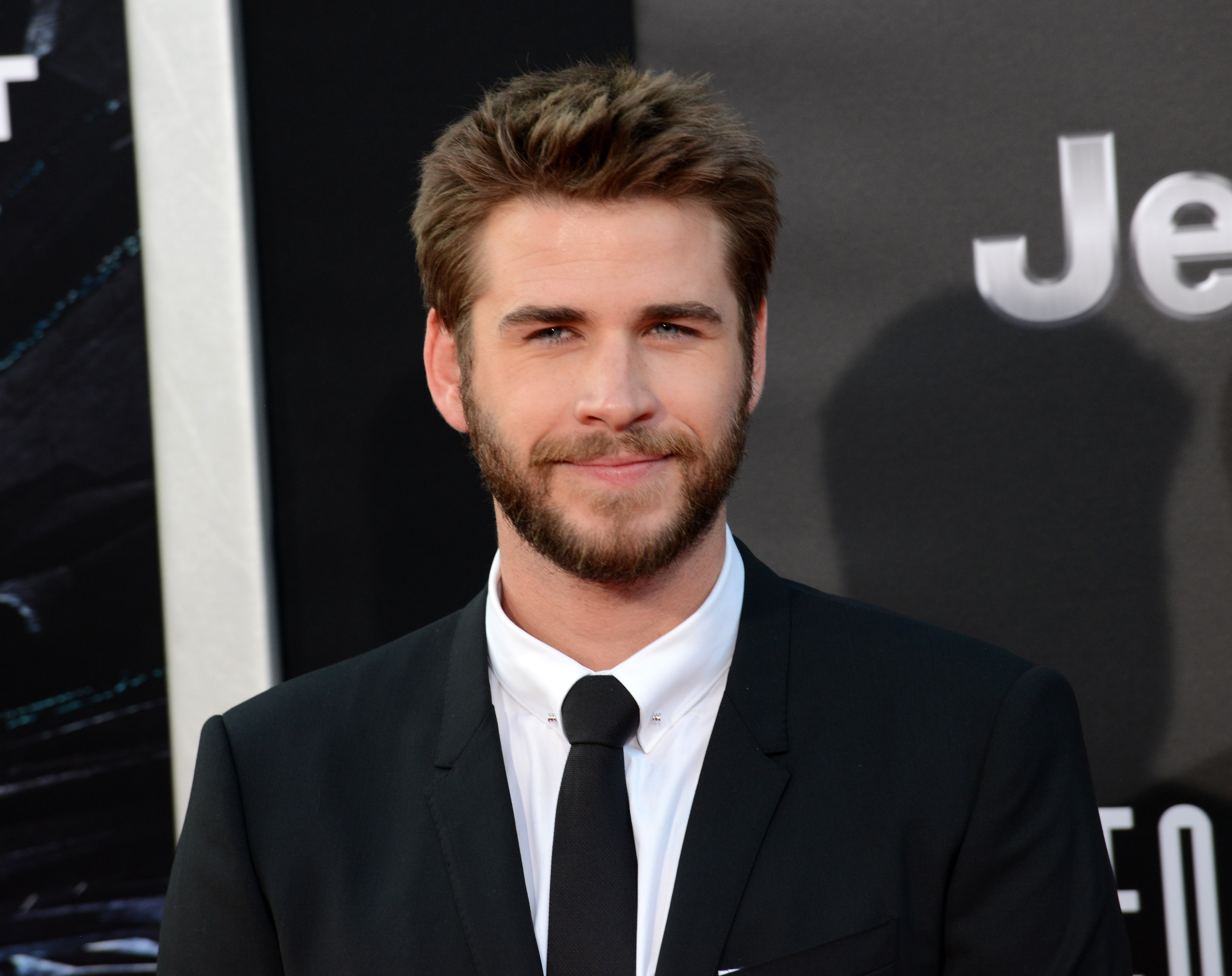 Liam Hemsworth arrives for the Premiere Of 20th Century Fox's "Independence Day: Resurgence" held at TCL Chinese Theatre on June 20, 2016, in Hollywood, California. | Source: Getty Images.
After losing the role of Thor to his brother, Liam instead found himself cast in the 2010 drama "The Last Song" alongside Miley Cyrus. Their on-screen love turned into an off-screen romance that lasted a decade before the couple made it to the altar on December 23, 2018.
However, the couple announced their separation less than a year later, and Liam went to stay with his brother Chris and his family in Byron Bay, Australia, after the split for support. "You don't understand what it's like," Liam said. "I don't want to talk about it mate."
Even though Liam lost the "Thor" franchise to his brother, his casting as Gale Hawthorne in "The Hunger Games" in 2012 thrust Liam into stardom with his own franchise.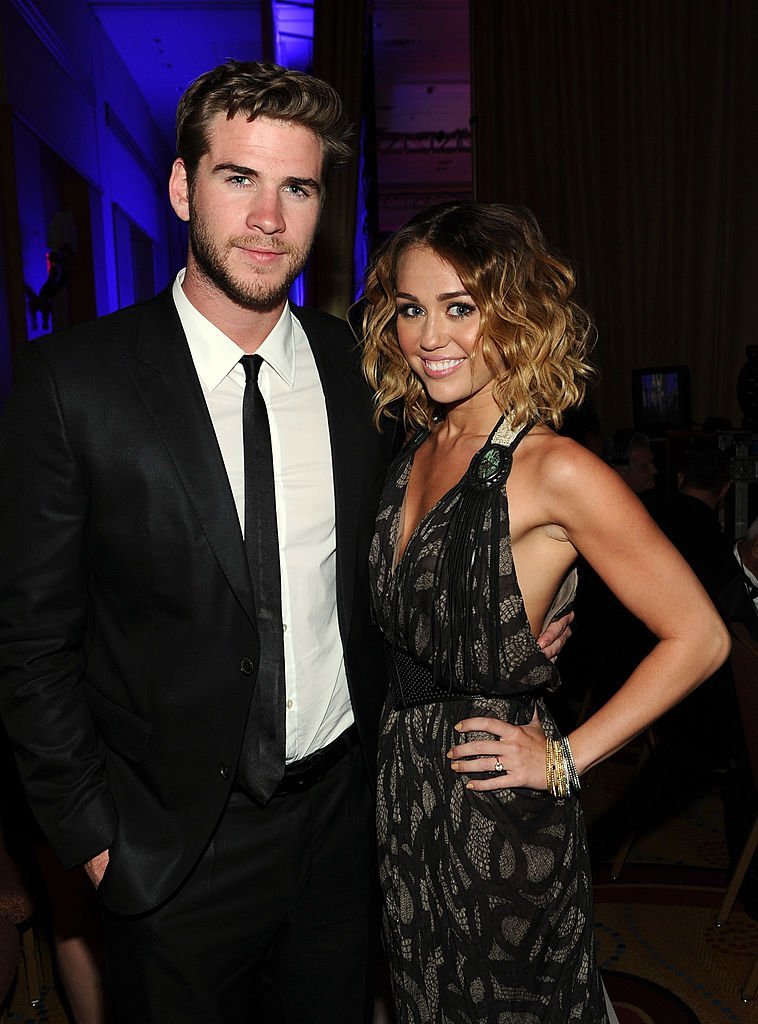 Miley Cyrus and Liam Hemsworth backstage during Muhammad Ali's Celebrity Fight Night XVIII held at JW Marriott Desert Ridge Resort & Spa on March 24, 2012, in Phoenix, Arizona. | Source: Getty Images.
Leading roles in other feature films such as "Empire State," "Love and Honor," and "Paranoia" in 2013 made way for later castings in the blockbuster hits "Independence Day: Resurgence," "The Duel," and "Isn't It Romantic" in 2019 alongside Rebel Wilson.
CHRIS HEMSWORTH
Chris may have made his first on-screen appearance in the 2009 film "Star Trek," but his casting as Thor, for which Chris gained 20 pounds of muscle two years later, gave the actor Hollywood stardom.
Although PEOPLE named Chris the Sexiest Man Alive in 2014, he is off the market and happily married to Elsa Pataky since December 2010. The couple share a daughter, India Rose, and twin sons Sasha and Tristan.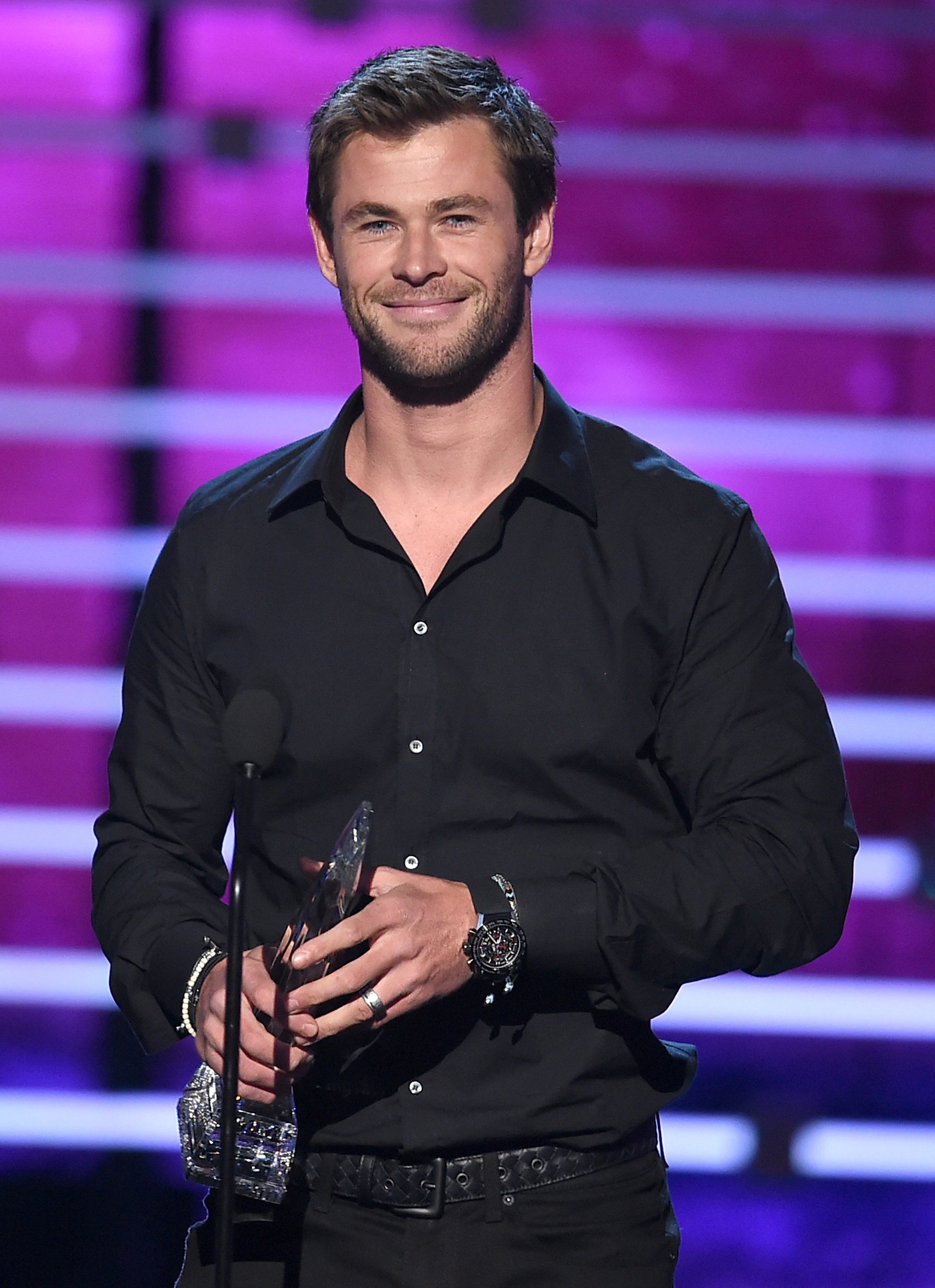 Chris Hemsworth accepts Favorite Action Movie Actor award onstage during the People's Choice Awards 2016 at Microsoft Theater on January 6, 2016, in Los Angeles, California. | Source: Getty Images.
In 2010 Chris partnered with writer/producer Josh Whedon in "Cabin in the Woods," and the pair later worked together again in "The Avengers."
Offscreen, Chris' talents proved diverse when he became the new face of Hugo Boss' Boss Bottled fragrance in 2017.
After proudly announcing the news on social media, Chris revealed that it's been a couple of months in the coming.
"I said, 'Great, I love the brand. What's the messaging? What's the campaign about?' and that was something that was very in line with what my values are," Chris explained. "It's all about living your life with integrity, compassion, staying true to your word and, so, it was an easy fit."
Apart from his appearances in the "Thor" and "The Avengers" franchises, Chris also notably appeared in "The Huntsman: Winter's War" in 2016, as Billy Lee in "Bad Times at the El Royale" two years later, and "Men in Black: International" in 2019.
LUKE HEMSWORTH
As the oldest of the Hemsworth brothers, Luke made his onscreen debut in "Neighbors" in 2001, an Australian series that eventually featured all three brothers.
After leaving the series in 2008, Luke landed roles in several films such as "The Reckoning," "River Runs Red," and "Crypto," while he stars as Ashley Stubbs in "Westworld" since 2014.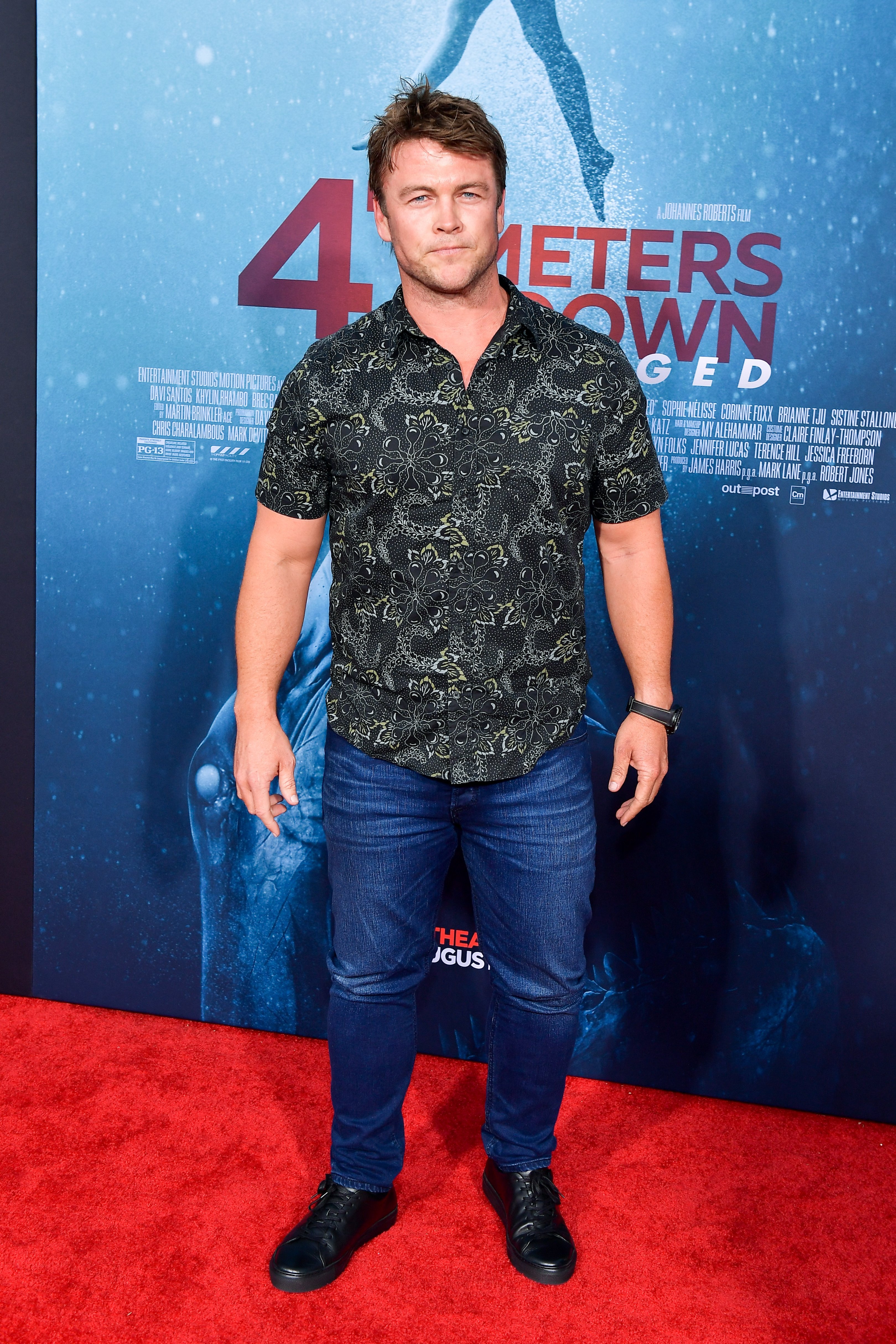 Luke Hemsworth attends the LA Premiere of Entertainment Studios' "47 Meters Down Uncaged" at Regency Village Theatre on August 13, 2019, in Westwood, California. | Source: Getty Images.
A
father of four
, Luke married his wife, Samantha on December 15, 2007. The couple since welcomed four children, Holly, Ella, Harper Rose, and Alexandre.
While struggling to make a lasting impact in Hollywood, Luke opened up a flooring business to make sure he could provide his growing family with financial security. Luke even enlisted the help of his brothers, and later became his brother, Chris' personal fitness trainer for his role on "Thor: The Dark World" released in 2013.
Relatedly, Liam made headlines more often than his siblings since his split from Miley Cyrus. The end of their well-publicized romance came as a shock seven months into their marriage, and Liam decided to work through their split privately.
However, almost a year after their breakup, Liam finally reached the point where he could address his single status publically, as he broke his silence about this difficult time in his life.
Please fill in your e-mail so we can share with you our top stories!