Jenna Johnson Dons a Leopard Print Jacket While Kissing Val Chmerkovskiy during DWTS' Disney Night
Dancer and choreographer Jenna Johnson, best known for participating on "Dancing with the Stars," uploaded a beautiful photo next to her husband Val Chmerkovskiy in Disneyland.
The couple met each other in 2014 when Jenna joined the "Dancing with the Stars" cast. Val had been competing on the show since 2011, so he was a bit more experienced than her in that aspect.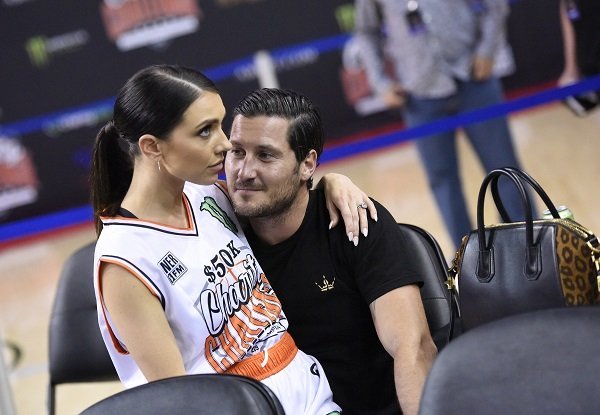 Jenna and Val's relationship
After being friends for a few months, they started dating in 2015. However, they parted ways in December 2016. After that, Val got in a relationship with model and actress Amber Rose.
That romance didn't last long. In an Instagram post that Amber shared, she pointed out that even though she and Val split, there were no hard feelings between them. She confessed that:
"[Val] and I broke up due to our own personal reasons, but we still care about each other tremendously and we love each other's families even more."
Apart from that, Amber asked people to understand that they were humans and had feelings, too, clarifying that nobody "got dumped" and that "it's just how life works sometimes."
Getting back together
When Amber and Val's relationship ended, he found his way back to Jenna, and the pair started dating again in June 2017, when they went on a European trip together.
Only one month later, they made their romance Instagram official when they attended Maks Chmerkovskiy and Peta Murgatroyd's wedding.
One year later, in June 2018, the couple announced their engagement. During a conversation the European dancer had with Us Magazine, he admitted that he knew Jenna was the one when he noticed how close she is with her family.
Val also praised the way she interacts with her nieces and nephews and pointed out that family was "everything" to him, so he couldn't wait for them to "build one together."
Tying the knot
On April 13, 2019, Val and Jenna tied the knot. The couple decided to divide their wedding into two rounds. The first one, held in the previously mentioned date, took place at the Terranea Resort in Rancho Palo Verdes, California.
The pair's second wedding reception took place on June 28 at the Riverside Country Club in Utah. For that celebration, some of the friends and family members who couldn't make it to their California reception were invited.
Going to Disneyland
Even before tying the knot, Val and Jenna have proven to be one of the most beautiful couples out there. On October 10, Jenna uploaded a beautiful photo that made people feel even more enthusiastic about their romance.
It showed her wearing a beautiful leopard print coat next to Val, who opted for a black hoodie and a black jacket. The pair was smiling at the camera while posing in front of a castle at Disneyland.
Jenna's post at one of the most famous parks in the world is not a coincidence as this week's episode of "Dancing with the Stars" was a celebration of Disney.
As Entertainment Weekly reported, the remaining couples of the show went to Disneyland for the show's opening number to find inspiration for their own routines.
Earlier this year, Jenna's fans shared on social media that she would be a great mother after seeing a new photo of her with her three nephews. In the pic, the professional dancer appeared looking gorgeous at the beach with the kids.
One of her followers admitted that it was time for her to have a baby. A second person claimed that she would be an "amazing" mother one day. A third user asked Jenna to please have babies ASAP.