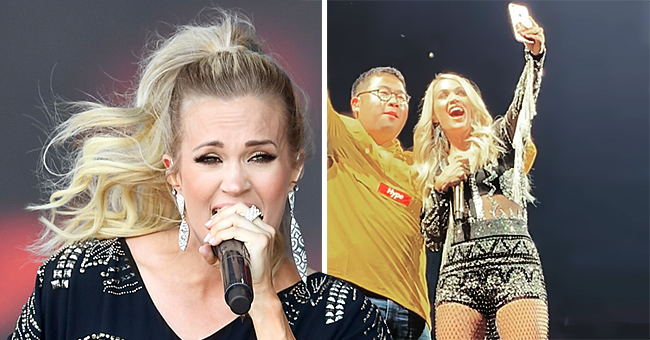 Getty Images // instagram.com/chuckchoiboi
Carrie Underwood Performs on Stage with Fan Who Learned English by Listening to Rap
Carrie Underwood left a fan overjoyed after she invited him to take on rapper Ludacris's rap lines in her song, "The Champion," right on stage!
Not everyone gets to have a personal interaction with their most beloved celebrity, but Chuck Choi did, and it is all thanks to his heartwarming story.
CHUCK CHOI – THE FAN WHO MELTED CARRIE UNDERWOOD'S HEART WITH HIS STORY
To celebrate her hit single, "Champions," Carrie Underwood asked that her fans share their stories about it six months ago.
That was when Choi reached out with a unique story of how he moved to the United States with no idea of how to speak English.
In a recent post on Choi's Instagram page, he explained that he came to understand the language by rapping along to many of American rapper Eminem's hits. He wrote:
"I shared a story of myself moving to U.S., learning English from listening to Eminem, adjusting to the new environment, enjoying life!"
His story touched Underwood, who he revealed requested that he come perform rapper Ludacris's share of the "Champions" song with her in front of thousands of people.
UNDERWOOD PUBLICLY EXPRESSES ADMIRATION FOR HER IMMIGRANT FAN
On the said day, Underwood did nothing to hide her admiration of Choi as she related Choi's beautiful story to the listening audience. She said on Thursday night at the T.D. Garden in Boston:
"Chuck says his experience has taught him that nothing is impossible, and you can overcome any struggle with a positive attitude."
Choi, who felt honored that he got the opportunity, shared a lengthy message of appreciation for Underwood's kindness, and he labeled the experience one he felt "lucky" for.
He humorously wrote to caption a series of photos and videos taken during the concert:
"Carrie you are an awesome person, maybe in 20 years I will invite you to my show as my guest artist at a sold-out arena!"
UNDERWOOD'S ENCOUNTER WITH CHOI COMES SOON AFTER SHE PERFORMS ALONGSIDE A DEAF FAN
It is not the first time Underwood will be making such an incredible gesture towards fans with her "The Champion" song.
"PEOPLE" only recently aired reports that she met a deaf eight-year-old fan, Savannah Dahan, who beat all odds by giving an extraordinary sign language rendition of "The Champion."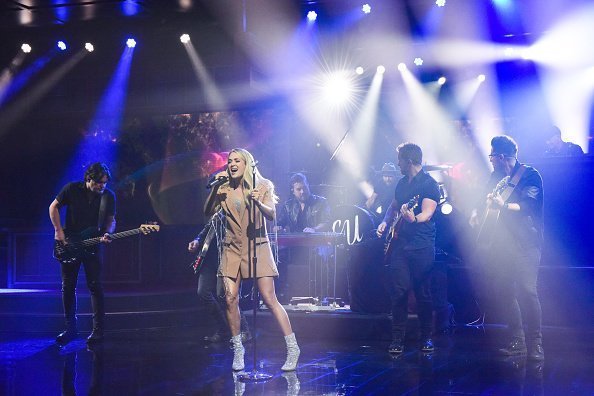 Carrie Underwood during The Late Show with Stephen Colbert. | Photo: Getty Images
While taking her Cry Pretty 360 Tour to Washington D.C. last week, the American Idol alum, 36, got a chance to hang out with Savannah — and also perform a special duet of the 2018 track.
Please fill in your e-mail so we can share with you our top stories!