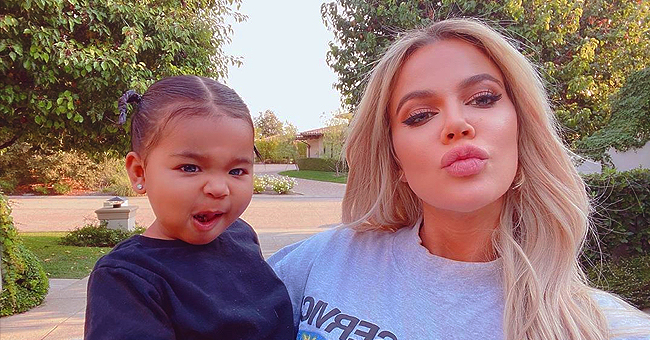 Instagram/khloekardashian
Khloé Kardashian of KUWTK Slammed for Allegedly Editing True's Appearance in Recent Pics

The "Keeping up with the Kardashians" star, Khloe Kardashian recently shared a picture of herself and her daughter, True Thompson, on Instagram and even though she looked flawlessly stunning, her fans had something to say about it.
Followers of the reality star accused her of photoshopping her features to achieve the flawless look.
The Kardashians never fail to set the trend as the most talked-about family, with all the dramas and online stirs. This week, Khloe Kardashian's daughter, True Thompson, got caught up in the family's social ruckus.
KHLOE SHOWS OFF HER DAUGHTER ON INSTAGRAM
Following her recent social media post, Khloe is currently under fire for doing what some fans have referred to as "facetuning" her baby. The 35-year-old shared adorable pictures of her one-year-old, accompanied by a lovable message to her daughter. The mother of one captioned the post,
"Until the end of time, It's you and I."
The toddler looked cute as she rocked a black t-shirt and the cutest eyes ever.
BABY TRUE'S EYES, NOT REAL?
The post, which has attracted over four million likes, also got its fair share of criticisms from fans, accusing the mother of editing the photos and going overboard with the eyes.
A
comment read
:
"OMG you change her eye colour."
Another read,
"Why she filtering a kid??"

Comments on Khloe Kardashian's post.| Photo: Instagram/ Khloekardashain.
One of the aggrieved fans wrote,
"Stop making true's skin light,!! She is black, everyone knows it, She is Tristan Thomson's daughter n filters can't change it,!! She is not a Kardashian, and so are you."
"Why does this look edited???" another wrote. As critics kept their hate speeches coming, one summed it up by saying that all of the 35-year-old's pictures were edited.

Comments on Khloe Kardashian's post.| Photo: Instagram/ Khloekardashain.
SLAMMED BY CRITICS AGAIN
This is not the first time Khloe has been slammed on social media for editing her photos. Earlier this year, the television personality got slammed online after posting a pics of herself, slaying in a shimmering, skin-tight, purple jumpsuit.
Some fans found the picture attractive while others were quick to point out that her thighs were uneven, while her head and butt did not fit her other features.

Comments on Khloe Kardashian's post.| Photo: Instagram/ Khloekardashain.
Another of such online backlash came in 2017 after the celebrity mom posted pictures from her workout session on Instagram to show off her figure transformation. Fans, however, were drawn to her waist, which appeared distorted.
There is no doubt about the celebrity mom's beauty, and that of her daughter, which leaves one wondering if truely, the mother of one uses the photo filters as pointed out by critics.
Please fill in your e-mail so we can share with you our top stories!