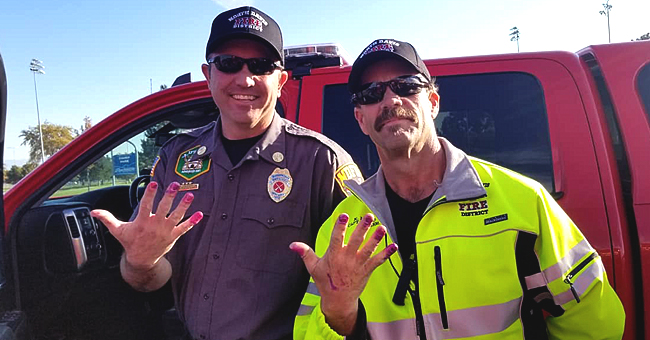 facebook.com/North Davis Fire District
Utah Firefighters Calm down Young Girl Involved in Car Crash by Allowing Her to Paint Their Nails
In a bid to distract the little girl from the terrifying scene around her, two firemen in Utah offered to let her paint their nails.
The North Davis Fire District took to Facebook recently to share that Battalion Chief Allen Hadley and Captain Kevin Lloyd were at the location of the mishap when they saw 2-year-old Braelyn Fernelius, who appeared to be frightened.
"She was sad when the firefighters had to go back to work."
"GREAT JOB"
As medics examined Braelyn's mother Jocelyn Fernelius, Hadley and Lloyd focused on distracting the child.
The two noticed the girl was holding bottles of nail polish, so they began conversing with her and asked whether she would paint their nails.
"Within minutes, the child was calmly paining their nails and had forgotten about the accident she had just experienced [sic]," the department wrote. "Great job Chief Hadley and Captain Lloyd for providing awesome customer service to one of our young citizens."
The department posted photographs of the firefighters gladly posing with their brand new pink and purple manicures.
SOCIAL MEDIA RESPONSES
As of this writing, the heartwarming post already received over 15,000 likes and 4,700 shares. A lot of netizens also added their feelings through remarks.
One person wrote, "Best first responders and with a special ability to calm a scared little girl and make a scarry situation bearable for this little girl, above and beyond the call of duty."
"I have long had the upmost respect for First Responders and Firefighters but this is unparalleled. Thank you for restoring my faith in humanity. May God Bless you & those you love," added another.
Someone else wrote, "Awesome! Thanks so much for your kindness and compassion. It's men like you that make me love and respect firefighters all over our country. Stay safe out there."
As reported by the Associated Press, the accident occurred in the northern city of Clearfield, and nobody was severely harmed.
"A GOOD OLE TIME"
In an interview with TODAY Parents, Braelyn's mom, Jocelyn, who is 13 weeks pregnant, said: "We were at a stop light and a lady hit us a couple of times. I was freaking out because I was like, 'Am I going to lose my baby?' And Braelyn was in the backseat, screaming because she was scared."
"Suddenly I realized, 'Wait a second. Braelyn isn't crying anymore," Jocelyn added. "I look back and she's having a good ole time chatting away. She was sad when the firefighters had to go back to work."
Meanwhile, Hadley, who is a doting father to three children, told TODAY Parents that he was only doing his responsibility.
Please fill in your e-mail so we can share with you our top stories!