Kate Middleton Is Casual yet Stylish in Brown Midi Skirt & Flat Knee-High Boots in Pakistan
Kate Middleton looked chic in an all-brown ensemble during her trip to the Northern Pakistan mountains with Prince William.
The Duke and Duchess of Cambridge are currently on a royal tour in Pakistan, and recently visited the mountains in Northern Pakistan, greatly affected by global warming and climate change.
THE DUKE AND DUCHESS IN NEUTRAL TONES
Kate Middleton decided to go for neutral tones while visiting the Chiatibo Glacier in the Hindu Kush mountain range, looking perfectly well with the scenery.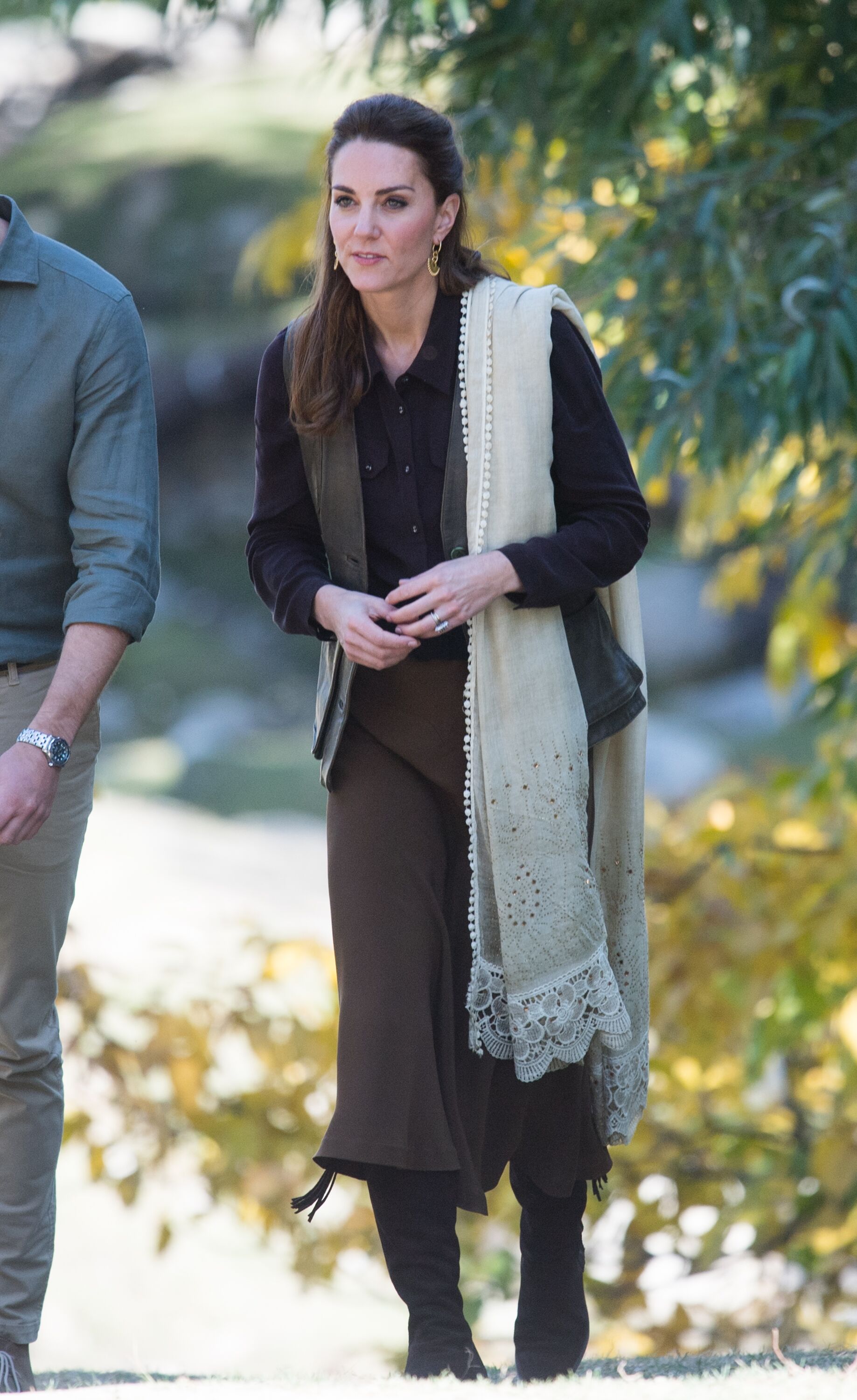 She wore a dark brown button-down, an olive leather vest, a brown midi skirt, and dark brown suede boots. The duchess accessorized with a pashmina and dangling earrings that fit her color scheme.
Her husband came in earthly colors, wearing a light green button-down, khaki pants, and light brown suede boots.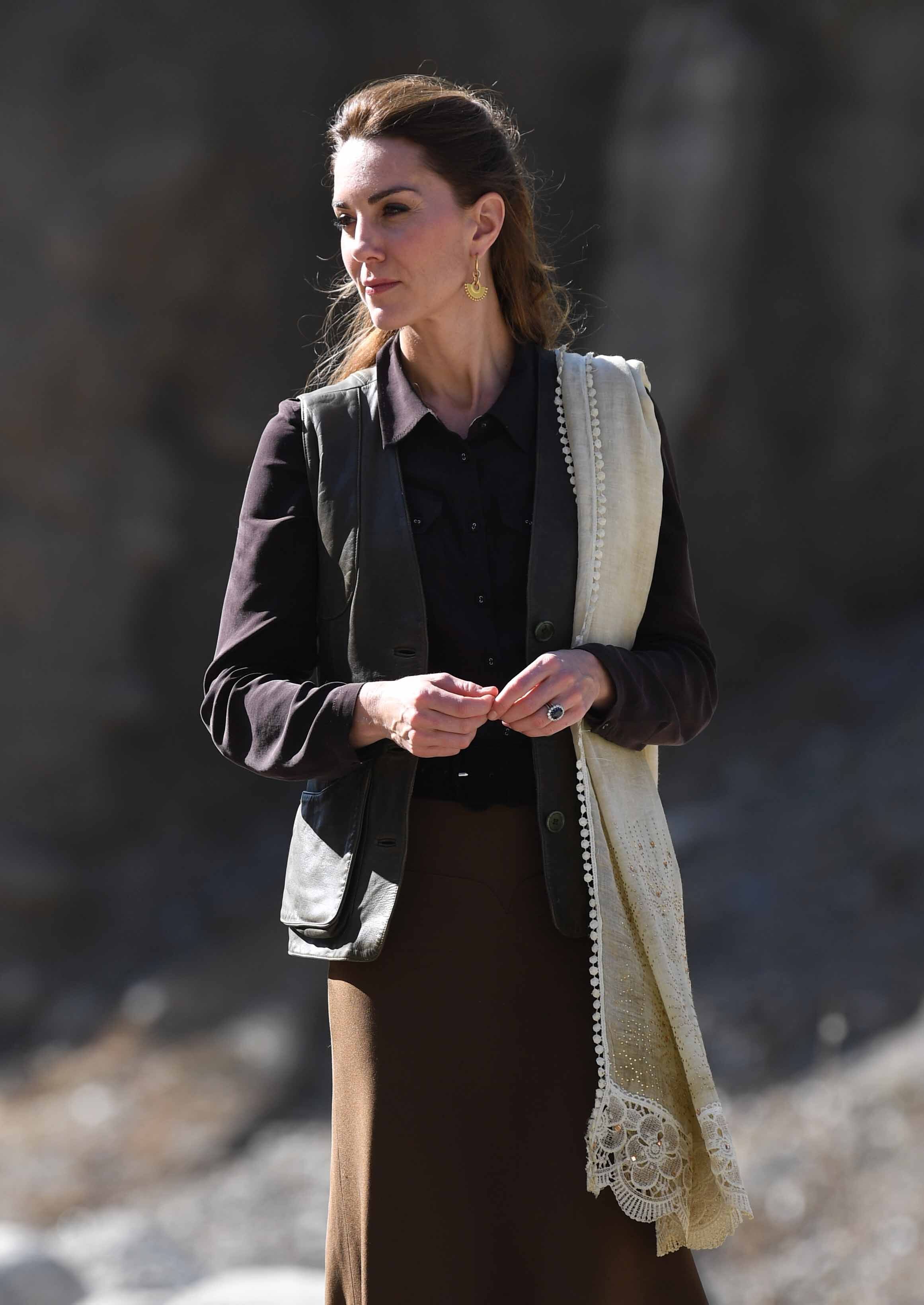 VISITING MOUNTAINS
The royal couple visited different mountains, including the melting glaciers in Chitral District in the Khyber-Pakhtunkhwa. 
They were toured around the structures that have shrunk over the years because of global warming. However, the deteriorating environment also has a significant impact on the 1.6 billion people there.
WATCH: Our report from the Himalayas in Pakistan today as William & Kate were shown a melting glacier.
The Prince spoke of the urgent need to act on #climatechange before it's too late.
They also met the Kalash people of the Hindu Kush #RoyalVisitPakistanhttps://t.co/D0HPMy7n48 pic.twitter.com/qCQZ0CQbLv

— Chris Ship (@chrisshipitv) October 16, 2019
During William's speech on the trip, he touched on pressing issues, especially climate change, the entire world is faced with.
The official Instagram of the royals wrote:
"In the centre of Chitral, isolated communities have suffered from severe flash flooding in recent years as a result of glaciers melting."
William spoke of the situation about climate change and said that we need "more education, more awareness, and political action."
WILLIAM IMPRESSED MIDDLETON
The prince graduated from the University of St. Andrews with a degree in geography, which his wife was impressed by. He said:
"Dr. Warren, my geography teacher, would be well impressed that I'm back at a glacier after all these years."
Prince William and Kate headed to a remote melting Himalayan glacier to understand the real consequences of global warming

William said it was "really important" for the couple to travel to country and use their voice to talk about climate changehttps://t.co/uAhC1awHgx pic.twitter.com/z15Hi3cIcY

— ITV News (@itvnews) October 16, 2019
Glacier expert, Dr. Bashir, gladly educated the royal couple about the sizes and floodings while touring the area. He said that only 70 percent of the 5,000 reasonable sized glaciers are retreating.
One of the areas that were hit was a village in the valley in Chitral. The pair saw the different agricultural lands that were destroyed through the years and how the locals had to adapt to the change.
Royal Editor @chrisshipitv provides an update on the Duke and Duchess of Cambridge's tour of Pakistan, as the focus shifts towards climate changehttps://t.co/uAhC1awHgx pic.twitter.com/F6eY3baqIV

— ITV News (@itvnews) October 16, 2019
During William's speech on the trip, he touched on pressing issues, especially climate change, the entire world is faced with. He said:
"Whether in Pakistan or the U.K. or elsewhere on our planet -- we face shared global challenges. The effects of climate change threaten the present and future -- and therefore demand a concerted effort by everyone."