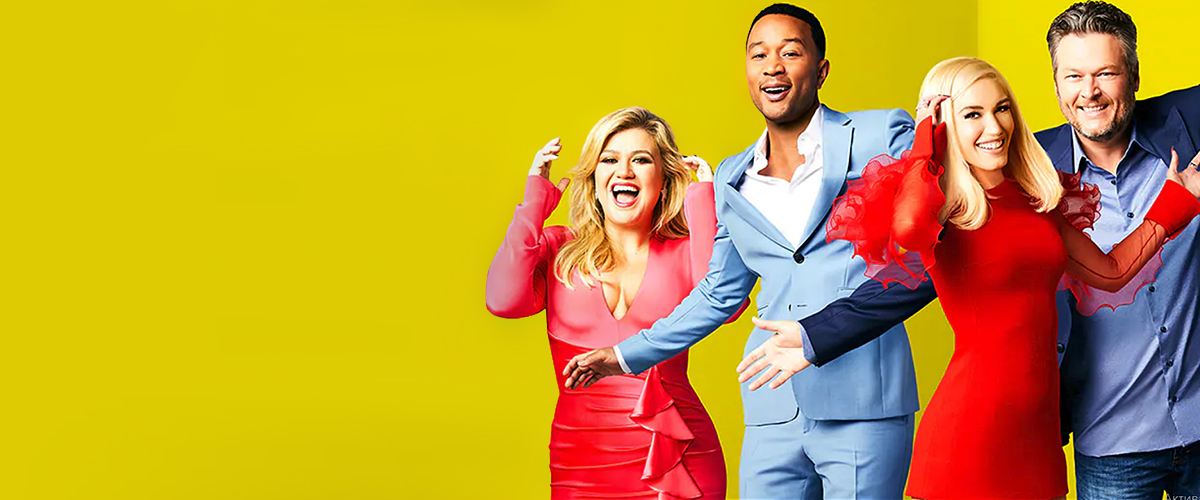 youtube.com/NBCTheVoice
'The Voice' Fans Weigh in on Which Coach Has the Best Team
The battle is on for "The Voice" teams, and fans are already flooding the internet with who they think will win it this season around.
After Gwen Stefan, John Legend, Kelly Clarkson, and Blake Shelton filled all 12 spots in their respective teams on "The Voice," the show's account tweeted out a big question to fans.
"Which team are you rooting for?" they asked. They accompanied the post with a picture of each of the four complete teams. Fans did not disappoint with the number of responses, some of which are found below.
Team Blake for the win
Blake Shelton, who's been on the show the longest, had several fans vying for him to capture his seventh win on the show's 17th season. The beloved country singer knows the game well.
One fan put it this way: "Team blake [is] the only team there is." The dynamics on the show are made more interesting since Shelton will be competing with girlfriend Gwen Stefan, the show's newest judge.
Another fan was more considerate of the other teams saying, "There are good people on each team, but I think the winner of The Voice will be from Team Blake this season."
Shelton has won seasons two to four, seven, 11, and 13 of "The Voice" so far, so it's no surprise that he has strong support. He has experience and has already won over the hearts of many viewers.
Team Kelly is a sure thing
Kelly Clarkson is the second longest-running host on "The Voice's" current panel of coaches. Though she's only been on since season 14, she already has two wins under her belt.
The former "American Idol" winner is a fan favorite for many and received her fair share of votes from fans. In fact, many were pretty sure of a win for the pop singer.
"Team Kelly! 100% she is going to win this season!" said one confident fan. Another chimed in with "I am 100% #TeamKelly, because her team is absolutely going to be unstoppable this season!"
Others were not as secure about their answer but went with Clarkson, who now has her own talk show. "That's a tough one. I would have to say team @kellyclarkson is my choice this season," one person said.
Team John is coming off a recent win
After making his official debut as a coach last season, John Legend made a huge statement by winning season 16 with powerhouse singer Maelyn Jarmon.
However, Legend's support was a bit less than the other coaches. One person couldn't decide between Legend and Clarkson as who they think will take home the crown.
Someone else placed their vote for the R&B singer along with a disclaimer: "So many wonderful artists, but I'm rooting for #TeamLegend."
There were a few loyal fans though who were happy to back Legend exclusively. User LeeAnne Ray said, "Go Team Legend" and added three heart emojis.
Team Gwen is in the lead
Gwen Stefan has acted as a substitute coach in the past, but the singer's grand entrance came this season and already fans are rounding up to support the blonde bombshell.
Some fans simply love the "Hollaback Girl" singer for her talent, but others think it's a specific player on her team who will steal the title for her.
"Team Gwen but really team #jamesviolet let's get him trending!!! @jamesviolet_," said one Stefan fan. Their tweet was backed by at least one other person and received a few likes.
Another user weighed in by calling Stefani's team "the best one" and adding a funny gif of the singer waving a black jacket with "Season 17 The Voice" written on it.
Savannah Brookshire said:
"@gwenstefani "JUST A GIRL," WHO IS ROOTING FOR @gwenstefani ALL THE WAY! #TeamGwen"
Team Gwen and Blake is a thing
Elsewhere, fans were enamored by the idea of Shelton and Stefani as a coupled team and cast their votes for the pair as one.
One fan called the two, who have been together since 2015, a "power couple." Another put it this way: "I'm TEAM BLAKE SHELTON and TEAM GWENSTEFANI ALL THE WAYYYYYY."
Team Adam is greatly missed
Meanwhile, other fans are still mourning Adam Levine's exit last season. It's just not the same without the beloved alum who'd been on the show since its 2011 inception.
One fan couldn't get past the first five minutes of season 17's premiere before they felt Levine's absence. Others noted that Shelton had no one to go back and forth with now that his best friend was gone.
Shelton himself remarked on his former colleague being gone when he joked with Clarkson about taking Levine's seat and called her "possessed."
As the battle rounds begin, we'll found out just how well the judges — both new and old — live up to fans' expectations.
Please fill in your e-mail so we can share with you our top stories!