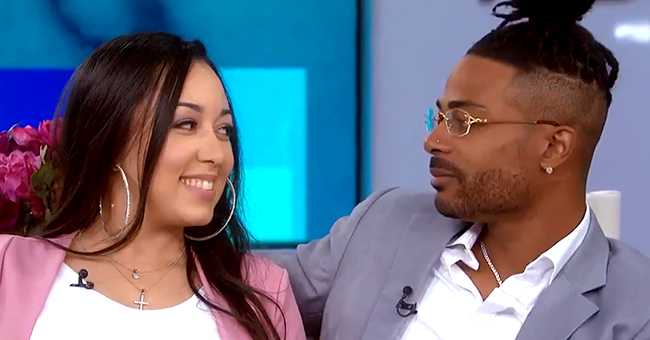 Twitter/3rdHourTODAY
Cyntoia Brown's Husband Jamie Long Says God Instructed Him to Write Her a Letter While She Was in Prison

Two months after Cyntoia Brown's release from prison, her husband, Jamie Long, opened up about his relationship with her. The gospel singer revealed in an interview that a divine force inspired his first contact with the ex-convict.
The story of the outstanding couple, Cyntoia Brown Long and Jamie Long, has been trending on several media outlets because of the peculiar circumstances surrounding their relationship.
"GOD SPOKE TO ME," SAYS CYNTOIA'S HUSBAND
After getting a parole from the American prison following a life sentence, the recently freed American woman is giving back to society while being an inspiration to many.
The 31-year-old who was freed in August after a mass protest by celebrities and human right activists, launched her new book today titled: "Free Cyntoia: My Search For Redemption In The America Prison System."
The motivational speaker and her husband graced the "Today" talk show, where they spoke up about the juicy secrets behind their meeting and marriage.
"I was minding my business, and she had been on my YouTube screen for like three days, and I didn't pay attention to it. I eventually pressed play, and I felt in my spirit to write a letter, and here we are now. God spoke to me," Jamie revealed on Today.
The Christian musician also explained how he got another premonition to make the letter stand out.
"I put the letter in the envelope and felt it in my spirit again, the Lord telling me to take it out and burn the edges, and I did it," he said.
A CONNECTION MADE IN HEAVEN
True to his divine intuition, the extra efforts of burning the paper's edges paid off. Cyntoia told the show hosts that she was drawn to the letter because it was unique.
"I had never had a letter like that," she explained. "And it's crazy that something like that stuck out, but it did. So I decided, 'I'm gonna write him back,' and of course, he was really cute."
The two hit it off despite the 31-year-old's life-long incarceration and no hope of freedom.
BROWN'S LONG WALK TO FREEDOM
The two got married eventually, in an unceremonious manner. The vow recital was conducted over the phone, backed by a Tennessee Law which makes provisions for marriage in absentia.
Her marriage to the Christian rapper added to her long list of accomplishments behind bars, which included earning her GED and bagging a college degree.
The story of the 16-year-old teenager, who got convicted about fifteen years ago for killing a man responsible for sex-trafficking her surfaced online in January, which immediately sparked a campaign led by prominent media figures.
After seven months of appealing her case, the rapper's wife finally got released on parole, cutting short her life sentence.
In August, the freedwoman celebrated her first weekend out of prison, by sharing several Instagram pictures of herself enjoying her newly found freedom with her husband.
She shared the photos on Jamie's Instagram page, which attracted several likes and congratulatory messages. Cyntoia's story is set to be an inspiration to everyone out there in dire situations.
Please fill in your e-mail so we can share with you our top stories!