Gabrielle Union & Dwyane Wade's Baby Kaavia's Swimming Skills Are Really Improving in a New Video
Dwayne Wade and Gabrielle Union's eleven-month-old baby daughter, Kaavia James has again wowed many of her fans after a video of her swimming impressively was posted on her Instagram page.
As a baby, 11-month-old Kaavia James already possesses the swimming skills that many people could be wishing to have.
This was seen clearly in a recent video uploaded on the little tot's Instagram page, which showed her display her incredible underwater prowess.
KAAVIA IS THE UNDERWATER CHAMPION
If there is one thing to note from Kaavia James' recent swimming video on Instagram, it is that we may have an Olympic champion in our hands.
Kaavia again displayed her skills in the pool, one which is made more admirable considering her age. In the video, the baby is seen kicking her legs and flapping her arms as she wades her way through to her trainer's arms.
The video was captioned:
"Under The Sea…[mermaid emoji] [little angel emoji]."
The video had played in its background the song "Under the Sea" from the 1989 Disney movie, "The Little Mermaid." 
GO BABY GO
There were loads of comments on the video post from Kaavia James' account, which is managed by her mom and dad. Most of the comments encouraged the adorable baby to keep her levels up.
One of her fans wrote:
"Go baby GO!!!!!"
While another, in awe of baby Kaavia's swimming skills vowed to take up swimming lessons:
"I'm embarrassed that I can't swim. Kaav, I might just start swimming lessons to keep up with you."
BABY KAAVIA JAMES THE SWIMMER
The video post is the latest from Dwayne and Gabrielle showing off their daughter's swimming skills. Her display shows that her swimming lessons are paying off.
Kaavia has been taking lessons since July, at just 8-months-old, and her proud parents have been documenting her progress since then. She enjoys having fun in the water and was able to swim before learning how to walk. 
SHE CAN GET SERIOUS TOO
Apart from her ability to swim, Kaavia is also famous for her serious facial expressions, which has made her quite famous.
This has led her to become known as the "Shady Baby," as she regularly serves up her iconic poker face on many of her photos, and red carpet appearances.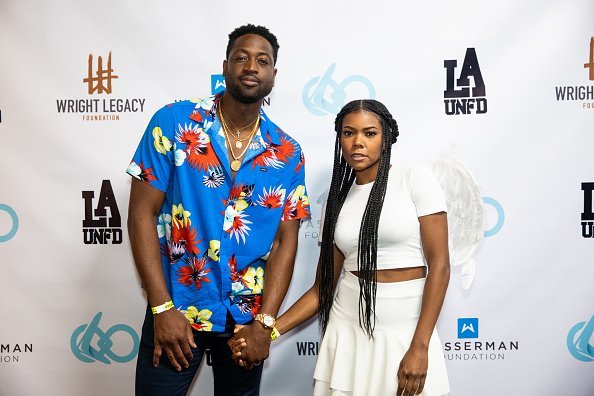 The little tot is also quite a rave on social media, as she has over nine hundred thousand followers on Instagram. That said, Kaavia James does look to have the world at her feet already, and the sea underneath too.