DaBaby Leaves Homeless Fan in Tears with $1K Gift after Finding out She's Living in a Car with Son
The internet is in love with DaBaby after he performed an act of kindness in a new video that has been trending on social media.
The "Suge" rapper was having a meet and greet with his fans when a homeless mother named Amanda walked into the store and approached DaBaby, hoping that he would buy some of her hats.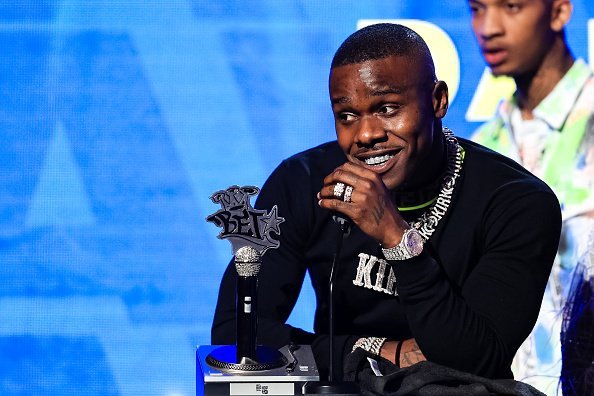 Amanda waited 3 hours before DaBaby arrived, and when she finally had the chance to meet him, she told him that she and her son have been living in her car.
DaBaby then pays her $1000 in cash for her hats and even returned some of the hats and told her to sell to other people.
DaBaby's kind gesture brought tears to Amanda's eyes as she cried. He then took a picture with her and her son whose eyes were fixed on his mother's phone the whole time. 
"This is my son, we are sleeping wild bro. Thank you so much," says Amanda. "God's Work • No recognition added" DaBaby captioned the video.
In the comment section, DaBaby's fans were happy with the love he showed Amanda and showered praises on him. A fan wrote,
" We need to stick together now more than ever. What a beautiful man and an unforgettable gesture to this woman and her child. This is why you are so blessed."
Another person wrote,
"See we need more rappers like this, the ones that talk about being in the hood and care about the people from the hood. You are a good example, do u DaBaby."
A third person wrote,
"This legit makes my heart so happy to see a man with your platform so humble and giving no matter how much fame you have ...I honestly pray you continue to be blessed. Respect."
This is not the first time that DaBaby has been in the news for his philanthropic deeds. Not long ago, DaBaby bought cookies from a group of boys he saw selling cookies on a street corner. 
The rapper decided to support them and he bought $230 worth of cookies. But that was not the best part; the best part was when DaBaby surprised the kids by telling them to keep all the cookies he bought.
Keep the good job up DaBaby.