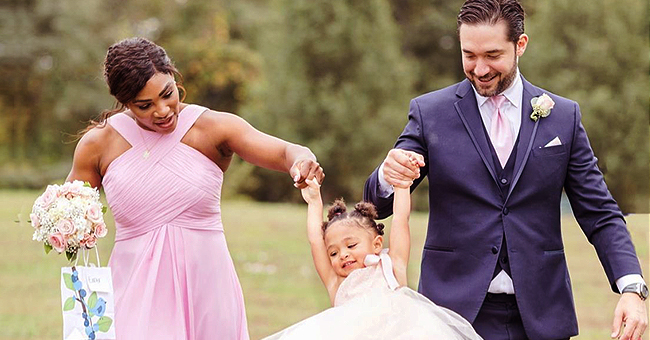 Instagram.serenawilliams
Serena Williams Posts Adorable Pics of Daughter Olympia Rocking Pink Tulle Dress as a Flower Girl

Women Tennis champion, Serena Williams, shared a series of adorable photos of her daughter in flower girl mode, wearing a pink dress, with the lovely Olympia seeming to love her mini role, as she enjoyed every moment of it.
Tennis great Serena Williams set Instagram abuzz with the recent photos of her daughter, which she shared on her page. If anything, the photos show that Olympia takes being a flower girl seriously.
OLYMPIA MEANS BUSINESS
The first photo from the post appeared in black and white and showed a widely-smiling and excited Olympia holding out a flower in her right hand. In the second picture, which was in the original colors, the adorable 2-year-old was holding her flower basket in her right hand as she looked to climb down a low staircase.
A third picture showed her lying down and peering into a book she held in her hand, probably tired after her flower girl duties. The last image in the series showed Olympia all playful as she was swung by her parents, mom, Serena, and dad, Alexis Ohanian.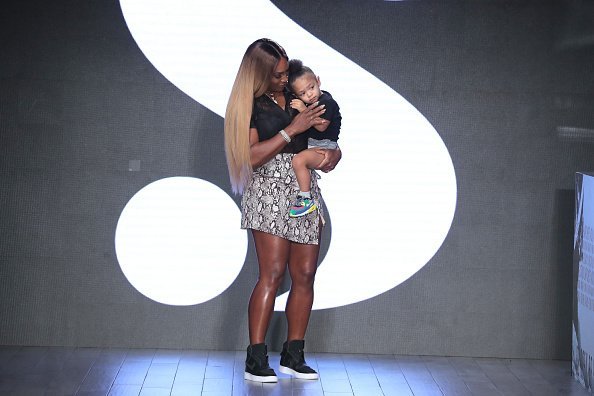 Serena Williams walking on the runway during S by Serena Williams Runway Show Sponsored By Klarna USA in New York City.| Photo: Getty Images.
The proud parents were all smiles, holding on to their daughter with one hand, and Serena carrying Olympia's flower, while Alexis carried her flower basket on their other hand, respectively. The cute couple was present at the wedding ceremony of their friends, Hayley and Jake Schinault.
In her caption to the post, Serena emphasized that her daughter was serious with her flower girl job, writing thus:
"She took her flower girl job very seriously!!! @hexner14 @js_poodles congrats. So happy for you both."
COMPLETE LOVE FOR OLYMPIA
As expected, many of Serena's followers thronged the comment session to state their impressions about the post. One of those who commented likened the cute Olympia to a little bride, writing:
"She is a small bride. I hope she will be like her mother."
A second person wrote:
"Oh my my myyyyy that cute smile!"
A third comment read:
"OMG! She looks like a princess!"
A fact that is not so far from the truth.
OLYMPIA IS AN INSTAGRAM SENSATION
Serena Williams also recently shared a short video clip on her Instagram Story of Olympia wearing a pink dress similar to the one she wore at the wedding ceremony.
The video saw Olympia pulling her mother's hand, and beckoning on Serena to come with her. After a while, she drops her mom's hand in a humorous way and dashes out after taking a curious look at the camera.
The lovely 2-year-old also has her own Instagram page, which is run by her parents. There, her numerous followers keep tabs on her whereabouts. She is definitely a star in the making, if not made already.
Please fill in your e-mail so we can share with you our top stories!