'She Got Robbed!': DWTS Fans Are Angry after Sailor Brinkley Is Eliminated from the Show
Fans of "Dancing with the Stars" are vehemently complaining after Sailor Brinkley-Cook and Val Chmerkovskiy were sent home in the latest episode of the show.
Sailor, the daughter of actress Christie Brinkley, was eliminated from the competition on the sixth week. She and her professional partner danced a fantastic jive, but it wasn't enough.
"I'm proud of you. Keep your head up champ!"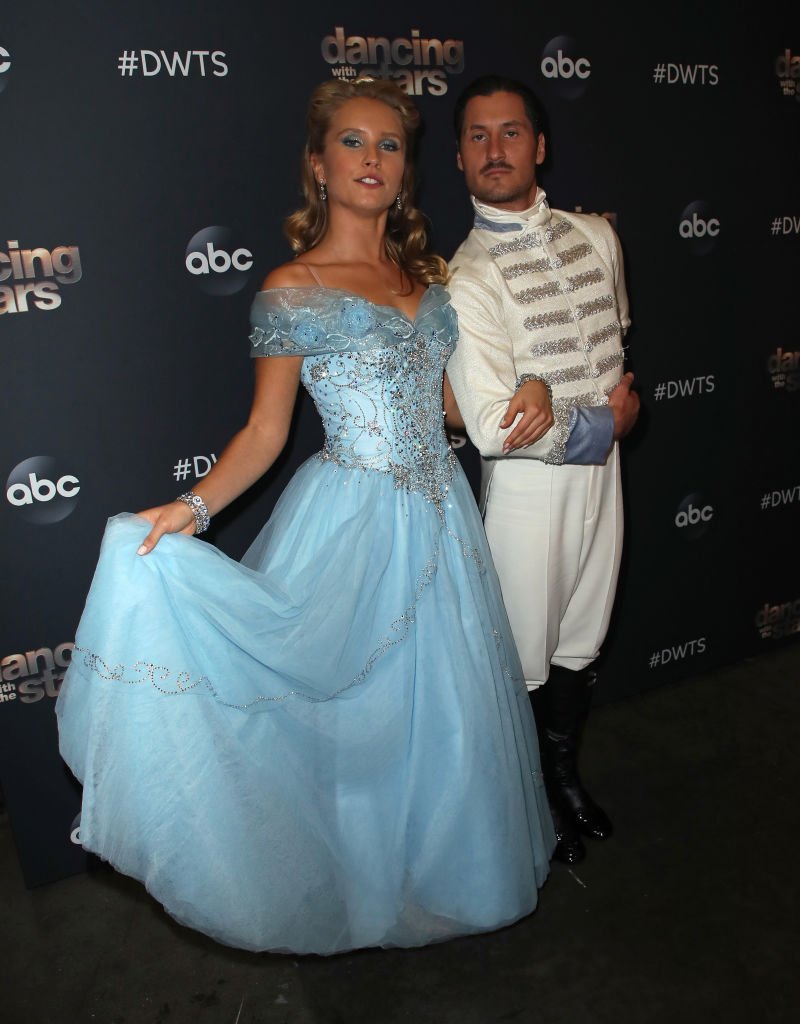 Sailor and Val's performance
Wearing blue and black ensembles, the pair shocked everybody performing to "Wake Me Up Before You Go-Go" by Wham! Their routine was filled with perfectly synched and very energetic moves and steps that made the audience gasp and cheer.
Reaching the end of the set, plenty of red balloons came down from the ceiling, making the entire performance even more beautiful.
Although their routine earned a 27/30 from judges Carrie Ann Inaba, Len Goodman, and Bruno Tonioli, Sailor and Val ended up in the bottom two positions next to Ally Brooke and Sasha Farber.
Deciding who would stay in the competition proved to be very tough for the judges as Carrie and Bruno admitted that both couples deserved to keep competing. However, they had to make a choice.
A shocking decision
Carrie pointed out that she felt that Sailor came into her own and had a "wonderful performance" and that, although she had proven herself "over and over again," she wanted to save Ally and Sasha.
After stating that both couples had been "fantastic and inspiring, Bruno said:
"I have to base my decision on the past few weeks, and because of that, I think the couple that has the edge are Ally and Sasha."
Val supporting his dance partner
The shocking news was too much for Sailor, who started crying in Val's arms while the professional dancer said how proud he was of her.
Sailor's elimination was particularly hard to understand because the score she got (27/30) tied for the highest ones anyone has gotten so far in the 28th season.
Shortly after the show ended, Val uploaded a photo to his Instagram account showing him and Sailor smiling together in what appeared to be a rehearsing session. In the caption, he wrote, "I'm proud of you. Keep your head up champ!"
Sailor's appearance in the competition is very particular as she stepped in just days before this season of "Dancing with the Stars" began to replace her mother, who broke her arm in two places during rehearsals.
SHE GOT ROBBED.

— Briana Grzybowski (@brianagrzy1) October 22, 2019
People's reaction
After learning that Sailor and Val were the ones eliminated from the show, "DWTS" followers took to social media to share their opinions.
Let me just say at last night's @DancingABC Sailor Brinkley Cook was robbed! I am so sick and tired of crappy, no rhythm dancers still being voted to stay in the competition! The changes the show made this season still aren't enough!

— Phyllis (@ptatom1709) October 22, 2019
One Twitter user pointed out that Sailor "was robbed." Apart from that, they complained that dancers with no rhythm were still in the competition and that the changes made in this season were not enough.
Yes, Sailor did kill it tonight, and it's so wrong that she and Val are going home! Complete b.s! 😠😢

— lmosh69 (@lmosh69_ga) October 22, 2019
Another person wrote that Sailor and Val "killed it" with their routine and that sending them home was wrong.
Ditto! She got robbed!!!💔😢😣I'm so upset been voting for them every week. It's really unbelievable..🤯She & @iamValC were so good! And to be a superstar models daughter, I praise her upbringing. She's SOOO humble kind sweet & beautiful inside and out! #SailorBrinkleyCook #DWTS

— Deborah L Baker🧘🏼‍♀️☮️✨🦋🌻💫 (@DeborahLBaker1) October 22, 2019
A third netizen also felt that Sailor was robbed and confessed to being disappointed because she had been voting for her every week. The user added:
"She and [Val] were so good! And to be a superstar models [sic] daughter, I praise her upbringing. She's SOOO humble kind sweet & beautiful inside and out!"
A fourth user stated that Sailor had been "dancing great and improving every week," adding that being sent home at this point of the competition was unfair. They went as far as to say that "DWTS" became a "popularity contest."
Great !!! You should never have been sent home tonight 😖😖😖😖

— tww1960 (@tww1960) October 22, 2019
The remaining competitors
After Sailor and Val's elimination, only eight more couples are dancing for the Mirror Ball Trophy:
Ally and Sasha; Kate Flannery and Pasha Pashkov; Kel Mitchell and Witney Carson; Karamo Brown and Jenna Johnson; Hannah Brown and Alan Bersten; Sean Spicer and Lindsay Arnold; James Van Der Beek and Emma Slater; and Lauren Alaina and Gleb Savchenko.