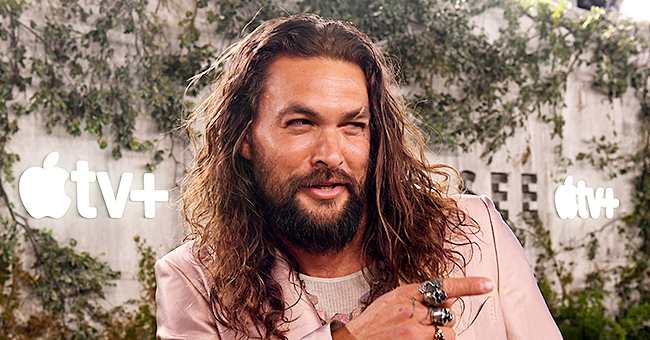 Getty images
Jason Momoa Stands out in Shimmery Pink Suit at 'See' World Premiere with Wife Lisa Bonet
Jason Momoa made a rare appearance when he stepped out in a pink – yes, pink! – suit for the recently held premiere of Apple TV's series "See" with his much older wife, Lisa Bonet.
"See" is an upcoming web TV series that will reportedly be set in a dystopian future where the human race has lost the sense of sight, and society has had to find new ways to survive.
The 10-episode series premiered on Tuesday, October 22 and had notable celebrities, including Momoa and Bonet, in attendance.
MOMOA AND BONET SET COUPLE GOALS AS THEY POSE FOR PICTURES HAND IN HAND
Momoa and Bonet, who are both famous figures in the acting industry, made couple goals as they walked the red carpet at the high-end event.
Via their official Twitter page, @popsugarau, Popsugar Australia shared that:
"#JasonMomoa and #LisaBonet put their sweet love on display at the premiere of @AppleTV's See!"
Momoa's outfit for the event was particularly stunning, and he knew it. The star took to his Instagram story to share that he'll be wearing a sparkly rose champagne Tom Ford suit and Louboutin Homme "red bottom" boots.
It was there that he also disclosed that he'd be sporting assorted accessories, including numerous rings and a specially designed necklace made by Amie Hertzig (@HighPriestess_OG).
The unique accessory especially holds a significant meaning to Momoa as he explained that it was "a very special gift from my wife."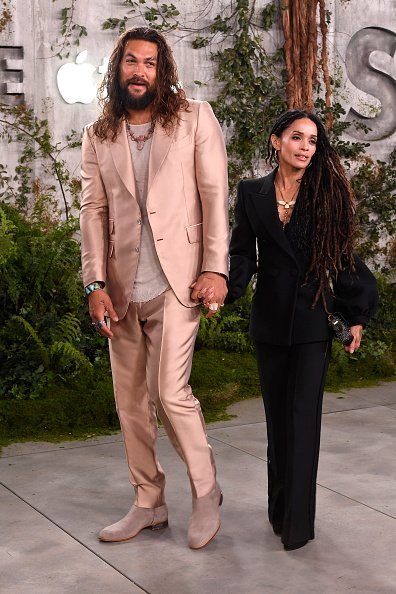 Jason Momoa and Lisa Bonet attend the World Premiere Of Apple TV+'s "See" at Fox Village Theater | Photo: Getty Images
Although the necklace made a sweet complement for Momoa's high-end ensemble, it couldn't beat his wife, Bonet, as the perfect complement.
BONET MAKES AN EQUALLY GORGEOUS SIGHT BESIDE HER HUNKY LOVER
The gorgeous actress also wore a suit, albeit a black one, for the premiere. She paired the long-sleeved black suit coat with matching wide-legged pants and a black handbag.
Much like her husband, she kept to the gypsy theme by accessorizing with large gold hoop earrings and numerous rope necklaces dangling from her neck.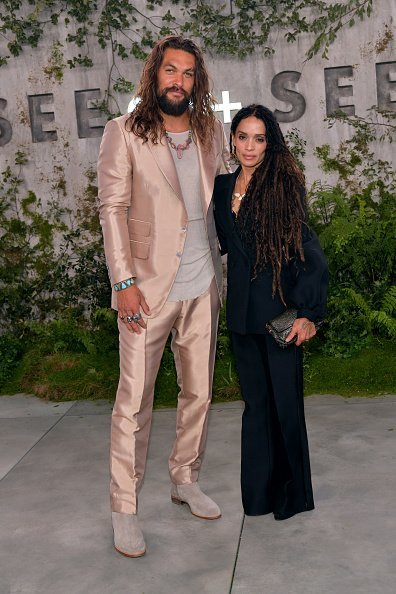 Jason Momoa and Lisa Bonet attend the world premiere of Apple TV+'s "See" at Fox Village Theater | Photo: Getty Images
There really couldn't be a more stunning celebrity love pairing than Momoa and Bonet, who tied the knot in 2017, some 12 years after they first started dating.
MOMOA HONESTLY ADMITS THAT BONET WAS HIS "CHILDHOOD CRUSH"
Although Momoa and Bonet have spent years together as a couple, it always appears like they are newlyweds, and this is perhaps because of the utter affection they have for each other.
Momoa, who is eleven years younger than Bonet, once explained that marrying her was a dream come true because she had always been his "childhood crush."
In a recent interview with "Esquire," he said:
"If someone says something isn't possible, I'm like, 'Listen here, I married Lisa Bonet. Anything is 'expletive' possible.'"
The couple has two children: a daughter, Lola Lolani (born July 23, 2007), and a son, Nakoa-Wolf Manakauapo Namakaeha (born December 15, 2008).
Please fill in your e-mail so we can share with you our top stories!