David Foster & Wife Katharine McPhee Pose with Gladys Knight in Photo from the Singer's 75th Birthday Bash
Canadian record producer, David Foster, and his wife Kathrine got a rare shot with the legendary singer Gladys Knight on her 75th birthday. Kathrine Mcphee Foster shared pictures from the memorable event on social media.
Attending an idol's birthday bash would not be complete without getting a shot with the celebrant of the day. Celebrity couple, David Foster, and wife, Kathrine, were one of the lucky folks to get a picture with Legendary singer, Gladys Knight, on her 75th birthday.
PHOTOS WITH GLADYS KNIGHT
The icon turned seventy-five this week, and to celebrate her big moment, she threw an exciting party, supported by her husband, William McDowell.
American actress, Kathrine Mcphee took to Instagram to give fans a glimpse of the star-studded bash while showing off a picture taken alongside the star of the day. The photo showed the 75-year-old standing between the couple as they smiled for the camera.
The record producer kept it casual, with a black jacket and a vest, worn over denim pants, while his wife slayed in a black fitted crop top and red patterned skirt with front slits that ran up her thighs.
However, the birthday singer outdid both ensembles in her simple embroidered brown and gold gown and perfect hair.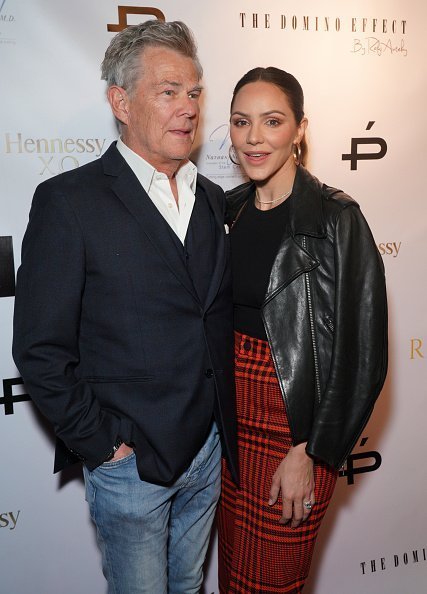 A MISSION TO DISCOVER A LEGEND'S BEAUTY SECRET
The celebrity wife enjoyed the party to the fullest, and pictures weren't the only things that went down as she got a chance to have a beauty talk with the legend as reflected in her caption. The caption reads:
"Celebrated @msgladysknight's 75th birthday and spent the whole night asking for her skin routine."
NOT YOUR TYPICAL COUPLE
It can be recalled that the actress and former "American Idol" winner and the songwriter tied the knots in June, in an extravagant, traditional ceremony, about a year after they announced their engagement.
Despite their 34-years age difference, their marriage keeps growing stronger, leaving no room for naysayers and critics. Four months later, they remain the Hollywood sweethearts, almost stealing the show at Knight's bash.
Other celebrities that graced the occasion include La La Hathaway, Keesha Sharp, Terry Crews, and La Toya Jackson, among others, all looking their best as they came out to celebrate the music icon.