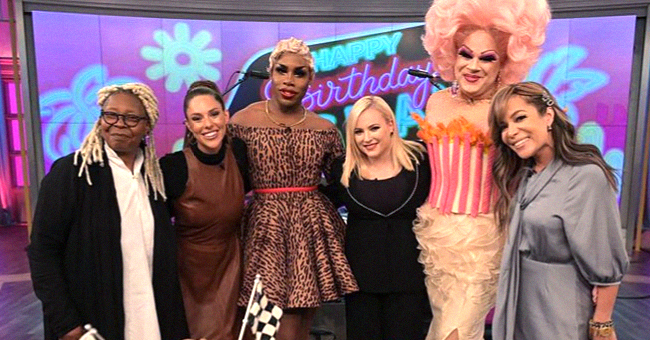 instagram.com/meghanmccain
Meghan McCain Celebrates Her 35th Birthday with a Cactus Cake, 'The View' Cast & Friends
During a lavish celebration, Meghan McCain rang her 35th birthday surrounded by "The View" co-hosts and stars of "RuPaul's Drag Race," Nina West and Monét X Change.
In honor of Meghan McCain's 35th birthday, "The View" hosted a special birthday episode. The episode included a musical performance by Shooter Jennings and guest appearances from "RuPaul's Drag Race" stars, Nina West and Monét X Change.
"
The View's
" stage was decorated with purple and pink strobe lights. Taking some elements from her Arizona roots, it was also decked out with brightly lit palm trees and cacti.
Topping off her birthday celebrations, Meghan's co-hosts surprised her when "RuPaul's Drag Race" star's Nina and Monét appeared on the stage wheeling out a cactus themed birthday cake. Explaining the cake they brought, Monét says:
"Well we know that you are from Arizona and you love cactus…so when got you a cactus cake!"
Sitting on a rustic wooden food cart, the buttercream cake was surrounded by smaller cupcakes. It resembled an array of cacti and bright desert flowers. Enjoying a slice of cake with Whoopi Goldberg, Nina writes:
"Cake and conversation with one of my heroes after the show today. Thank you @whoopigoldberg for everything you have done and continue to do for all of us."
"Excited for the chance to hopefully come back and talk further with you and the rest of the women soon. @theviewabc," she concludes.
Nina and Monét's surprise didn't end at presenting Meghan her birthday cake, she was also gifted a pair of boots and a "Rupaul's Drag Race" trophy, to make her an official "Ru Girl."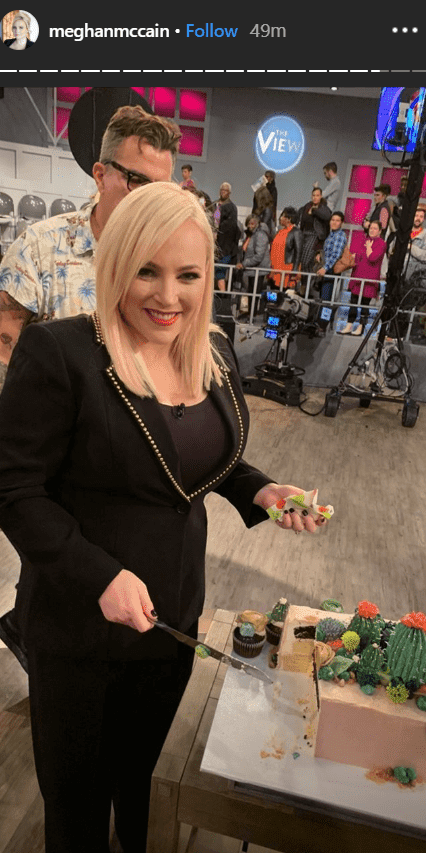 During a birthday episode on "The View" Meghan McCain cuts a slice of her cactus themed birthday cake | Source: instagram.com/meghanmccain
Initially overwhelmed with by all of her birthday surprises Meghan insisted that she didn't want any more gifts. However, her guests couldn't keep their gifts to themselves, Monét pulled out and pair of glittery pink cowboy boots and says:
"So we went over to the baby gap because you have tiny feet and we got you these…aren't they so cute?"
"We thought it would only be appropriate if we made you an official Ru girl and gave your own [trophy]," Nina adds.
For Pride month, in June, Nina, Monét, and Adore Delano sat down with McCain to discuss LGBTQ+ issues. The girls mentioned that they returned to the show to celebrate Meghan's birthday in honor of how much she has inspired and supported them.
Please fill in your e-mail so we can share with you our top stories!