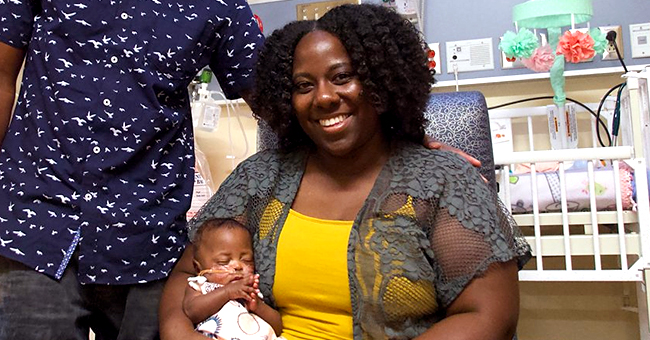 Twitter/abc15
Baby Weighing Less Than 1 Pound at Birth Released from Arizona Hospital after Nearly 150 Days

Miracle baby Kallie has just gone home after spending 150 days at the hospital where she was born at just 25 weeks gestation.
When Kallie Bender was born her doctors and her family feared for her life. She was born on May 24, 2019, 15 weeks early and weighing less than 1 pound.
She was one of the smallest babies ever born at Dignity Health-St. Joseph's Hospital & Medical Center, in Phoenix, Arizona, but she was a feisty girl and ended up surprising everyone around her with her will to live.
Kallie now weighs 7 pounds and after 5 months, she is finally going home with her parents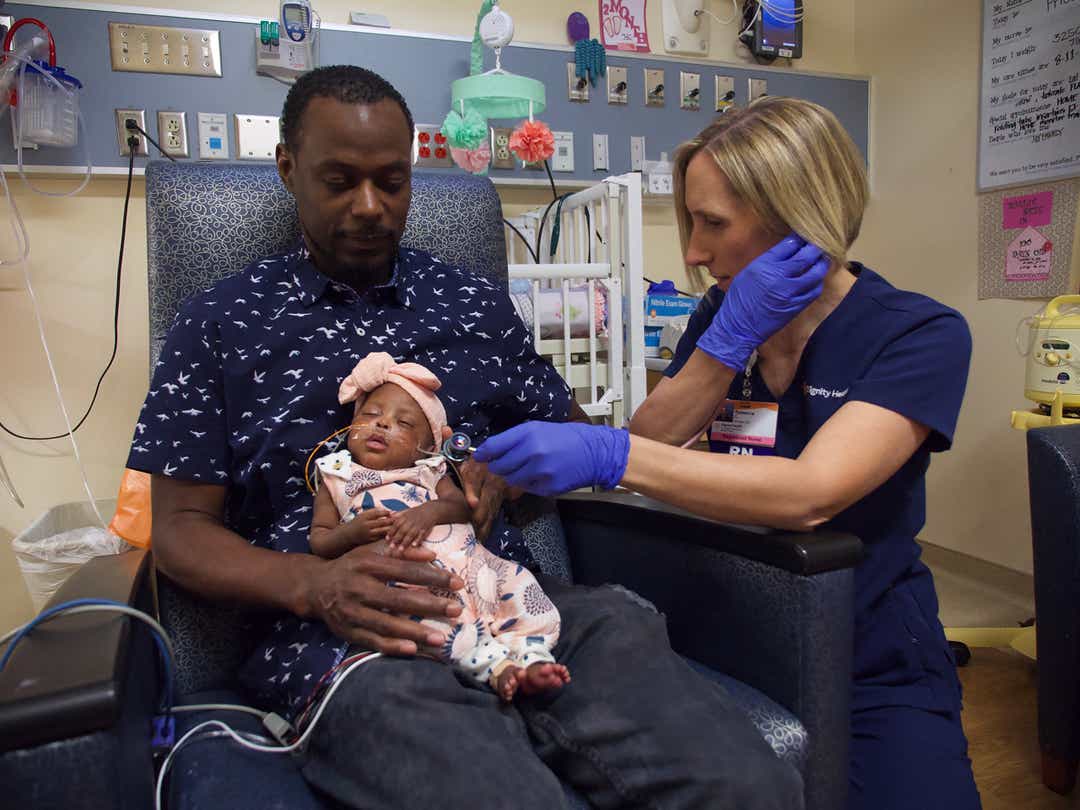 Dameon Bender holds his newborn daughter Kallie / Source: Dignity Health St. Joseph's Hospital
KALLIE BENDER WAS BORN 15 WEEKS EARLY
Ebonie Bender was admitted to the hospital when doctors did an ultrasound and discovered that her unborn baby was too small.
Ebonie's amniotic fluid was scarce, caused by a condition called absent end diastolic flow. The only solution was for doctors to deliver Kallie, and hope for the best.
KALLIE BENDER WAS CLASSIFIED AS A MICRO-PREEMIE
Kallie's little life was full of challenges, and for several weeks after her birth, she relied on a machine to help her breathe. Kallie was intubated and needed to learn to eat since micro-preemies don't have a swallowing reflex.
KALLIE BENDER HAD OPEN HEART SURGERY AT BIRTH
Kallie was submitted to heart surgery for a condition known as patent ductus arteriosus (PDA), in which there is an opening between the two major blood vessels leading from the heart. This is a common heart defect among micro-preemies.
KALLIE'S INCREDIBLE VICTORY
Kallie now weighs 7 pounds and after 5 months, she is finally going home with her parents to meet her brothers. Nurse Becky Cole said:
"We're thrilled that after nearly five months Kallie is going home with her family. We've loved being able to watch her grow and are excited for her to celebrate many milestones in the future with her parents and brothers."
The once micro-preemie is now a healthy baby, and her mother hints that she's more than a fighter, she already has a strong little personality all her own.
THE HUG THAT MADE MEDICAL HISTORY
We've all heard that the power of love can change the world, but in 1995 doctors discovered that it can literally save lives.
Brielle and Kyrie Jackson are identical twins, born 12 weeks early. The two fragile little girls who weighed 2 pounds, and were cared for in separate incubators in the neonatal intensive care unit. But although Kyrie grew stronger, Brielle wasn't thriving.
Brielle had difficulty breathing and her heartbeat started to rise. Doctors feared the worse, and one of the nurses, Gayle Kasparian, came up with the idea of putting the babies together in the same incubator.
And that was when the miracle happened. As soon as she felt her twin's presence, Kyrie reached out and embraced her. From that moment on Brielle's health improved dramatically.
Today, the practice has become common with preemies and has saved hundreds of tiny lives.
Please fill in your e-mail so we can share with you our top stories!