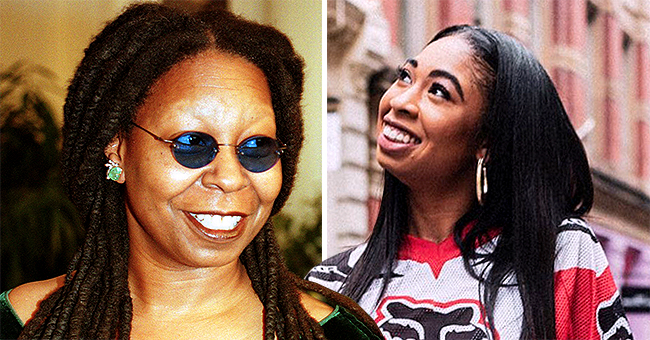 GettyImages // instagram.com/skeezydoesit
Whoopi Golberg's Granddaughter Amarah Skye Has Her Grandma's Smile as She Stuns in a Motorsport Outfit in Pic

Whoopi Goldberg's granddaughter shares her grandmother's beautiful smile as seen in new photos shared on social media.
Whoopi Goldberg is one proud grandmother, and she passed on some of her genetics to her granddaughter, Amara Skye Dean.
In new photos shared to the younger woman's Instagram page, she flashed a beautiful smile that's identical to that of the Oscar-winning actress and television host.
Amara, wore a white, red, and black designed Motorsport outfit, featuring a long-sleeved crop top, a mini skirt, and a fox logo. She wore red sneakers on one foot, white on the other, parted her hair in the middle, and accessorized with hoop earrings.
The young woman captioned the look:
"Skeez for president."
With a series of hashtags that had the words, "Motorsport, fox moto, one of a kind," among others.
Amara is the first child of Goldberg's daughter and only offspring, Alex Martin, from her six-year marriage to Alvin Martin, which ended in '79. In 2014, the "The View" host, who became a grandmother at 34, became a great-grandmother at 58.
The "Sound of Music" star celebrated the birth of the child, Charli Rose, delivered by Amara, with these words on Instagram:
"Everyone meet the new addition to my family, Charli Rose."
Goldberg added that she found feeding her great-granddaughter a bit awkward because she had not been around babies in a long time. Despite that fact, the "Nobody's Fool," star took to her new title with ease.
While appearing on "Good Morning America," in late 2018, with Michael Strahan, the talk show host gushed about her joint title, revealing that her grandkids call her "Granny," while her great-granddaughter referred to her as "Oopi."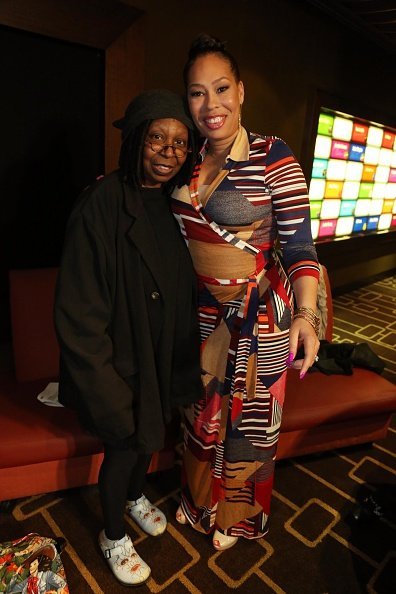 Whoopi Goldberg and daughter Alex Martin Dean attend the 2015 BET Upfronts presentation at Jazz at Lincoln Center | Photo: Getty Images
Goldberg's other grandkids are called Jerzey, and Mason, and on Alex's parenting skills, the "Sarafina" star once said:
"Alex is a better mother to all her three kids than I ever was."
The mother-daughter duo are best friends, and the actress extended that friendship to her grandkids. The same year that she became a great-grandma, Goldberg took Jerzey to the New York Fashion Week.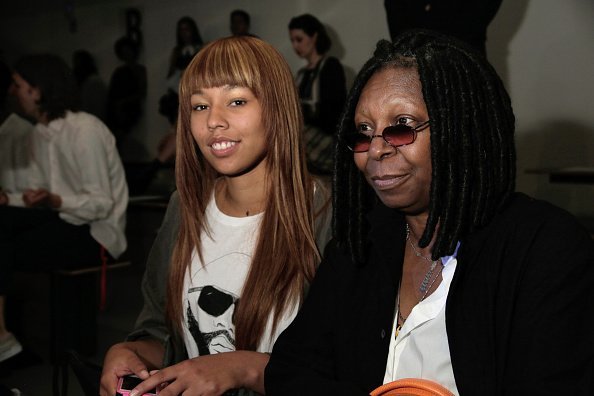 Whoopi Goldberg and her grand daugther Jerzey attend Jeremy Scott's fashion show during MADE Fashion Week Spring 2015 at Milk Studios | Photo: Getty Images
The TV host was equally mourning the loss of her friend, Joan Rivers, at the time, and the then-19-year-old female acted as a support system for her grandma.
Goldberg, Alex, Amara, the rest of her family consistently support each other, and it doesn't hurt that they communicate often.
Please fill in your e-mail so we can share with you our top stories!