Kelly Ripa of 'Live with Kelly and Ryan' Responds to Criticism after Joke about Son Michael Experiencing Poverty While at College
After being criticized for joking about how her son is adjusting to the responsibility of earning his own money, Kelly Ripa set's the record straight on the values she has instilled in her children.
During an appearance on "Jimmy Kimmel Live!" Kelly Ripa spoke about how her college going son, Michael Consuelos, is adjusting to living on his own and experiencing the adult life, she jokes:
"I think he loves the freedom. He hates paying his own rent and he's chronically poor. I don't think he ever really experienced extreme poverty like now."
Her remarks about Michael were clearing lingering on the mind of one commenter who brought up in issue in an unrelated post Kelly shared about helping produce her son's film project, the comment said:
"Did Michael drop out of school? Last night on kimmel you made a reference he used to go to school :) did he ever have a job ? Sure are getting a lot of slack for all the talk about him ⁉"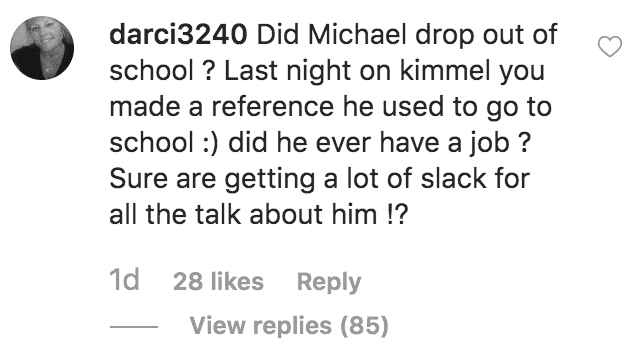 Just like many children who experience living on their own for the first time, Kelly made light of the fact that after never having to worry about his finances, college was teaching Michael to "count his pennies." In response to the Instagram comment about her son she explains:
"Michael goes to college and is a senior and works full time. He is in his first non parent subsidized apt with roommates."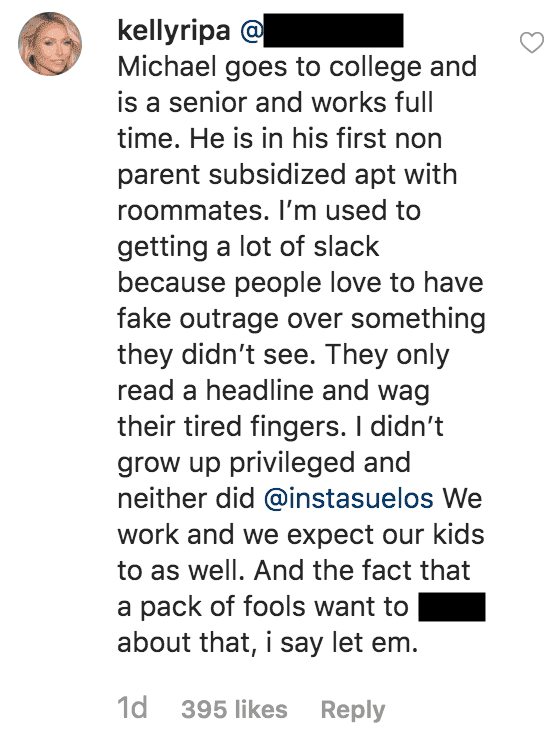 Kelly explains that the backlash she is getting from her comments on the show have been taken out of context by many people who jump to judge her before understanding the facts, she continues:
"I'm used to getting a lot of slack because people love to have fake outrage over something they didn't see. They only read a headline and wag their tired fingers."
"I didn't grow up privileged and neither did @instasuelos. We work and we expect our kids to as well. And the fact that a pack of fools want to [expletive] about that, i say let em," she says in her defense.
With the negative comments still coming in, some people have misinterpreted her joke as showing how spoilt her children are and people have criticized her for making fun of how privileged her family is.
Several other fans have replied to the comment to praise Kelly for not backing down. They admit that her situation is a similar experience to what some parents also go through with their own children.
Kelly, who has shared in the past that she can't wait to become an empty nester, tells Jimmy Kimmel that after the shock of finding her daughter back home just 12 hours after dropping of at college, she doesn't want her youngest son Joaquin living too close to home.