Singer Summer Walker Says She Hates Showers and Twitter Reacts
Singer Summer Walker is getting roasted on Twitter after she posted a comment revealing that she doesn't like showers.
Summer Walker made an innocent comment on social media and has ended up being roasted on Twitter for her personal hygiene habits.
The singer posted a snap of her body care products in a washing bowl. But what got the trolls going was her caption.
Summer Walker isn't taking the criticism from those internet trolls lying down.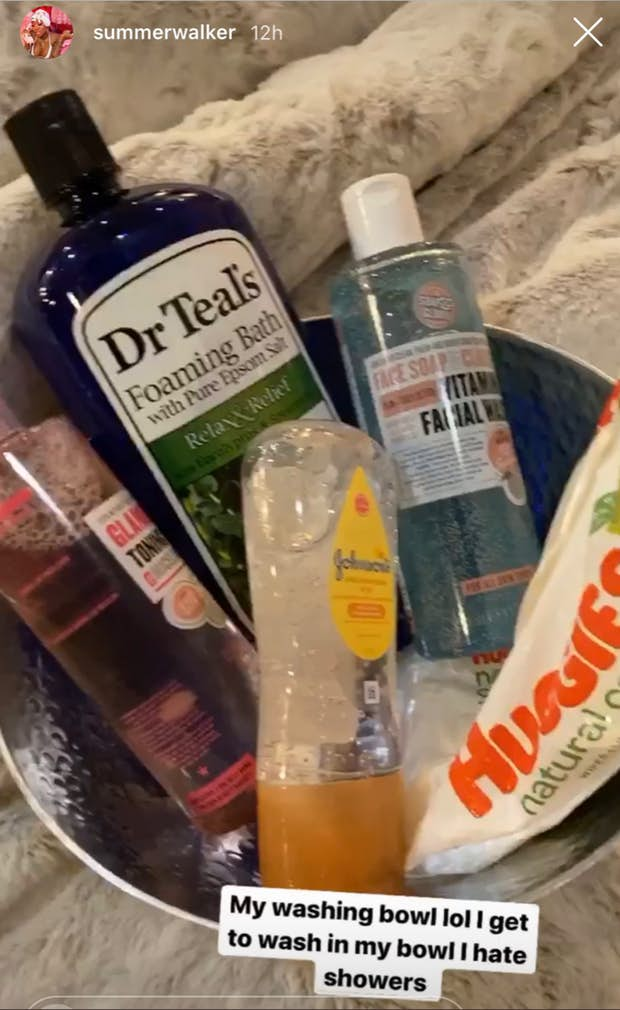 SUMMER WALKER: "I HATE SHOWERS"
In her caption, Summer commented that she often washes in her bowl because she hates showers - and immediately Twitter responded with hundreds of scathing comments and memes.
The comment is quite innocuous and does not imply that Summer has bad personal hygiene but it was enough to start a storm of controversy on social media.
#CatchTheTea Summer Walker Reveals She Hates Taking Shower uses a bath bowl instead. 🤔 https://t.co/wxI3l54Z0R #summerwalker pic.twitter.com/Y5c4MOt3t8

— #Catchthetea (@catchtheteaTV) October 28, 2019
SUMMER WALKER'S INEXPERIENCE SHOWS
The 23-year-old is obviously inexperienced at dealing with the sometimes vicious attention of social media trolls.  She shared a snap of a basin filled with face wash, wipes, a foaming bath product, micellar water, and baby oil gel. She captioned it:
"My washing bowl lol I get to wash in my bowl I hate showers."
Summer Walker said she hates showers and she uses a washing bowl... idk if I have any chances left to give her y'all pic.twitter.com/KJR2MUzxJ2

— jaqumaur✨ (@jaquwan_) October 27, 2019
SUMMER WALKER IS THE TARGET OF UNKIND COMMENTS
Social media immediately assumed that Summer doesn't bathe because she doesn't like showers, and made some rather unpleasant comments, with people accusing her of being unclean.
First thing I see on Twitter is that Summer Walker has a washing bowl and doesn't like showers pic.twitter.com/ldrggUrzOc

— Lala Vava (@lanaamontanaa) October 27, 2019
SUMMER WALKER IN ON TOUR
Summer, who just released her first studio album, "Over It," is on tour, and some kinder souls pointed out that perhaps she prefers using the washbowl over sharing a tour bus shower.
We are quite sure that Summer will be more reticent about sharing the more intimate details of her life from now on.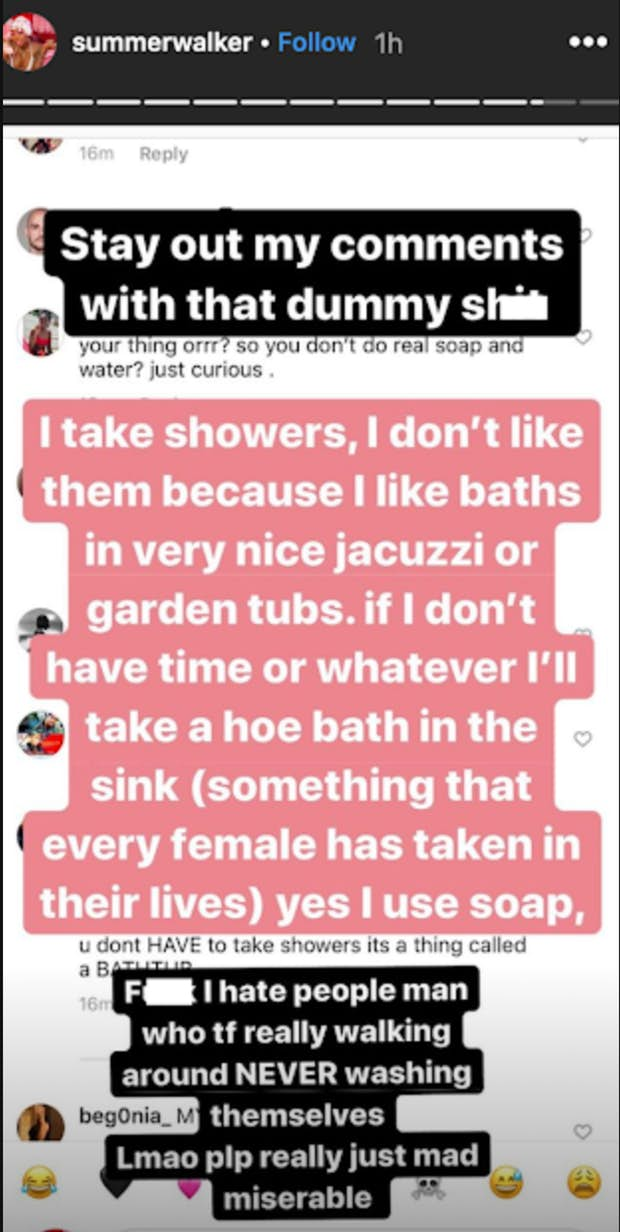 SUMMER WALKER SNAPS BACK AT TROLLS
Summer Walker isn't taking the criticism from those internet trolls lying down. She snapped back on social media. Responding to the insinuation that her hygiene is not exemplary Summer wrote:
"Stay out my comments with that dummy (expletive). I take showers, I don't like them because I like baths in very nice jacuzzi or garden tubs. If I don't have time or whatever I'll take a hot bath in the sink (something that every female has taken in their lives), yes I use soap."
So Summer prefers a long hot soak in a big tub with lots of bubbles, so do we.