Jimmy Carter Prepares to Teach Sunday School This Week after Breaking His Pelvis in a Fall
Jimmy Carter may have a fractured hip at the age of 95, but the former US president won't let it keep him from giving Sunday school lessons at his Georgia church.
On October 21, former president Carter took a tumble that left him with a fractured hip and initially unable to give Sunday school lessons at the Maranatha Baptist Church in Plains, Georgia.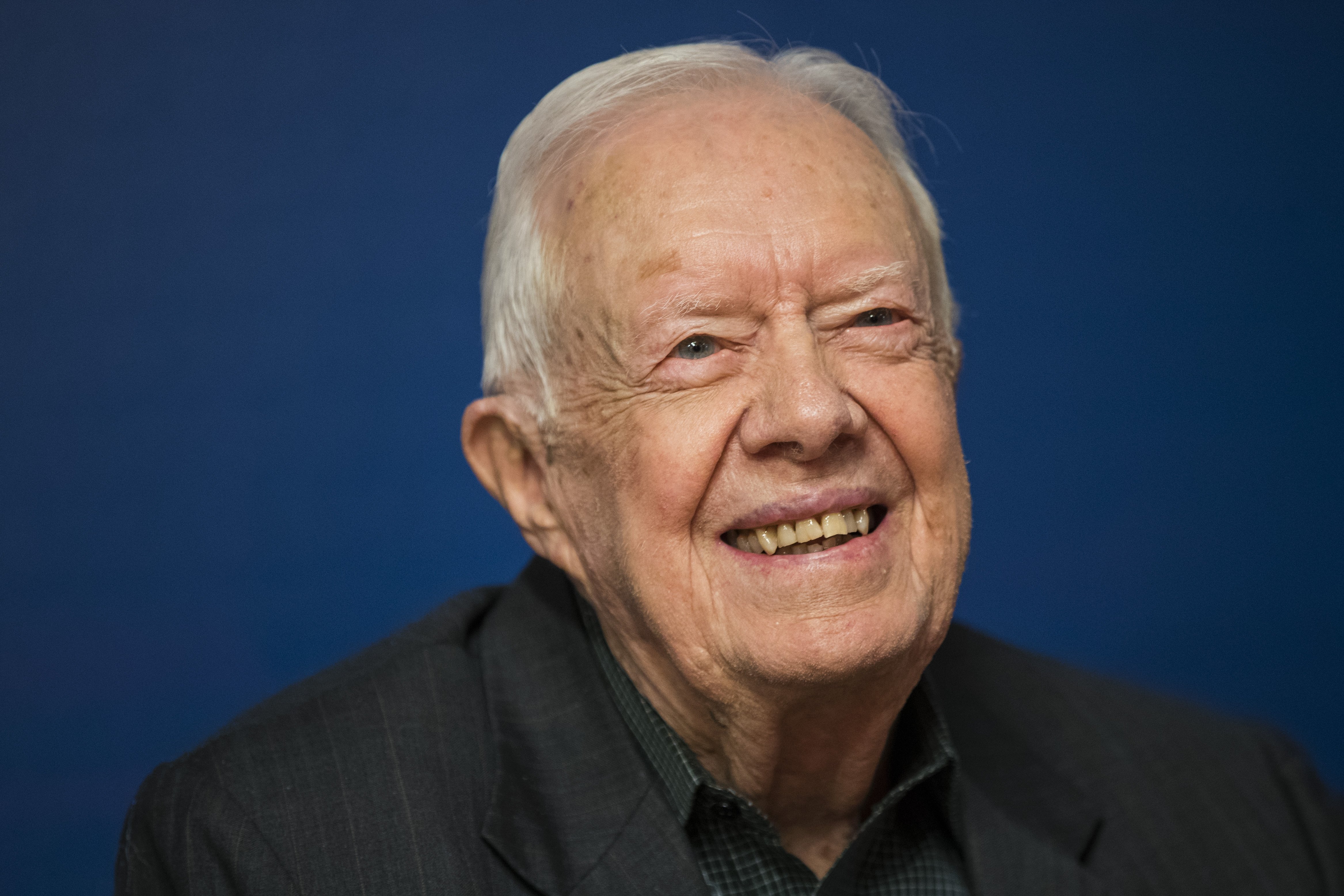 Shortly after his release from Phoebe Sumter Medical Center, Jimmy Carter's spokeswoman Deanna Congileo issued a statement that he was "looking forward to continuing to recuperate at his home in Plains, Georgia, and thanks everyone for their kind well wishes."
When Wednesday came to pass, Jimmy still felt unable to teach the Sunday school class, and the church announced that his niece, Kim Fuller, would be filling in for him instead.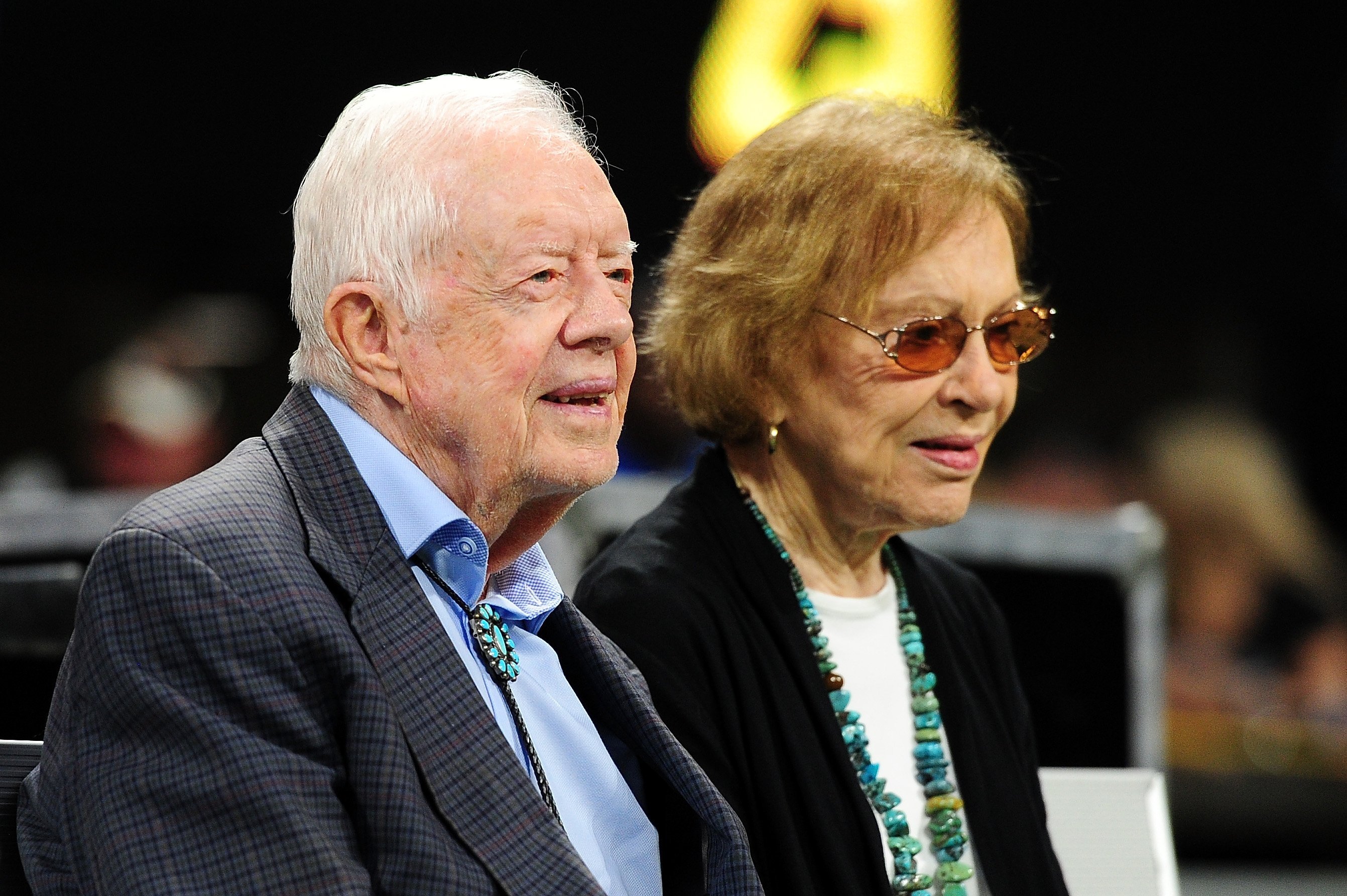 But only hours ago, the happy news came that the former president would be able to attend after all, as the church posted:
"We are proud and relieved to announce President Carter has changed his mind and decided that he feels well enough to teach. He will teach this Sunday, November 3. Please join us to welcome him back!"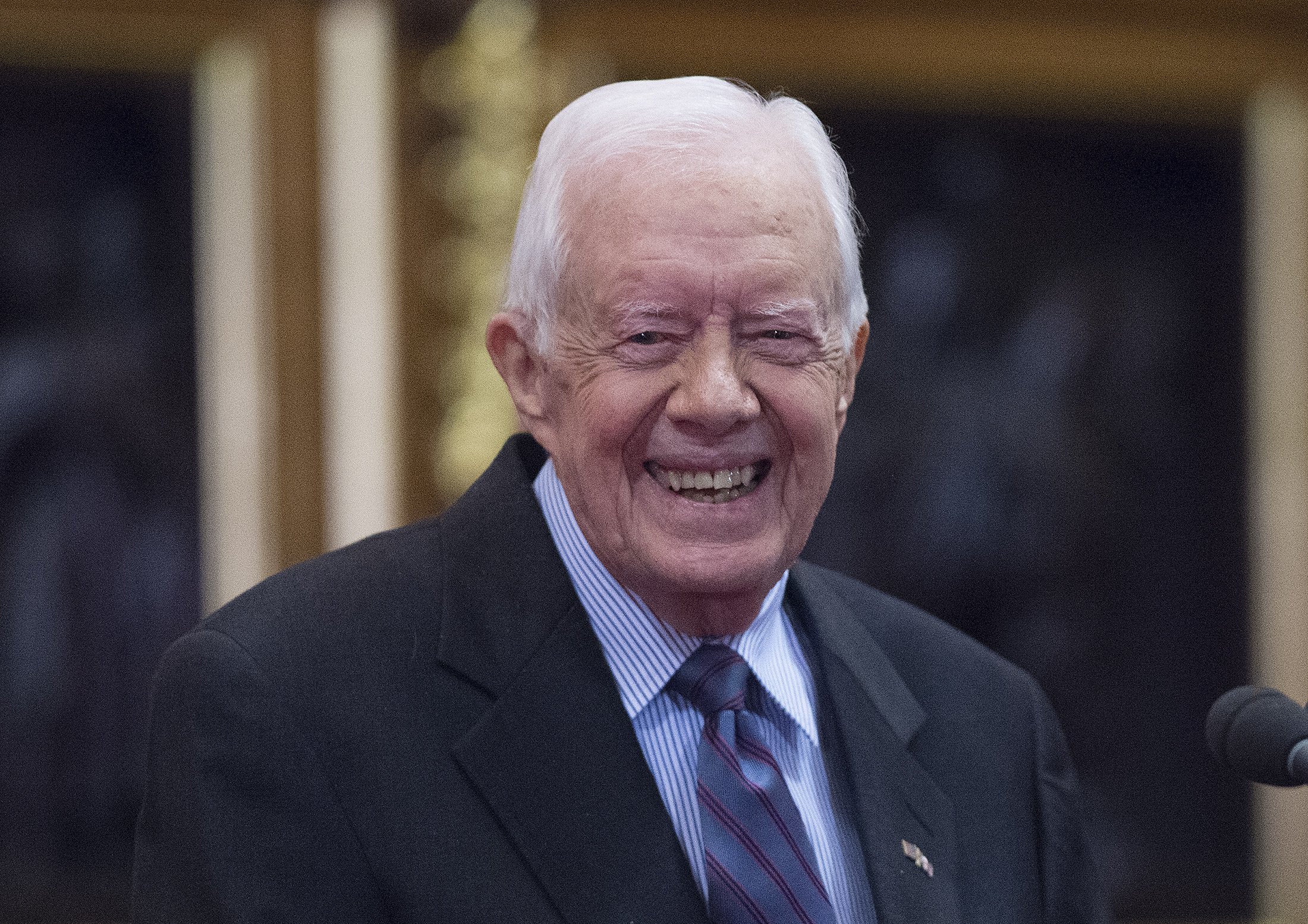 Teaching Sunday schoolers is somewhat of a tradition for Jimmy Carter, who has done so for decades. His weekly lessons often draw substantial crowds, and pastor Tony Lowden at Maranatha Baptist is impressed by Jimmy Carter's "amazing" stamina as he said, "I've never seen anything like him."
Because of his injury, Jimmy didn't attend church last Sunday, and news of his return caused an overwhelming show of support for this "remarkable" man, as some followers on the church's Facebook page commented: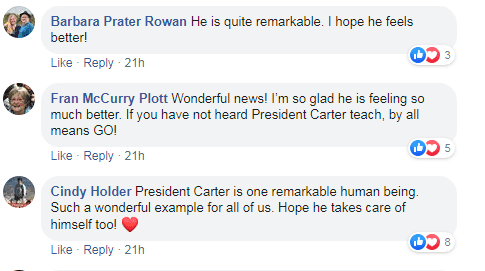 Jimmy Carter fell while at home, which is close to the church in rural southwest Georgia, and according to a statement by Deanna Congileo, the hip fracture is minor.
However, it's not Jimmy's first health-related incident in recent months. On October 6, he fell and hit his head, which required 14 stitches. Despite the fall, the ninety-five-year old rallied volunteers in Nashville, Tennessee, before lending a helping hand building homes for Habitat for Humanity, stitches and all.
Jimmy Carter hospitalized after fall at Georgia homehttps://t.co/ZUhv9rz9n4 pic.twitter.com/NZgoKpX0Jo

— CP24 (@CP24) October 22, 2019
The oldest living former president is also cancer-free after an initial dire diagnosis in 2015, and together with his 92-year-old wife, Roselyn, they recently became the longest-married first couple, overtaking George and Barbara Bush's 73 years of marriage.
Jimmy made another presidential first by being the first one born in a hospital, and still going strong 95 years later; he became the longest-living title holder in May 2019.