Ivanka Trump Puckers Her Lips in New Selfie & Shares Fan-Made Video Made on Her 38th Birthday
Ivanka Trump celebrates her 38th birthday with duck lips selfie, and a heartwarming video created by a fan.
Thirty-eight never looked so good! Ivanka Trump is marking her 38th birthday in high spirits, and showing off her clear skin. In one of the multiple posts shared by the First Daughter on Instagram, she glowed in duck lips selfie with a makeup-free face.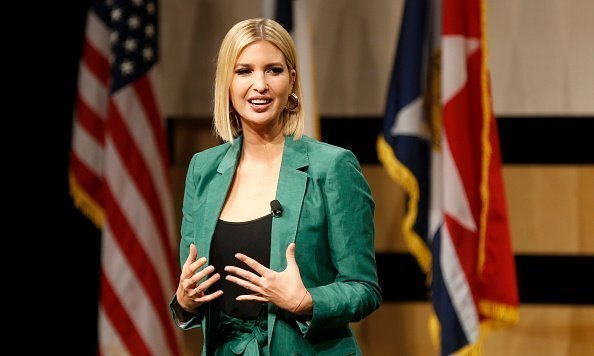 Ivanka wore her short blonde hair back, and a little messy, and had on a black T-shirt. She captioned it,
"Hugs, kisses, and lots of birthday wishes. [Blown kiss emoji]. #38yearsyoung."
In another post, the mom-of-three shared a video montage made in her honor by a fan. The video, which had at the end, "Happy Birthday Ivanka," chronicled the past one year of the celebrant's life.
It showed her attending several meetings, which included her four-day tour of Africa and the G20 Summit meeting in Japan. In the accompanying caption, she acknowledged the thoughtful gesture, writing,
"Thank you, @alwaysivanka, for creating this amazing birthday video. I've done a lot of living in the last 12 months. The best is yet to come."
Interestingly, the former model and fashion designer shares the same birth month with her only sister, Tiffany Trump, from President Donald Trump's second marriage to Marla Maples.
Ivanka celebrated the Georgetown law student's birthday with a throwback photo to her younger years, and the words,
"Happy Birthday Tiffany. You have grown into an amazing woman despite my many babysitting fails."
Aside from birthdays, the First Daughter also celebrated her tenth wedding anniversary with her husband, Jared Kushner. She penned a lengthy tribute in his honor, calling him a dedicated public servant, an amazing father, a relentless optimist, a problem solver, and her best friend.
Ivanka gushed on how humble, kind, and brave, the dad-of-three is, and how much she admires his ability to prioritize the things that are most important in life over everything else.
With the age milestone, the First Daughter, is steadily counting her blessings, and looking forward to more years with Kushner, and her children.